Marvelous Marvin Hagler was a miracle – a man fighting against the odds, facts and industry
Former middleweight champion has died at the age of 66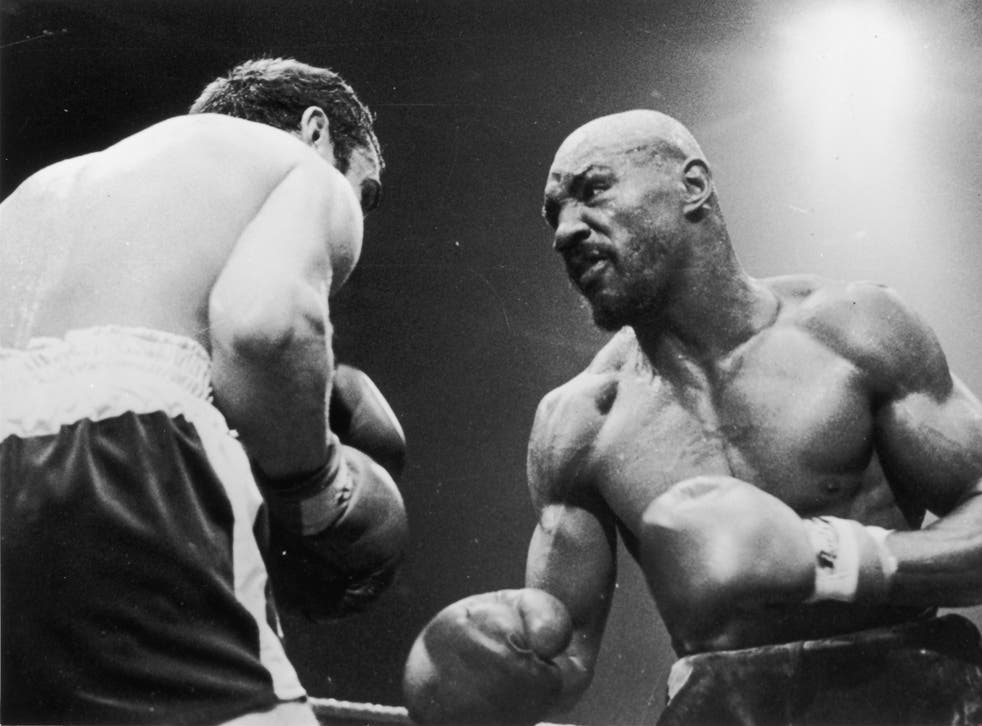 Leer en Español
Marvelous Marvin Hagler was a pure fighter in a business he hated and a sport he dominated.
Hagler has died, aged 66, passing peacefully at his home in America. It seems impossible to imagine that the ring terror, the icon of the Eighties, the king of a golden age and survivor of so much savagery could do anything peacefully. His motto was War, his style unrelenting and his manners impeccable. "All I do is fight," he repeatedly said. "It's always destroy and destruct with me."
He never had an easy day or night in the gym or ring; each session, each round, each victim, each success and each setback only made him more determined. Hagler never, never quit. His life before he started earning peanuts fighting, and then making millions, had shaped him; he was born with nothing and he fought all his life to have something. His family relocated to Brockton, near Boston, after the riots in 1967 in Newark. He left a city burning, dozens were killed and little Marvin was on the road.
Read more:
He remained hungry until the end, found a hidden desire even in comfort and wealth and once uttered a phrase that all good boxers try and solve: "It's tough to get out of bed to do roadwork at 5am when you've been sleeping in silk pajamas." Well, Marvin found a way.
Hagler went on the road, fighting the local idols, beating most, but losing two tight decisions in Philadelphia in 1976. It was an apprenticeship at the end of an old business, a business of abuse and neglect. Hagler is a fighting miracle, a man against the odds, the books, the facts and the industry.
"You know," Hagler said. "One time, Joe Frazier told me that there were three things going against me: one, I was black; two, I was a southpaw; and three, I was good. He was right. It was never easy."
Hagler finally won the world middleweight title one night at Wembley in 1980; it was a night of shame for British boxing and Hagler was forced to take shelter as fans rioted, showering the ring with bottles and broken seats. The police had to provide safety to leave the ring after Hagler had stopped and hurt Alan Minter in three bloody rounds to win the undisputed title. It was a defiant exit, somehow dignified under the vicious assault. It was not the first time Hagler had been escorted from a ring and given protection against the hostiles.
It was Hagler's 54th fight that night against Minter, the title was his after eight years on the road, eight years of abuse, neglect and being overlooked. "I was the man, nobody else – I had to keep beating the number one contender. That is how it should be: one man, one champion. That man was me." There are currently four or even five men holding a recognised version of the world middleweight title.
There was a reign of terror after the Minter win: Hagler made 12 defences of his beloved title, held the crown from 1980 through 1987, beating the hardest men the sport could find in savage fights of attrition. Vito Antuofermo, Fulgencio Obelmejias, Juan Domingo Roldan and others were certainly not boxing's poster boys or choirboys, but they could really fight. Hagler loved proving himself. "You have to beat the man, it's that simple."
There were few laughs in the bloodbaths, Hagler was not big on smiles, shaking hands or compliments. He was born to fight, it was just his business, his trade. He hurt, knocked out, battered, cut, butted and won by stoppage in eleven of his twelve defences. He was also a genius technician, a master of distance and a brilliant ring thinker.
Read more: Fury says Joshua fight is 'nowhere near' being agreed
The John The Beast Mugabi fight is an 11-round showreel of suffering and pain and endurance. And then, one night in Las Vegas in 1985, Hagler knocked out Tommy The Hitman Hearns in just less than eight minutes of what is considered the greatest fight ever. There is nothing quite like the Hearns fight for intensity and desire. It will make you sweat for seven minutes and 52 seconds until it ends. When Tommy goes down it will be a relief.
Hagler lived, fought and reigned in a far more simple, far more brutal boxing epoch; it was a cruel sport with far fewer opportunities: "I had to work harder as the champion – they were all chasing me, they wanted what I had. I knew that feeling. It was always war with me." And, it is often forgotten, it was always war with his opponents.
His last fight was against Sugar Ray Leonard in Las Vegas; after 12 rounds it was over, Leonard won a split decision and Hagler walked away forever. He finished with 62 wins, three defeats and two draws. Marvelous Marvin Hagler was finished with war in the ring.
He stayed away, stayed honest, dignified and true. And mostly silent. It was a privilege to be in his company and see the awe and wonder in the eyes of fans when they got close. He fought under modern lights, but was a relic from boxing's worst days when rejection, corruption, FBI investigation, discrimination and outright larceny still owned the business: "Boxing was my art, that's how I treated it and there was a lot about the sport that I hated."
Hagler made a lot of people love his sport.
Register for free to continue reading
Registration is a free and easy way to support our truly independent journalism
By registering, you will also enjoy limited access to Premium articles, exclusive newsletters, commenting, and virtual events with our leading journalists
Already have an account? sign in
Register for free to continue reading
Registration is a free and easy way to support our truly independent journalism
By registering, you will also enjoy limited access to Premium articles, exclusive newsletters, commenting, and virtual events with our leading journalists
Already have an account? sign in
Join our new commenting forum
Join thought-provoking conversations, follow other Independent readers and see their replies