Leon Spinks: Neon fades as Olympic gold medallist and former heavyweight champion dies at 67
American's career was a lesson in waste, epitomised by farcical night of Muhammad Ali rematch
Steve Bunce
Monday 08 February 2021 10:28 Comments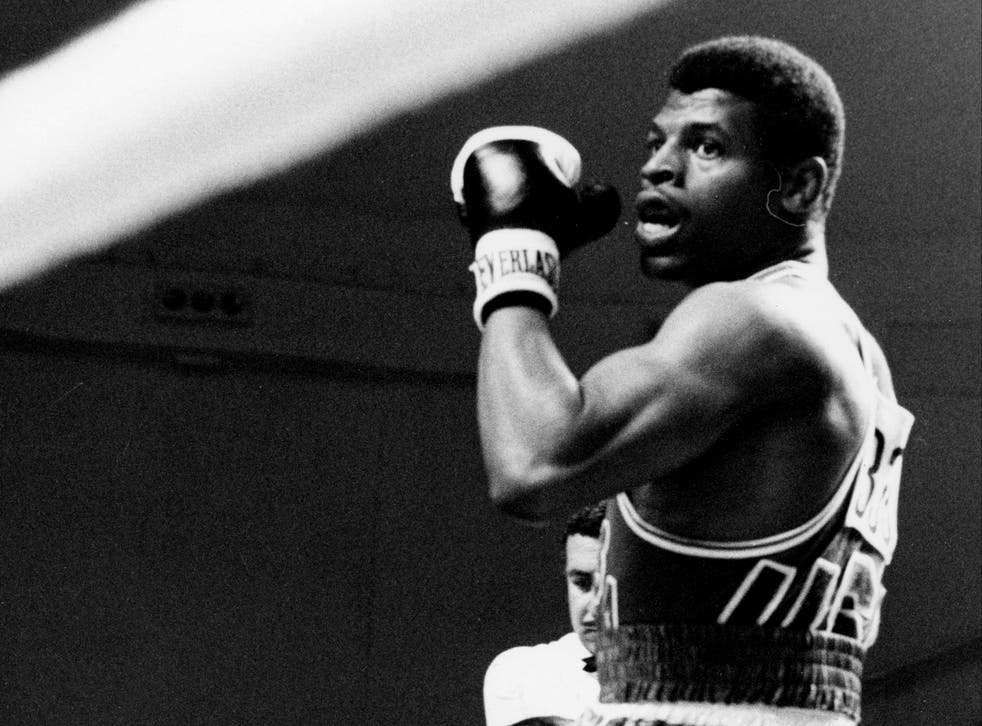 The neon has faded, Leon Spinks is dead.
Leon Spinks won an Olympic gold medal in 1976, he won the world heavyweight title in his eighth fight in 1978, he made millions of dollars and should have been one of the great heavyweights.
However, Spinks never took the fighting game seriously and became a terrible lesson in waste long before his death. He was 24 when he won the world heavyweight title from Muhammad Ali in Las Vegas and 67 when he died anonymously in the same city, the unofficial graveyard of champions. He might argue that he never wasted a single year. "I was just being Leon," he said.
In the first fight with Ali, in February of 1978 at the Hilton in Las Vegas, Spinks was quite brilliant. He won over 15 rounds on a split decision. That win and that money launched the carnival. The rematch was made for New Orleans in September.
READ MORE: Don King rules in boxing's parallel world of comical WBA chaos
After the win it was furs, cars, girls, drugs, girls, cars, furs and girls. It was a stupid way to prepare for Ali, who was not finished and changed his own lifestyle to get in shape for the rematch at the Superdome. "Leon was out of control, he did whatever Leon wanted to do," said George Benton, his trainer and architect of the win.
The rematch finally came, the carnival slowed and the boxing world descended on New Orleans. The stories were out of control, Leon and his people were out of control, but there would be one more crazy Leon tale before the first bell. Ali trained perfectly in isolation, focused. He hired three future world champions as sparring partners: Greg Page, Michael Dokes and Tony Tucker. Spinks had Mr T, full name Lawrence Tureaud, as his partner. Neon Leon and Mr T became solid friends after meeting at a dwarf-throwing contest.
On the day of the fight, Spinks went missing. The first bell was getting close when he was found. The world heavyweight champion was in a flop motel on the sad side of town and he was in bed with a woman. It was a squalid scene, the essentials for a midnight good and bad time were on the bedside table. She was not happy losing her dream man and Leon was not happy having to get out of her bed. It was either two hours before the first bell or just ninety minutes.
In the dressing room the men that mattered stood watching Leon. They knew it was over, the gravy train was coming off the rails. In New Orleans the entourage was 61 – that's 61 people being fed and housed. Leon was picking up every bill.
Benton knew the fight was lost long before the ring walk. It was chaos and, by the way, Leon was getting paid $3.75 million.
The first bell sounded; five or six others in the corner started hollering and Benton started to pack his tools and he left after four rounds. He faintly heard somebody saying: "George, George, no, no." He was long gone before the fight's final bell. The crowd of 63,500 came along for the ride. Meanwhile, a woman in a filthy motel on the other side of town stirred and wondered where her new man was – he was getting a boxing lesson from Ali. Spinks lost the title; it was his ninth fight and it was over. Leon Spinks was 25 that night at the Superdome.
Spinks would fight 37 more times, retire in 1995 and haunt big fights and boxing gatherings. He would appear at Las Vegas fights, his toothy grin unforgettable under the neon and he would stand and pose for pictures, charge the starstruck and the ignorant 20 bucks or 50, depending on the crowd. In Las Vegas in fight week fools will queue to pay and shake hands with a broom if they think the broom is famous. Leon Spinks was famous; he should have been boxing royalty. Instead, everybody has a Leon Spinks story of excess and craziness.
He was a marine, which was one way to escape the poverty and dangers of the infamous and now destroyed Pruitt-Igoe housing project in St Louis. His gold in Montreal was truly exceptional, stopping the brilliant Cuban, Sixto Soria, in the light-heavyweight final. His brother, Michael, won the middleweight gold. Their mother wanted her boys to quit the ring and become preachers after the golds.
Leon had a wife called Nova, she was 15 stone, 6'2, had a wild Afro hairstyle and wore matching fur coats. He had cars he could never afford, houses he never tried to pay for and friends he always paid for. After the loss to Ali the money started to vanish. Spinks had to fight and fight hard. Spinks was knocked out in a round in the fight after Ali by Gerrie Coetzee, in 1981 he was stopped in a world title fight by Larry Homes. He moved down to cruiserweight and was stopped in a world title fight at the new weight by Dwight Muhammad Qawi in 1986. The memory of the Ali win in Las Vegas was fading fast, the money from the Ali fights was gone. His final fight was in 1995, a loss on points at a cowboy bar holding 3,000 in his home town. Spinks was a ghost then, rattling his way to the dementia days to come.
After boxing, the carnival continued and Spinks tried wrestling for a time. It had fewer risks and fewer dollars. He also unloaded McDonald's trucks in Nebraska. During the last decade he just about survived on the love from his latest wife, Brenda, and the cash from autograph tours. Brenda is an exceptional woman, she saved Leon's life after they met in 2000.
Leon Spinks finished his life in Las Vegas, diagnosed with cancer in 2019 and suffering for a long, long time from the punches he took in his career. He was damaged like so many and neglected like too many.
"My mind was not on the fight," admitted Spinks after the Ali loss. And that just might be the perfect epitaph for the endless soul of Leon Spinks.
Register for free to continue reading
Registration is a free and easy way to support our truly independent journalism
By registering, you will also enjoy limited access to Premium articles, exclusive newsletters, commenting, and virtual events with our leading journalists
Already have an account? sign in
Join our new commenting forum
Join thought-provoking conversations, follow other Independent readers and see their replies