Saul Alvarez vs Liam Smith: Mexico prepares to roar on prodigal son against Liverpool's bright light
Alvarez has never been shot, arrested, thrown in prison, but having turned professional at 15 he had fought 21 fights by the age of 18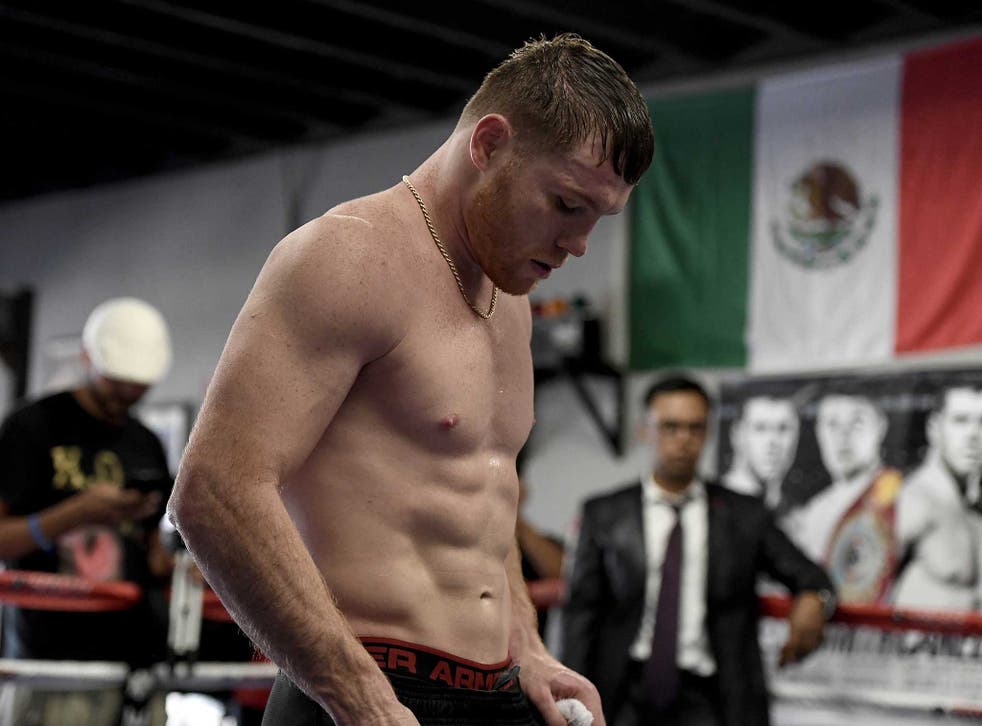 Nobody in modern boxing has lived a life of extremes quite like the Mexican Saul Canelo Alvarez, the child fighter and now the most popular boxer in the world.
Alvarez has never been shot, arrested, thrown in prison, but having turned professional at 15 he had fought 21 fights by the age of 18 and had a reputation for ferocity. On Saturday night as many as 70,000 people will greet his arrival in the ring when he fights Liverpool's Liam Smith in Texas in a fight that is on pay-per-view in America and will be watched by millions in Mexico.
As a boy he fought his way through the hell holes of the child circuit in Mexico, an industry that lurks in filthy shadows at forgotten venues where small bands of drunken fans bet their wages on the tiny boys scrapping in the ring. It is an ancient apprenticeship, a ritual familiar to all Mexican ring idols, a route from nowhere that too often ends with anonymity, failure or perhaps something more extreme. Alvarez is not a product of a sanitised line of tiny battlers, boxers dressed like show ponies and exhibited like the boy version of a beauty pageant. There was no guarantee that Alvarez would emerge from the horror years of a process that still flourishes today.
Alvarez now has the millions, a beauty queen on his arm, fine horses and the billing that attracts crowds like the heaving mass that will fill the AT & T Stadium in Arlington, the gleaming home of the Dallas Cowboys, for the first bell against Smith. Alvarez, who is still only 26, has not, in my opinion, been a boy boxer since his only loss in 49 fights when he fought Floyd Mayweather in 2013. He was undone on the night by a brilliant Mayweather in a perfect battle between man and boy; Alvarez looked close to tears of frustration at one awkward moment.
"That was a bad fight for me," admitted Alvarez. "I made some mistakes and will never make the same mistakes again. Never." Since that night in Las Vegas Alvarez is unbeaten in five fights, has won the middleweight world title and is established as the sport's number one attraction, the new boss of pay-per-view in the continued absence of Mayweather and the ongoing decline in pulling power of Manny Pacquiao. The list of the fallen in Alvarez's last fights has been impressive, the single-punch knockout of Amir Khan in May was brutal.
A fight with his rightful, feared and dangerous rival Gennady Golovkin has been agreed, after a fair amount of acrimony, for September of 2017; its delay and the fall-out from the fight's distant date has hovered hazily over proceedings in Texas this week.
"This is not about his future fights," insisted Smith, who is defending his WBO light-middleweight title. "I will win, I know I will run and then he fights me again - I know that is what is going to happen. He's underestimated me, I win and fight him again." Smith is unbeaten in 24 fights and this will be his third defence and obviously the most daunting night of his life.
Smith will be smothered with brotherly love during his exile in Texas with Paul, Callum and Stephen, all professional contenders, taking turns to keep him calm. There is no telling what will happen to a fighter when 70,000 people start booing your ring walk. Smith, however, does have a point about Alvarez's mindset and that potential lapse in mental focus gives him far more chance than Kell Brook ever had in last Saturday's fight with Golovkin.
"It would be foolish and unprofessional of Alvarez to look beyond Liam," said Frank Warren, Smith's promoter. "This is a big fight for Alvarez; Liam is unbeaten and fresh - he can hurt Alvarez and he is confident he can win. I know fighters, I can tell from how they behave what they are really thinking, and Liam really thinks he can win."
Smith will not have to hunt, chase or force Alvarez to fight and providing he can hold his nerves, not react each time he lands, a proper fight could develop by about round six. Alvarez is the big favourite, but Smith can push him all the way and leave it to the three judges to deliver a verdict of joy or tears. Alvarez on points makes sense and a hard brawl is inevitable.
Join our new commenting forum
Join thought-provoking conversations, follow other Independent readers and see their replies