Tyson Fury and Anthony Joshua clash over negotiations for undisputed heavyweight fight
The British heavyweights are destined to meet this summer to crown an undisputed king in the division, though a date and venue are yet to be confirmed
Jack Rathborn
Tuesday 11 May 2021 09:59 Comments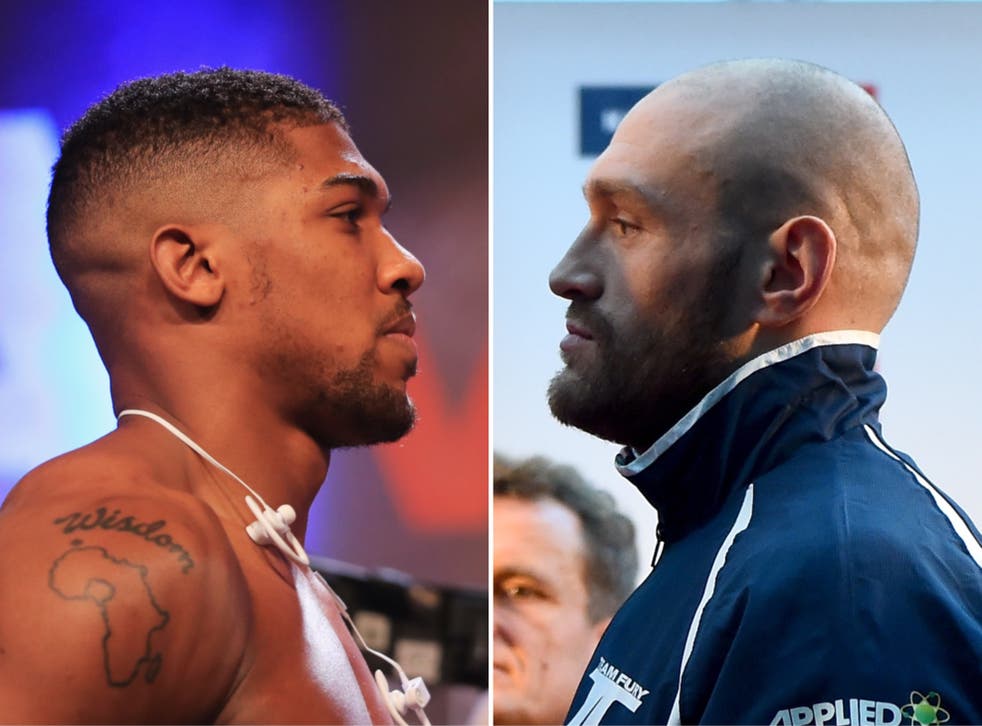 Tyson Fury and Anthony Joshua have clashed over the protracted negotiations for their undisputed heavyweight world title fight.
Patience is now thin between the two British stars, who are likely to meet this summer in Saudi Arabia with all four major recognised world titles on the line.
But with a final date and venue still to be announced, Joshua called out the 'Gypsy King', urging him to stop talking and help deliver the biggest fight in the sport.
"Spartan," he wrote on social media. "I'm tired. My fans are tired. Your fans are tired. We're all tired of the talk. Less talk. More action!"
To which Fury responded: "Come get some then you big ugly dosser???? YOU'RE NO TALK NO ACTION."
Fury also vowed to give AJ "a good hiding" when talking with promoter Eddie Hearn last week during the build-up to his friend Billy Joe Saunders' fight against Canelo Alvarez.
"I can't wait to get the big dosser in the ring and give him a good hiding and prove to the world what a fake he is, and that there is only one dominant heavyweight champion and he goes by the name of the Gypsy King," Fury told Hearn on the BBC's No Passion, No Point podcast.
"I will cut Anthony Joshua down like a hot knife through cheese. That's how easy it's going to be. When he gets cracked in the jaw, it's like getting a boiled egg with a split down the middle, it can't be repaired. He will go.
"I'll even give my gameplan away: it will be a check left hook straight to the temple, his legs will go and he'll fall on his face. He may get back up and then I'll knock him out with the overhand right. Good night, enough said."
Register for free to continue reading
Registration is a free and easy way to support our truly independent journalism
By registering, you will also enjoy limited access to Premium articles, exclusive newsletters, commenting, and virtual events with our leading journalists
Already have an account? sign in
Join our new commenting forum
Join thought-provoking conversations, follow other Independent readers and see their replies