Tyson Fury responds to WWE superstar Braun Strowman
Tyson Fury: Heavyweight boxer sparks brawl with Braun Strowman on WWE Raw
The former world heavyweight champion continued his newfound rivalry with 'The Monster Among Men' on Monday
Tyson Fury sparked chaotic scenes on WWE Monday Night Raw with the heavyweight boxer brawling with Braun Strowman in the ring.
After making his first appearance last week on WWE Smackdown, the former world champion was invited back for an open mic night.
Fury demanded an apology from 'The Monster Among Men' for the altercation last week, insisting he felt "embarrassed", but the superstar refused, with the Brit shoving his rival into the ropes.
After being swarmed by security staff, Fury then unloaded a series of shots to clear his path to Strowman as the pair traded blows.
The WWE locker room then emptied, with more than a dozen wrestlers attempting to separate the pair.
February top 10 pound-for-pound boxers in the world

Show all 16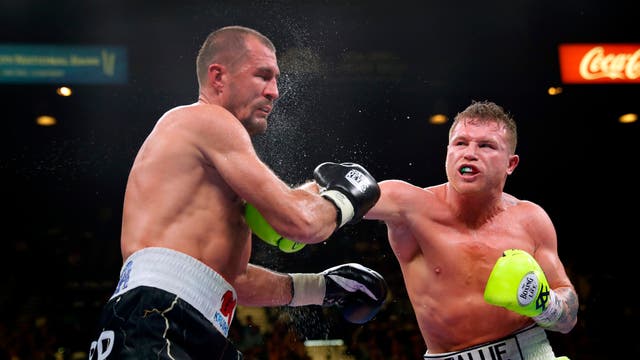 "I'm not trying to provoke him," Fury remarked. "He tried to make a fool out of me by throwing Dolph into me and I want an apology."
To which Strowman hit back: "I was trying to have a little fun when I saw Tyson Fury sitting ringside at WWE Smackdown – but if he wants to get serious then so do I.
"Tyson Fury's got a mean punch, but so do I. So if he wants an apology, he'd better ask nicely – because if he does, he might just get one. But if he doesn't, he might just get... these hands."
Fury is currently waiting to face Deontay Wilder in a rematch after their thrilling first fight last year.
The Bronze Bomber must negotiate a separate rematch though against Luis Ortiz on November 13.
Which has left Fury pushing his brand on the other side of the Atlantic, with the rematch against Wilder set for pay-per-view.
"Last night we attended WWE Smackdown for my son's 8th birthday. Me, as a lifelong WWE fan, and it is his favourite thing," Fury remarked on Instagram on Saturday.
"I was insulted in front of my whole family by Braun Strowman. It got a little bit heated and we saw what happened.
"I have been invited to an open mic session at RAW on Monday night. I accept and I will be there.
"If Braun Strowman doesn't behave himself, he will get some of these hands, the big dosser."
Join our new commenting forum
Join thought-provoking conversations, follow other Independent readers and see their replies