Who will be the stars of 2015? Featuring Harrison Reed, Kid Galahad, Max Verstappen and Borna Coric
A sprinting history student, a Paul Scholes lookalike, the son of an F1 legend and a boxer whose name is made for his sport are among our writers' picks for people to watch this year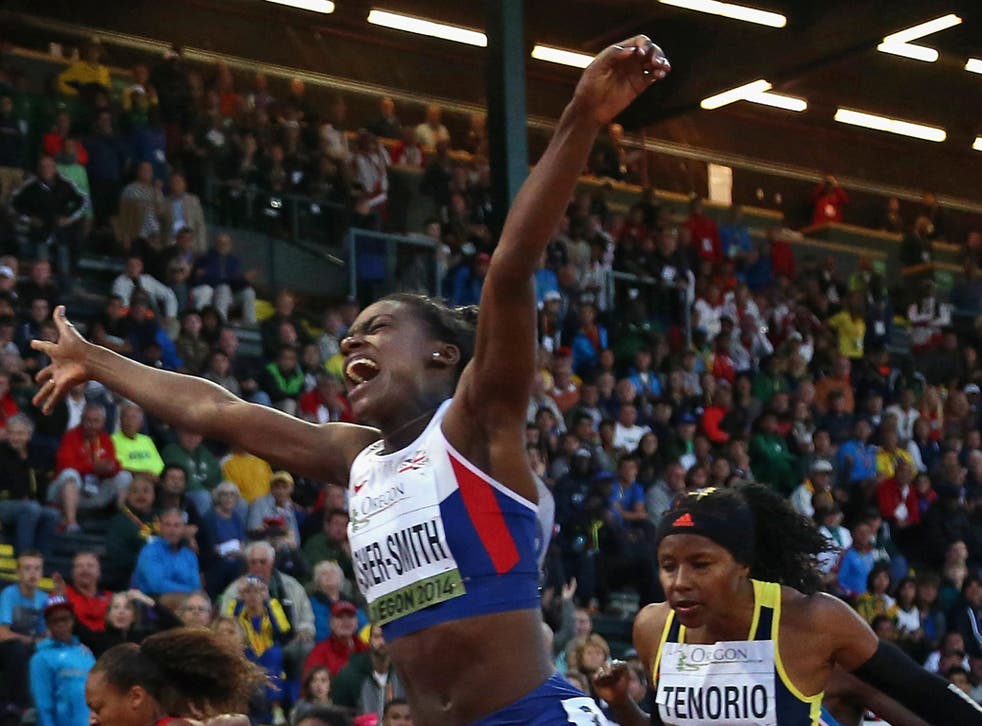 Dina Asher-Smith (Athletics) by Matt Majendie
Dina Asher-Smith is a breath of fresh air, both on and off the track.
With a brain to match her admirable physical talent, her A level grades in the summer were sufficient to earn her a place reading history at King's College London.
On the track, the 19-year-old is part of the new wave of British sprinting talent to have emerged in recent years but she has only just started chipping away at the senior ranks.
She was a relative unknown when named as the youngest member of the British team in Moscow for the World Championships in 2013, but she went on to play a part in the 4x100m relay team that won a shock bronze after France's disqualification.
Her first major senior outing of note in 2014 came at the European Championships in Zurich, which ended with her hobbling down the home straight with a hamstring injury which she had been nursing coming into the event.
It was a sour end to an otherwise brilliant season, the highlight of which was winning the World Junior Championships 100m in Eugene, Oregon, in 11.23sec.
Then in Zurich, while friends from her Kent school were celebrating their exam results with a night out at the nightclub Tiger Tiger, she qualified for the 200m and broke the British junior record, en route to the final which ended with her pulling up injured.
Her first run in Switzerland was all the more impressive in that it came on the morning of her A Level results, when she had been nervously awaiting news of whether she had got the three As required to seal her place at university.
Her semi-final time of 22.61sec would have been enough to warrant fourth place among Europe's best in the final and ranked her 17th in the world. In addition, she was the world's 35th fastest woman of 2014 in the 100m.
It proved a premature end to a promising season, which led to a series of young- athlete accolades from the British Athletics Writers' Association and Athletics Weekly, among others.
British sprinters have often struggled to make the step up from the junior to senior ranks – there is a long list of world junior champions who never properly made it on to the bigger stage. Asher-Smith is expected to buck the trend.
Harrison Reed (Football) by Jack Pitt-Brooke
Whatever happens to Southampton on the pitch – and after initial fears this looks likely to be a very successful season for them indeed – the flow of talented young players from their celebrated academy remains constant.
It is not a production line – it is far more human than that – but the next big arrival into the first team is Harrison Reed, the clever, scurrying central midfielder who does not turn 20 until 27 January.
Reed was part of the same year group at Southampton as Luke Shaw, Calum Chambers and James Ward-Prowse, who grew up together from the age of nine. While Shaw and Chambers have already moved on to other clubs, Reed is just emerging now into Ronald Koeman's side.
After a few substitute appearances last season, Reed made his first Premier League start on 20 December in Saints' crucial 3-0 home win over Everton. Patrolling in front of a back three, Reed hassled Ross Barkley and Samuel Eto'o out of the game.
Koeman said that he was "outstanding" that day, praising his pressing and his energy. Team-mate Shane Long said that Reed had been nicknamed "Ray Donovan" after the eponymous fixer and problem-solver in the Sky Atlantic show.
It is an unusual nickname and a departure from the label he has always lived with – the new Paul Scholes. That comparison was first bestowed on him by Southampton academy supremo Les Reed, prompted by his ginger hair, 5ft 6in stature, tenacity, ability and skilful, scampering style.
It is a label which the young Reed is confident enough to handle.
"It is a massive compliment to be compared to him and mentioned in the same sentence," Reed said last summer. "I think it's more to do with the colour of my hair."
Borna Coric (Tennis) by Paul Newman
The hair is lighter in colour and his shots do not carry quite the same zip, but you can see why comparisons are made between Borna Coric and Novak Djokovic. Although the 17-year-old Croat is 10 years younger than Serbia's world No 1, Coric has a game and a self-confidence that mark him out as a future champion.
In an age when the physical nature of modern tennis makes it increasingly hard for youngsters to break through, Coric is a thrilling exception. The world No 96 is the first 17-year-old to make the top 100 since Rafael Nadal and Richard Gasquet, 10 years ago.
If Nadal knows all about success as a teenager he also knows plenty about Coric, who beat the Spaniard in straight sets in Basel two months ago. It was not a good year for Nadal against emerging youngsters, with Nick Kyrgios recording a stunning victory over the French Open champion at Wimbledon.
Even if Nadal's below-par performance in Basel could be explained by his physical problems – it was his last match before he had his appendix removed – there are plenty of other experienced professionals who can testify to Coric's talent. Ernests Gulbis, Jerzy Janowicz and Lukas Rosol are among the other significant scalps Coric has claimed this year during his rapid progress through the Futures and Challenger ranks to join the big guns on the main tour.
British tennis fans had a first glimpse of Coric's talent in September 2013, when he made his Davis Cup debut in a play-off for a place in the World Group. Andy Murray beat the then 16-year-old for the loss of only six games, but Coric's potential was evident.
Three fellow Croats, Goran Ivanisevic, Ivan Ljubicic and Marin Cilic, have gone out of their way to help Coric, whose strong baseline game, consistent backhands and fiercely competitive nature are all reminders of a young Djokovic.
With Ajla Tomljanovic, Donna Vekic and Ana Konjuh all breaking into the top 100 in the women's game, there are clearly exciting times ahead for Croatian tennis.
"I think it's because in Croatia it's not so easy," Coric said. "We don't have the best conditions to train and we don't have a lot of money, so you need to be tough if you want to make it. We are not spoilt. We are working hard. I think that's one of the reasons why all the Croatian players are very good."
Sam Billings (Cricket) by Stephen Brenkley
There is a long and prestigious history of Kent wicketkeepers playing for England. It started with Edmund Tylecote, who played six Tests in the 1880s, and went on to embrace Les Ames, Godfrey Evans, Alan Knott, Paul Downton and Geraint Jones.
If the first three in that list form a great triumvirate of England wicketkeeper- batsmen, with Knott perhaps at the apex, another is being talked of in glowing terms. Sam Billings burst on to the scene last summer as a spectacularly modern batsman and acrobatic keeper in all forms of the game.
In his first full season after replacing Jones, who had served the county with distinction since his part in England's glorious 2005 Ashes victory, Billings bordered on the rampant. He scored 755 Championship runs at 34, batting in the lower middle-order, and was frequently stunning in the Royal London 50-over competition in which he scored 458 runs at a strike rate of 154 and an average of 114.50. Less prolific in Twenty20, he still scored at a fair lick.
Called up as part of the England Performance Programme in Sri Lanka before Christmas, he looked assured, and hugely impressed the coaching staff. There is, of course, no vacancy in the England senior side, where Jos Buttler is establishing his own credentials.
But there is a lot of cricket of all hues to be played this year and while Billings has the familiarly tricky task of overcoming second-season syndrome, his exuberant class promises much. His first engagement of the year is with England Lions in South Africa where he will compete with Jonny Bairstow for the wicketkeeper-batsman role.
At 23, Billings is not the finished article, but he is unquestionably part of a new breed of English cricketer capable of playing a different type of game from anything seen before.
The Independent's sports writers' picks for 2015

Show all 9
Alex Lozowski (Rugby Union) by Chris Hewett
Leaving aside Andy Goode, who keeps on keeping on at 34 and is now in discussions about an extension to his Wasps contract, outside-half is a young man's role. The 21-year-old George Ford has just nudged the 23-year-old Owen Farrell out of the England starting position, much to the chagrin of the fast-ageing 24-year-old Freddie Burns. Poor Danny Cipriani, verging on the ancient at 27, must feel more elderly than Noah – although not, perhaps, as elderly as Goode.
Three months younger than Ford, which practically makes him an infant, Alex Lozowski could well be the next No 10 to play the youth card to maximum effect. In the very early stages of his Premiership career with Wasps – he is understudying Goode only because of a season-ending injury suffered by the Scotland international Ruaridh Jackson – it is fair to say that, on the small amount of evidence currently available, he has what it takes to make a name for himself in the unforgiving world of top-end league union.
His father, Rob, was also a Wasp: he made one Test appearance at centre against the 1984 Wallabies, one of the few truly transformative sides in rugby history, armed as they were with players as mesmerising as Nick Farr-Jones, Mark Ella, Michael Lynagh and David Campese. Perhaps because Lozowski Snr's international career was vaporised that day – a third of the red-rose starting line-up never played for England again – he did everything in his power to persuade his gifted son of the importance of education. Hence Lozowksi Jnr's decision not to chase the professional football dream – despite being accomplished enough to spend six years in the Chelsea academy – and bag himself a degree in economics instead.
Now that his studies are complete, it is time to see where his sporting skills might take him. Lozowski spent time as an age-group player at Wasps before committing himself to a spell of second-tier Championship rugby with Leeds. On returning south at the start of this season, his contributions have been pearls of poise – the performances of an instinctive playmaker armed with pace and timing all wrapped up in the vision thing. He can also kick goals, apparently in his sleep.
Playing for a club with a record of fast-tracking rookie talent and blessed with the two-tour Lions Test outside-half Stephen Jones as his backs coach, Lozowski is in a young player's version of rugby heaven. He has the skills to match.
Matt Fitzpatrick (Golf) by Kevin Garside
Just as stellar amateur success does not always presage a glittering career in boxing, so it is in golf. That said, Matt Fitzpatrick's junior show reel, topped by his 2013 US Amateur triumph, might just convert to something more significant in the professional setting.
Fitzpatrick became the first Englishman to win the prestigious American title in a century. It earned him immediate entry into the Masters, where he missed the cut by one, and the US Open, where he played all four days, closing out Pinehurst as the low amateur.
Having quit the American collegiate circuit after just one semester at Luke Donald's alma mater Northwestern University in Chicago, Fitzpatrick was committed to turning pro early. He made the leap after Pinehurst, opting to chase a European Tour card the Rory McIlroy way, via a series of invitations to tournaments late in the season.
McIlroy made it at his second event, finishing third at the Dunhill Links Championship. That's genius for you. Fitzpatrick was forced to fall back on the brutal environs of the European Tour's qualifying school to gain his card.
A top-10 finish after six rounds at the qualifying final in Spain is only marginally less impressive, demonstrating, if not the extraordinary natural flair of McIlroy, then the competitive edge and game management required to make it as a pro.
Fitzpatrick is of the Donald/Matteo Manassero quality of golfer, a fine technician who relies on craft rather than power to get his ball around. He will never overpower a course like McIlroy, but, as he showed so brilliantly at Pinehurst No 2, and also at Muirfield 12 months earlier when he won the silver medal for best placed amateur at the Open, he will never be cowed by one either.
This time last year I tipped Brooks Koepka for big things in his rookie European Tour season. He went on to win his maiden event on the main tour, the Turkish Airlines Open, and finish in the world's top 50 to qualify for the Masters.
Fitzpatrick would more than settle for that.
Kid Galahad (Boxing) by Steve Bunce
Kid Galahad is unbeaten in 18 fights, trained by Brendan Ingle, the current European super-bantamweight champion, and next year he will get a big night in the ring somewhere.
In addition to the boxing facts and figures, Galahad, who is 24, was also watched by more people in 2014 than any other British boxer and that is because he fights on Channel Five.
Galahad also has two perfect and unbeaten domestic rivals in Bury's Scott Quigg, who holds a portion of the WBA title, and Belfast's IBF champion Carl Frampton. The Quigg-Frampton- Galahad triangle could be the boxing tale of 2015, or the latest in a bad line of must-see fights to collapse in petty acrimony.
"Quigg and Frampton are not in any hurry to fight me," insisted Galahad, who won all three of his fights in 2014. "I don't blame either of them – I would not be in a hurry to fight me. I just hope one of them is brave enough to take the risk." Quigg is out with an injury for six months and Frampton has a mandatory defence in February.
Galahad's apprenticeship under Ingle, the great whispering guru of British boxing, has been perfect so far and the young fighter is arguably the closest replacement to Naseem Hamed, who remains Ingle's finest boxer. Galahad, like Hamed, is difficult to hit and is getting more power with each fight.
"It was a great year, big wins and good wins," said Galahad. "In 2015 I will chase the world champions and make them fight me: if they continue to ignore me, the fans will know they are scared."
There are younger fighters on the boxing horizon in Britain and some that are far more obscure, but Galahad has developed in the shadows of both Quigg and Frampton and now he is ready to move up. "This Kid, he can do it all and he will when he gets his chance," said Ingle. He is probably right.
George Williams (Rugby League) by Dave Hadfield
Too much can sometimes be read into the allocation of squad numbers before the start of the Super League season. When the iconic Wigan No 6 shirt is given to a local teenager, rather than an expensive overseas recruit, however, it could turn out to be a significant move in the long run.
George Williams will be following in the footsteps of Brett Kenny, Shaun Edwards, Frano Botica and, more recently, Trent Barrett and Brent Green when he starts 2015 as the Warriors' first-choice stand-off.
With Green returning home to Australia, two years after joining Wigan from Hull KR, most fans expected the 2013 double winners to raid Rovers again for another experienced Antipodean, Travis Burns.
He has gone instead to the champions, St Helens, but the Wigan coach, Shaun Wane, says it was always in the plan to go with the kids this coming year. It was what he did a few years ago with Sam Tomkins, then a stand-off before being switched to full-back
Apart from Williams, who has just turned 20, Wane also has the slightly older Sam Powell, who covers the same midfield positions of hooker and the half-backs.
Both have done well when given first-team opportunities, either off the bench, or, increasingly during Wigan's various injury crises last season, in the starting line-up.
It appears, though, that it is Williams who has the inside track for next season.
"We base the numbers on performance from the previous year, together with the potential the coaching staff see in individuals," says the Warriors' general manager, Kris Radlinski.
"As always, squad numbers do not guarantee places in Shaun's side and all the players know they have to work hard and perform, both in the pre-season and throughout the year, to make the team."
Williams has already shown his ability to make an impact with his eye for an opening, notably with his hat-trick of tries against Hull in May.
Naturally, other Super League clubs keep a sharp eye out for young players who have come through the Wigan system, but who might run out of patience waiting for regular first-team rugby.
Wigan have decided that Williams is not going to be one of those who don't quite make it in the cherry and white hoops. Midway through last season, they signed him to a four-year contract. That no doubt included some bigger numbers than his previous, Academy deal. The figure that means most, however, could be the big No 6 he will wear on his back.
Max Verstappen (Formula One) by David Tremayne
At 17 years and three days, Max Verstappen – son of former Benetton and Stewart F1 racer Jos – became the youngest driver to take part in an official grand-prix session, on the Friday morning in Brazil. Former world champion Jacques Villeneuve had been vituperative about letting one so young loose in an F1 car, and since then the FIA has raised the minimum age for a superlicence to 18. But the Dutch prodigy barely put a wheel wrong. He ended up 12th fastest, just 0.443sec behind highly-rated team-mate Daniil Kvyat who, the following day, was announced as Daniel Ricciardo's partner at Red Bull for 2015.
Verstappen had only ever driven the track on PlayStation and in the Red Bull simulator, and had not previously driven the 2014 F1 car, but it was clear to trackside observers that he was actually reining himself in.
"I don't plan to push for the limit," he'd said the previous day. "This session will be all about learning and adding to my experience."
Most impressively, on his fastest lap overall he lost 0.632sec to Kvyat in the first sector, but was faster by 0.146sec in the second and 0.043sec in the third. That gave everyone food for thought, given the high regard in which the Russian is held. Verstappen's theoretical best lap was actually just 0.307sec slower than Kvyat's.
Perhaps the most impressive thing is that he wasn't tempted to over-drive and most certainly wasn't overawed by the experience.
In 2015 Toro Rosso will pair Verstappen with rookie team-mate Carlos Sainz Jnr. In 2013, in a test at Silverstone, the Spaniard so duplicated Sebastian Vettel's best lap that the then-dominant German pored over his telemetry traces for hours. That makes it two to watch.
Join our new commenting forum
Join thought-provoking conversations, follow other Independent readers and see their replies