Williams vs Andrade LIVE result: WBO champion retains belt by unanimous decision
Follow all the action live from the Seminole Hard Rock Hotel and Casino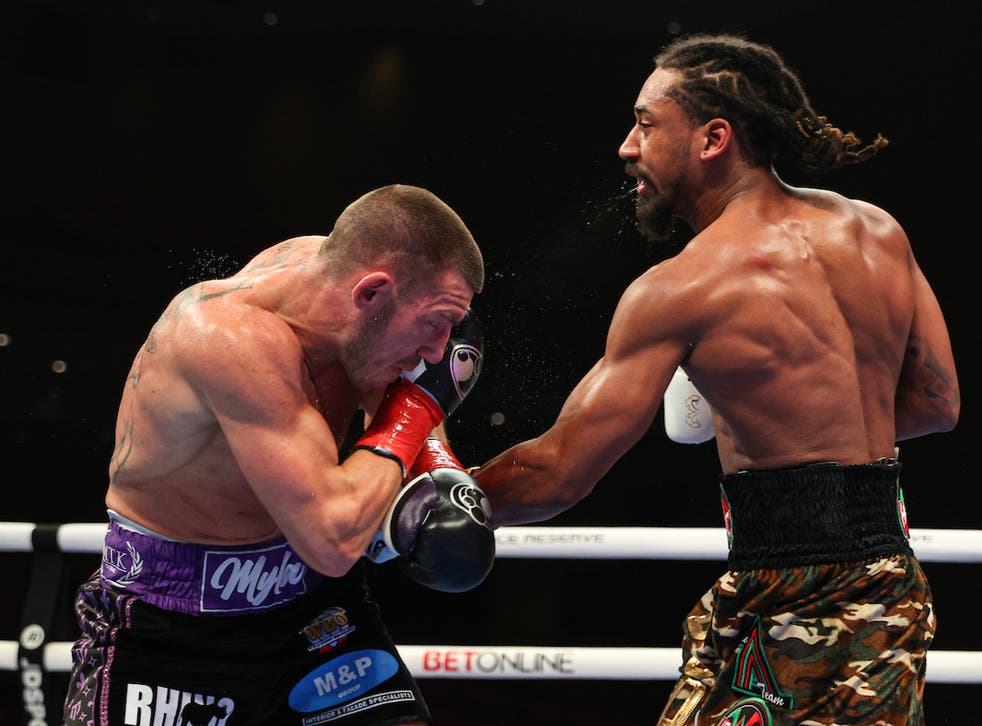 Follow all the action as Demetrius Andrade defends his WBO world middleweight title against Liam Williams at the Seminole Hard Rock Hotel and Casino this evening.
Williams came up short when challenging for the 154lbs interim title against Liam Smith in 2017, however, he has been a rejuvenated force since teaming up with trainer Dominic Ingle, with the Welshman winning seven successive bouts by knockout to become mandatory challenger. "Unfortunately boxing is a sport where fighters can hide behind their sanctioning bodies, managers, promoters, broadcasters," he said in the pre-fight build-up. "There are so many ways to worm your way out of fights these days. I have had to sit on the sidelines and wait my turn, I have tried being nice and being nasty, I have beaten everyone put in front of me... "I will not be denied any longer."
Andrade, however, remains the favourite fighting on home soil, having won all of his 29 professional contests. He has held belts at both 154lbs and 160lbs and believes an impressive victory over Williams will set up a career-defining bout against Gennadiy Golovkin later this year. On the undercard, exciting prospects Otha Jones III and Mahammadrasul Majidov are among those aiming to take the next step towards headline fights in the future. Follow all the action live below:
1618699969
ANDRADE HAS HIS HAND RAISED
But it is the American who retained his world title in the end as all three judges gave him a clear margin of victory.
Dylan Terry
17 April 2021 23:52
1618699820
HIGHLIGHTS
But Williams came roaring back in the fight and landed a huge right in the ninth round which stunned the champion...
Dylan Terry
17 April 2021 23:50
1618699741
HIGHLIGHTS
Here was the moment Williams was dropped in the second round. At that moment it really did not look like this was going to the scorecards.
Dylan Terry
17 April 2021 23:49
1618699645
ANDRADE'S MESSAGE TO CHARLO
Andrade had four words when asked about the Charlo fight: "Let's get it on."
Dylan Terry
17 April 2021 23:47
1618699564
WILLIAMS ON DECISION LOSS
"He's better than I thought to be honest, he's very slippery. I couldn't get my shots off, I hurt him a few times I feel but he was gone before I knew it.
"I know I'm tough. When I went down I knew I'd taken his best shot and he couldn't keep me down.
"I believe Demetrius is probably the best of the champions apart from Canelo. I gave him some stick in the build-up but I have to give him respect. He's a great fighter."
Dylan Terry
17 April 2021 23:46
1618699462
ANDRADE ON HIS VICTORY
"Liam Williams is a hell of a fighter. Tough, strong, comes to fight. That's what people want to see.
"He came here to win, I'm not fighting anybody whose coming to lie down. But the end of the day it was a dog fight between two boxers who took shots to give shots.
"At the end of the day, pressure makes diamonds and I did what I had to do. And still."
Dylan Terry
17 April 2021 23:44
1618699297
ANDRADE DEFENDS TITLE
Three judges all score it in favour of Demetrius Andrade. 116-111, 118-109, 118-109.
118-109 is far too wide in my opinion, but Andrade undoubtedly won the fight by a clear margin.
The two talk for a good minute after the decision is read out and both seem to have a nice amount of respect for one another.
A really, really good world title fight in which both boxers leave with a great deal of credit.
Dylan Terry
17 April 2021 23:41
1618699041
WILLIAMS VS ANDRADE
Round 12: Liam Williams has three minutes to stop Demetrius Andrade and become world champion. Otherwise the American has almost certainly defended his WBO title for a fourth time.
They touch the gloves as both boxers show respect for the toughness of one another.
It becomes apparent early on in the round that Andrade is keen to run down the clock here as he holds and ties Williams up. The first 90 seconds are scrappy and then Williams falls on top of an exhausted Andrade.
The American looks absolutely spent, but he's going to see the finish line. A little flurry from Andrade will catch the eye of the judges once more as the bell rings for the final time.
The two fighters embrace in a sign of fatigue more than anything else. A valiant effort from Liam Williams, but Demetrius Andrade has almost definitely defended his crown.
Dylan Terry
17 April 2021 23:37
1618698769
WILLIAMS VS ANDRADE
Round 11: Andrade makes Williams miss with supreme head movement in the first minute of the tenth as the Welshman marches forward like a man possessed.
Crouching and switching from orthodox to southpaw in a seamless manner is Andrade and Williams is struggling to find the button. Andrade makes him miss and then snaps in with a sensational one-two. Williams drops his hands and calls on the American to engage in a shoot-out. The champion is too smart for that.
Andrade fumbles his way through a messy final minute and you have to feel Williams is running out of road here.
Dylan Terry
17 April 2021 23:32
1618698565
WILLIAMS VS ANDRADE
Round 10: Where Andrade looked classy boxing off the ropes a couple of rounds ago, now he looks uncomfortable. Williams is coming with everything he's got as he snaps another right hand around the guard of Andrade.
Andrade finds the uppercut once more - his go-to shot tonight - and then has a nice little flurry of punches that Williams takes on his granite chin.
A nice one-two gets through from Williams and Andrade tries to hold again. The ref should not be letting the American hold that much but he's getting away with it.
Williams finishes the round with a couple of nice straight shots and may have nicked another one. Still needs the stoppage, though.
Dylan Terry
17 April 2021 23:29
Register for free to continue reading
Registration is a free and easy way to support our truly independent journalism
By registering, you will also enjoy limited access to Premium articles, exclusive newsletters, commenting, and virtual events with our leading journalists
Already have an account? sign in
Register for free to continue reading
Registration is a free and easy way to support our truly independent journalism
By registering, you will also enjoy limited access to Premium articles, exclusive newsletters, commenting, and virtual events with our leading journalists
Already have an account? sign in
Join our new commenting forum
Join thought-provoking conversations, follow other Independent readers and see their replies