Commonwealth Games 2014: David Palmer in double delight as Aussies dominate final day on the squash court
38-year-old teams up with first Rachael Grinham, then Cameron Pilley, to win doubles gold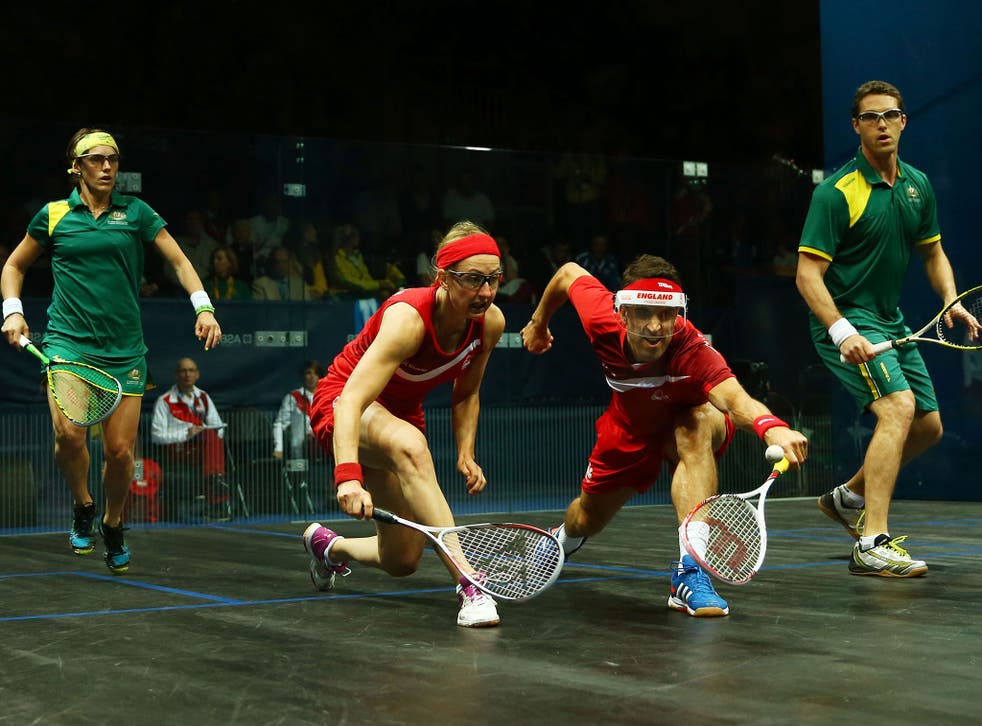 After 11 days of competition, the final battle for gold at these glorious Glaswegian Commonwealth Games came down to a slug-fest on the squash court at Scotstoun between a couple of Aussies and two Englishmen.
The gold medal match in the men's doubles proved to be a fittingly gripping affair. It featured a gritty Australian veteran who had come out of retirement to claim gold in the mixed doubles final just half an hour earlier, and a Londoner blessed with nifty footwork befitting of a ballerina's son.
David Palmer, a 38-year-old from Lithgow, New South Wales, turned his back on competitive squash in 2011 to concentrate on the coaching academy he runs in Orlando, Florida. He was tempted out of retirement by the challenge of completing a Commonwealth medal collection that comprised two silvers and four bronzes from three previous Games.
He found it in the first final, teaming up with Rachael Grinham to beat England's Peter Barker and Alison Waters 11-8, 11-10 to win the mixed doubles.
The big question then was whether, having finally found his Midas touch, Palmer could keep it for the men's doubles final.
It seemed unlikely when he and Cameron Pilley squandered a 7-5 lead to lose the opening game to Adrian Grant and Nick Matthew of England, 11-10. Grant, the ballerina's son from Croydon, and Matthew, a Sheffielder married to a psychologist from the British Cycling team, could not maintain their momentum in the second game, losing it 11-7. That set up a last game decider and what a thriller it was.
Palmer and Pilley trailed 3-1 but clawed their way back to win it, 11-9, and the gold by two games to one.
Grant and Matthew had to be content with silver. Their England team-mates James Willstrop and Daryl Selby took bronze.
Join our new commenting forum
Join thought-provoking conversations, follow other Independent readers and see their replies