From addict to world champion, how Luvo Manyonga can inspire a Commonwealth Games host city fighting its own crystal meth epidemic
Interview: Behind Gold Coast's beaches and beneath the skyscrapers there is a troubling drug problem the city would rather keep quiet, but one longer jumper's journey inspires hope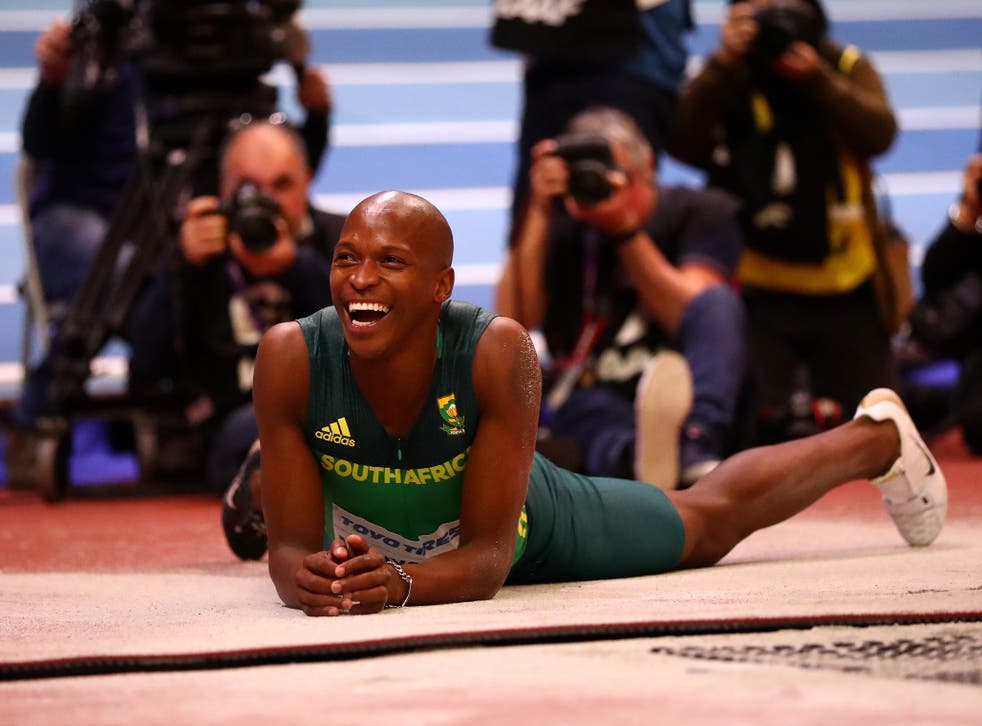 It's not a story that event organisers have been promoting: Australia's Gold Coast, the host city of next month's Commonwealth Games, is quietly fighting a spiralling crystal meth epidemic. Paramedics typically contend with four overdoses of the party drug, known locally as 'ice', every day.
Possession of the stimulant, which provides a highly addictive sensation of euphoria but is associated with stroke, psychosis and other serious health risks, has increased by 250 per cent in less than a decade. One third of all patients seeking drug rehabilitation treatment in the region last year cited ice addiction, the Salvation Army say.
Queensland's federal government have responded by pledging AUD$3m (£1.6m) to curbing the spread of the amphetamine. However, a greater impact could yet be made by the AUD$2bn (£1.095bn) invested in hosting the largest ever Commonwealth Games in April. The favourite for the long jump this year is a recovering crystal meth addict. He wants the allure of the substance to be better understood to reduce stigma and motivate others to seek the support he has benefited from.
Commonwealth Games 2018 – venues

Show all 17
Luvo Manyonga is that athlete. Last year the South African became world champion after jumping 8.48 metres in London's Olympic Stadium. His success was achieved in the absence through injury of Greg Rutherford, Britain's 2012 hero. Manyonga did not take part in London 2012. Back then he was still smoking 'tik' – as crystal meth is known in South Africa – out of a repurposed light bulb, inhaled through a straw.
Manyonga received an athletics ban, though the substance is the opposite of performance-enhancing. He says his addiction was responsible for "four lost years". Yet his battles may not be in vain. Success at The Gold Coast games will afford the Cape Town jumper a local profile to raise awareness of what makes the drug attractive and dangerous, in a city crying out for help.
Both Cape Town and the Gold Coast are deceptively beautiful: coastal cities, enduring a stark rich-poor divide. Both are party towns with high living costs. Both are inhabited by young people "craving instant gratification", as one recovering addict, who started dabbling when he was seventeen, told the Gold Coast Bulletin newspaper last year. Chasing fun, chasing thrill, more than anything, is what Manyonga emphasises to be behind his attraction to crystal meth.
"I was just this nosey kid growing up, wanting to have fun, experience things," Manyonga tells The Independent. "I was 18 when I first did it. I was with my friends, we had a little bit too much to drink and then things went overboard and we started trying things, everything."
Manyonga's trainer Mario Smith died in a car crash during a spell when the long jumper had been living at Smith's house, in order to be closer to Athletics South Africa's training facilities. Some have made a connection between this loss and Manyonga's interest in drugs. Manyonga insists this is conflation.
"There was no one thing," he says. "I was just a kid in a township with money, wanting to have fun. I didn't know that I was gonna get hooked and become an addict and stuff like that. I got too caught up in it."
It is easy to paint a story pairing poverty with drugs, but sometimes there's correlation rather than causation. It's true that Manyonga had a tough start in life, the eldest son of a forklift truck father made redundant many years ago and a mother who, working as a domestic maid, was the family's sole breadwinner. However, athletics fans know Manyonga as the man he is: brimming with happiness, Usain-Bolt like in his charisma and showmanship. His support team describe him as always being "full of joy". He likes to push boundaries too. He has said there are "no limits" to how far he can jump and he has targeted becoming the first man in history to jump nine metres.
"I was born relaxed," Manyonga tells The Independent, lounged on a sofa, his long legs crossed diagonally as there's insufficient space between his hips and the coffee table. "It's natural to me. I don't like to stress myself with things I can't change."
Manyonga's early brush with crystal meth – one pursued out of youthful curiosity – is so common as to be emblematic. More than a quarter of tik patients in the Western Cape are younger than 20. More than one in three patients now seeking help from drug rehabilitation centres in Cape Town are doing so for addiction to crystal meth, more than any other drug, according to a study published in the journal Neurology, Neurosurgery and Psychiatry last year.
The allure can be more widely understood through listening to Manyonga's story. It's also illuminating to hear he didn't recognise himself as an addict until he failed a drugs test and was suspended from competing. But as for the dangers, these can be appreciated best by hearing of the harrowing health implications faced by other addicts.
The journal research was carried out by Australian academics, who were keen to learn more about health outcomes in South Africa. They found that strokes experienced by people under 45 were more likely to be fatal in 8 out of 10 cases where the individual had used crystal meth in the past. "It is likely that methamphetamine abuse is making a disproportionate contribution to the increased incidence of stroke among young people observed over recent years," concluded Julia Lappin, of the University of New South Wales.
Manyonga has emerged unscathed thus far and has credited rehabilitation for helping him fight the "daily challenge" of temptation. He encourages others to seek the help that has empowered him to maintain his health and restore his sense of direction.
Pieter Lourens heads up the Athletics South Africa federation and as a Cape Town native knows both Manyonga and the drug problems in the province well. "Luvo has always been playful by nature. He stayed with his grandma before his coach and he was virtually on his own when Mario passed away. I think it caused him to lose his way. The moment they were no more, I think that's when his troubles started. His parents are still living in the same house in the same township [Mbekweni], but he was taken away from there and put in very different circumstances, in Stellenbosch, to be close to the athletics facilities."
Manyonga only acknowledges the influence of his unsettled upbringing on his choices indirectly, when he discusses with The Independent his plans for life after hanging up his jumping spikes. "I'll maybe start a charity or foundation… I'm thinking of doing something in the Eastern Cape. In the rural areas, it's rare for [sports bodies] to reach out there. When you're young you need to go to the city to excel in athletics; I'd love kids in South Africa to be able to do it at home."
Cape Town is currently where the greatest opportunities are, both for grasping athletics glory and for being exposed to and accessing drugs. Lourens is optimistic that more young people will choose the sporting path having seen what Manyonga has achieved, in tandem with compatriots Caster Semenya, a multiple gold medal winning middle distance runner, and Wayde van Niekerk, the 400 metres world record holder.
"During the separation [apartheid] South Africa was barred from taking part in the Olympics, Lourens adds. "There were no heroes for young South Africans to look up. Now everyone wants to be like Luvo, Caster and Wayde."
Manyonga, who went all of last year unbeaten in the long jump, may serve as a fresh and vital reference point for Gold Coast residents too next month, by maintaining his trajectory.
Join our new commenting forum
Join thought-provoking conversations, follow other Independent readers and see their replies