Commonwealth Games 2018: Life in Fiji stops as Jerry Tuwai leads island nation into rugby sevens battle
Interview: Tuwai's journey from Newtown, a shanty town renowned as being one of the poorest and most dangerous neighbourhoods of Suva, to captain of the national side is a remarkable story
Friday 13 April 2018 13:42 Comments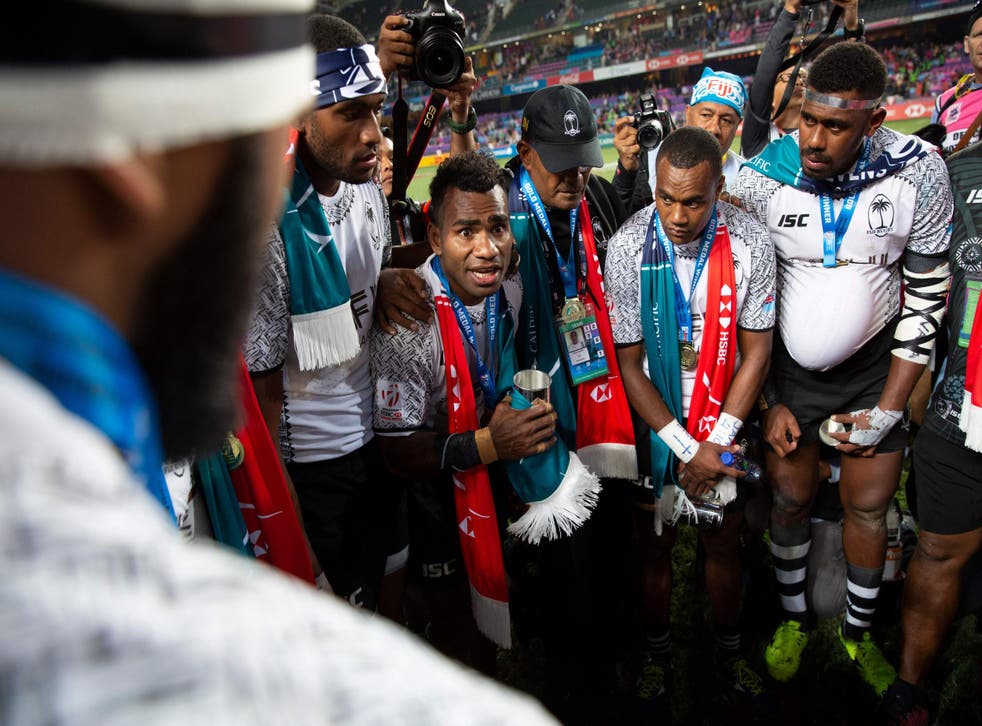 When Olympic champions and gold medal favourites Fiji take to the field for their start to the Commonwealth Games rugby sevens tournament on Saturday, all eyes will be on one man – their captain and playmaker Jerry Tuwai. Two years ago, Tuwai was the heartbeat of the team as they swept to gold at Rio 2016, the first time in history that a small Pacific island nation had triumphed on the biggest sporting stage of all.
Their feat was all the more remarkable given that their main rivals – Australia, New Zealand and Great Britain all have million dollar training programmes with vast teams of nutritionists, sports psychologists, strength and conditioning coaches, analysts and the latest hi-tech training aids. In contrast, Fiji's national sevens side train in a small field in the capital city of Suva. Four years ago, such was the paucity of funding, that their coach had to pay his own wages for several months.
"We wash our own kit after training in the wash basins at home," Tuwai smiles. "We prepare our own water bottles. It's a simple life, but a good one. Our training base is in a beautiful place, we have land, balls, and players who are willing to play for the love of the game. It's all we need."
Despite the lack of resources, it's impossible to underestimate the passion for rugby sevens in Fiji, something akin to a religion. In the past, bank holidays have been called based on the successes of the national team, and even if the aftermath of national disasters such as Cyclone Winston in early 2016 which left 62,000 homeless, including many of the team's own players, people still found ways to watch and support the team compete in international tournaments.
"It's a national sport for us, like the heartbeat of Fiji," Tuwai says. "Whenever Fiji sevens play, the country comes to a halt."
Tuwai's own journey from Newtown, a shanty town renowned as being one of the poorest and most dangerous neighbourhoods of Suva, to captain of the national side is a remarkable story. Growing up without electricity or running water, he dropped out of school in his early teens and turned to petty crime. "I've done some bad things," he admits. "Things which are against the law, that take us to jail. But I learnt from that."
As a wayward teenager helping his father dive to catch fish, and then sell their wares on the streets, Tuwai first discovered a growing passion and aptitude for rugby by playing on the streets of Newtown. "We would play on this gravel roundabout," he says. "I lost a lot of toenails playing there! We'd play with anything we could find. We didn't have money for balls so we'd use plastic bottles and tied up T-shirts."
Determined to pursue the sport further, Tuwai told his mother that he wanted to be a rugby player. "Using the small amount of money that she has to buy food, and allow our family to survive, she bought me a pair of boots," he remembers. "And she looked at me, and said, 'These boots are your knife and fork, these are what you will use to earn food.' And that day, I took the boots and I wrote on the bottom of them, 'knife and fork'."
Even in the rough and ready surroundings of street rugby in Newtown, it didn't take long for Tuwai's natural talent to become apparent. Slightly built, at just 5ft 7in, his strength was quick footwork and a lightning turn of pace, which has seen him clock speeds of up to 37km/h. His ability to rapidly change direction without losing momentum, creating space for his team-mates in the process, caught the attention of local coaches who recommended him to the national side.
"You have to have different, unusual weapons to get around the big boys when you're the smallest in the team," Tuwai says. "I cannot run straight through the defence line, because it's easy for them to bring you down. So I use my feet, I step around you so you cannot catch me. That's my main weapon, side stepping."
Initially Tuwai was dismissed as being too small, and lacking in strength and fitness to cut it at international level. Such was his disdain for the repeated rounds of 200m intervals, a staple of national team training camps, that he once hid in a bush to avoid being made to do anymore.
"I didn't use to be particularly mentally tough," he admits. "I would tell the coaches, if I train too hard, I cannot step so well. I tried to use a lot of excuses like that."
But under the strict mentorship of first Ben Ryan, an English coach who guided the Fiji sevens team to Olympic glory, and more recently Welshman Gareth Baber, Tuwai has developed into a prodigious try scorer at the very highest level.
"Ben really moulded me from a local rugby player, playing on a roundabout to an international player," he says. "He gave me belief, taught us so much about the game. Before I used to be very quiet on the field but he encouraged me to communicate and be able to organise the defensive line as well as attack."
After winning the recent Hong Kong sevens tournament, if Fiji claim Commonwealth gold over the next two days, they will hold almost all of the major sevens titles in the game. Tuwai believes that one of the main sources of their strength is a sense of unity, which he feels the larger, richer nations lack.
"We all believe in the lord Jesus Christ," he says. "Before we train in the morning, we pray together as a team. After training in the afternoon, we do it again. Our players will wear armbands in matches with verses from the bible written on them. And when we're struggling in matches, we think of our people, our family. We think of them working, sweating, it gives us something to fight for. Those tackles and passes become all the more personal, because of where we come from."
Register for free to continue reading
Registration is a free and easy way to support our truly independent journalism
By registering, you will also enjoy limited access to Premium articles, exclusive newsletters, commenting, and virtual events with our leading journalists
Already have an account? sign in
Join our new commenting forum
Join thought-provoking conversations, follow other Independent readers and see their replies