Ashes 2013-14: Scratchy Alastair Cook sets tone for ailing England
Tourists labour to 226 for 6 before 91,000 crowd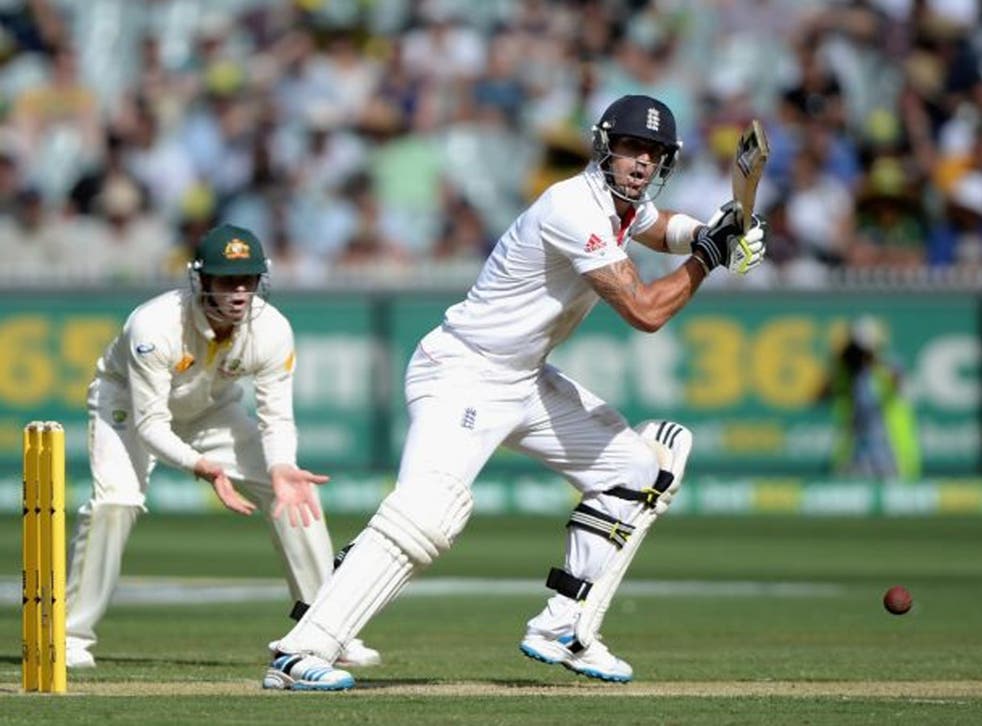 There were a mere 86,000 people here at the G when England's captain was out yesterday. Had Alastair Cook stayed around, which used to be his stock in trade, he would have been performing in front of a world record Test attendance of 91,092 (and they say the game is dead on its feet!).
But for the moment Cook has forgotten what it is like to bat until the crowd is all safely installed. Perhaps it is a protest about public transport running on time or the methodology of turnstiles.
Or perhaps the stresses of captaincy – if the description can be used without invoking a call from an army of sports psychologists – and a losing team are taking a wearisome toll on his batting. It is reckoned to get to them all in the end.
ASHES PODCAST: Stephen Brenkley and Tom Collomosse discuss the first day of the Fourth Test. Listen below…
Cook's dismissal yesterday in the first innings of the fourth Test here at the MCG – the biggest stadium in the world still used for cricket, though it is in truth an Australian Rules football emporium these days – heralded another indifferent day in this Ashes series for England. They demonstrated almost no initiative beyond wishing to survive, which they signally failed to do. Here were a side bereft of confidence against a side brimming with the stuff.
Such play was not designed to persuade many of the customers back another day. Accurately and miserly as Australia bowled, England never dared take the fight to them.
Teams take their cue from their leaders and Cook's departure was particularly concerning because it came when he was to all intents and purposes in.
The initial hard graft had been done. England had been asked to bat by Michael Clarke, who probably surprised himself by issuing the invitation, persuaded by tinges of green in the pitch and moisture in the air.
It did not immediately work. For once, Cook had something to clip off his legs and cut through point. Having turned 29 on Christmas Day, he must have felt all, or at any rate something, was right with the world. Soon after the first drinks break he launched into a half-hearted drive at Peter Siddle and ended up hanging the bat outside off stump.
The easy conclusion is that it was the stroke of a man with other matters on his mind, not distracted exactly but not clear of purpose. It took the edge and went to slip.
Cook was one of four England batsmen to negotiate the difficult early stages without going on. All of the top six reached double figures. It was an exhibition which has embodied their series. Nobody has been totally hopeless, or at least not so hopeless that they can be dropped, but only the least experienced, Ben Stokes, had scored a hundred.
The exception who saw it through yesterday was Kevin Pietersen and he needed two huge slices of fortune when he was on six and 41. He was lured into the hook shot first and was caught by the substitute fielder at long on, Nathan Coulter-Nile, who failed to keep his balance and carried the ball over the boundary. A pull shot should have done for Pietersen later but George Bailey shelled the chance at short midwicket, sharp perhaps but precisely what he was there for.
England finished the first day on 226 for 6 and Pietersen was 67, his highest score of the series, from 152 balls. Cook will have spent much of it wondering deep down where his career goes from here. He has been brutally candid this past month in discussing the shortcomings of his batting and the failures of his team.
A man who has played 100 Test matches and been on the winning side in 42 of them can afford to reflect honestly when bad spells inevitably intervene. Many England captains have had worse personal tours of Australia.
In 1965-66, Mike Smith scored 107 runs in five matches and averaged 17.83; in 1978-79 Mike Brearley made 184 runs in six matches at 16.75; and in 1974-75 Mike Denness dropped himself before returning to make 188 in the final Test and take his total to 318. Cook now has 181 runs and will be aware he needs something to redeem himself.
This is his second poor series, following the home Ashes against Australia. There has been little to suggest that he is not the man to take England forward but eventually both his form and the form of the team have to be taken into account.
Not that there would be an obvious candidate in any case. In dropping Matt Prior after 60 successive Test matches he also left himself without his vice-captain. Ian Bell took over as deputy but he, too, is struggling for prime form after a golden summer.
The wicketkeeping spot went to Jonny Bairstow, who must be given an opportunity to make it his own. His dismissal and indeed his whole innings yesterday were inauspicious. Having top-edged a hook off Mitchell Johnson he was then bowled through a wide gate by a ball that barely deviated. A herd of cows followed it through.
England's position was not wholly of their own attritional making. Australia bowled with admirable rigour and discipline after too many early looseners. They seemed to be inviting their opponents to come and get them if they could but they could not.
A scorecard in which no one is out for less than 10 and no one dismissed has made more than 38 never reflects well on the batting side. After Cook went before lunch, Michael Carberry went soon after it when he left a ball from Shane Watson which trimmed his off stump. Carberry's leaving of the ball has been one of the sights of the series but it is a fine art.
Joe Root and Bell were both incited to push at balls outside off stump and just going away by the excellent Ryan Harris. Stokes was beaten for pace by the second new ball. Briefly, the crowd loved it. The previous record attendance was set in 1961 and it may be another 52 years before yesterday's attendance is overtaken, assuming Test cricket is still being played then.
Join our new commenting forum
Join thought-provoking conversations, follow other Independent readers and see their replies