Ashes 2013-14: Andy Flower fumes over Kevin Pietersen 'ultimatum'
England coach angry over Pietersen story and would have thought hard before denial but he failed to give his stance on maverick batsman satisfactorily
Stephen Brenkley
Wednesday 08 January 2014 20:30 Comments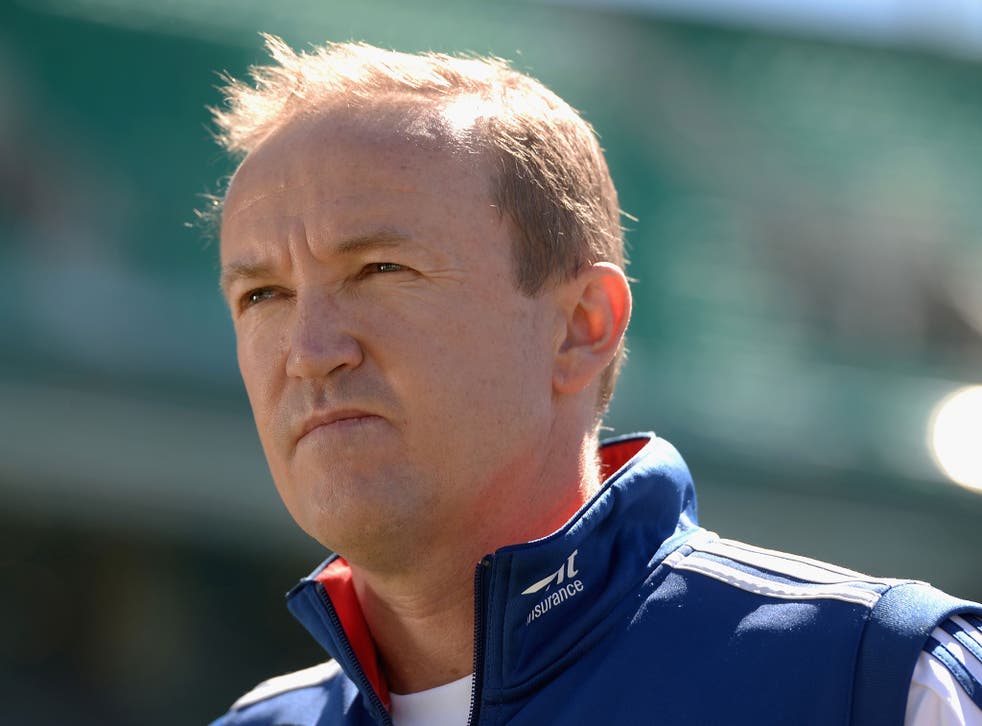 Andy Flower is a studious and determined man. He can be stubborn, cussed and from time to time volcanically tempered. Mostly, when speaking to the press, whether novitiates he has rarely met or old stagers he has known for an age, he is buttoned up yet considered.
If he gives ground he does not do so lightly or easily. He likes to be right. Before issuing the extraordinary statement to repudiate some of the potentially damaging claims about his future role as what is officially England team director, he will have thought long and hard. He probably slept on it. And then he was probably still mad about them.
At the root of it, a phrase which applies to many, perhaps most, issues in England cricket these past 10 years, is Kevin Pietersen. In this case it is Flower's relationship with the player and the suggestion that he holds the belief which is effectively: "He goes or I go."
Flower denies this is the case. The man to whom Flower would have made the point, Paul Downton, his new boss as the managing director of England cricket, has yet to say a word in public and in private has been his charming, diplomatic self. As a former banker who also well knows how international cricket works he is not given to indiscreet comments.
Flower said in his statement that his words in his post-Ashes press conference still stood and he reiterated his intention to continue in his role. It would be sensible to review the tour calmly and logically before considering future options, he said. This would seem typical of his character, were it not for some of the odd, nay bizarre, player selections that have been made recently under his command.
His pay-off was the most strenuous attempt to ward off his pursuers: "I repeat that neither I nor the wider ECB leadership group have made any decisions as to the future involvement of any individuals in the playing group or in the support staff. The reports that I have issued an ultimatum of some description to the ECB are totally inaccurate."
The "individual" he had in mind, naturally, that everybody had in mind, was Pietersen. Flower's statement is carefully worded but no one suggested he had actually "issued" an ultimatum, only that he could not work with Pietersen any more. Interestingly, Flower offered no comment on the current state of his relationship with Pietersen.
It is clear that things have not been hunky-dory with Pietersen on this tour. On the field and off it, the most contentious player of his generation has been detached even by his own high standards of detachment. Pietersen came here expecting the Ashes to be won and to do his bit in winning them. When they were lost a little of him went missing.
Even when the series was alive he made lapses of judgement at the crease but there were also innings of genuine application. In case anybody doubted him, Pietersen tweeted (it is the favoured form of player communication, needing no embellishment or nuance) after the series was done and England had folded in their abject heap that he wished to help to regain the Ashes in 2015.
It is possible that Flower wished it otherwise, that life would be simpler without Pietersen, but had he said that to anyone in the England hierarchy? As it happens, Pietersen's position in the England dressing room has suddenly become more comfortable, not less.
The retirement of an old adversary, Graeme Swann, has put Pietersen much more at ease. The two had reached an unwritten agreement on cooperation after the last conflagration Pietersen had with management in 2012, but it was a truce not a treaty. There was always the prospect that it was not worth the paper it wasn't written on.
When Swann walked away from the game a few days before the fourth Test at Melbourne, Pietersen may or may not have sent a fond farewell note but he was suddenly much more chipper. Swann was a relentless and charming dressing-room character but he was not Pietersen's cup of tea. They never laughed from the same joke sheet.
Flower has much to muse on beyond Pietersen. Indeed, it is entirely possible he has given much more time to thinking of Alastair Cook in the past few days. Cook has Flower's firm support as captain of England. In Flower's mind they are in it together or he is not in at all.
But there is another misconception about their roles. Flower wants Cook to take more responsibility for this team, to make it Cook's team, not Cook's team inherited from Andrew Strauss or a combination of Flower and Cook with a bit of Strauss added on the end. The accepted norm is that Cook does what Flower tells him.
If that were ever so, Flower wants it to cease. To grow as a leader, Cook has to grow as a man. Once more, the departure of Swann may help. Swann was subversive and he might also have been too close to Cook. Captains must be aloof occasionally.
Flower has urged Cook to think about the way he performs his duties. Nothing will happen immediately because Cook, unfortunately, has a one-day series, starting here in Melbourne on Sunday, to think about. But on the dark nights he is involved with the lambing at home in February and March he might dwell on giving himself new life.
Maybe he will think of where Pietersen fits into all this as well, if he fits into it at all. Cook took responsibility all right when he made it clear that he wanted Pietersen in his team after the shenanigans of 2012.
That summer, Pietersen had driven Flower almost to distraction. While some of Pietersen's grievances were real, not simply perceived, his unfortunate habit of conveying the belief that the world revolved round him could be irksome.
It affected Flower, drained him. Before the real kerfuffle started later in the series against South Africa, the first Test had taken place at The Oval, where the tourists made 637 for 2 and beat England by an innings and 12 runs. Immediately after the defeat he declined to meet the press then or the following day. I made the point to England's media relations manager that he would regret it. Later, dashing for a train home, Flower rang to take me to task and said that he thought that was an implied threat.
It was no such thing, it was an observation that he would rue not appearing in public to explain England's performance as their head coach after a particularly heavy defeat simply because that was part of his job. There was a frank, though polite, exchange of views and, though the infernal phone cut out three times on the train, Flower rang back every time to continue the conversation.
That is but a small illustration of the sort of man he is: intense, scrupulous, wary, with an eye for detail. He has said he will not walk away from this. He will not. But the world waits, fascinated to see if Pietersen plays for England again.
Register for free to continue reading
Registration is a free and easy way to support our truly independent journalism
By registering, you will also enjoy limited access to Premium articles, exclusive newsletters, commenting, and virtual events with our leading journalists
Already have an account? sign in
Join our new commenting forum
Join thought-provoking conversations, follow other Independent readers and see their replies