Ashes 2013-14: England tour in turmoil after departure of Jonathan Trott due to stress related illness
Trott will play no further part in the tour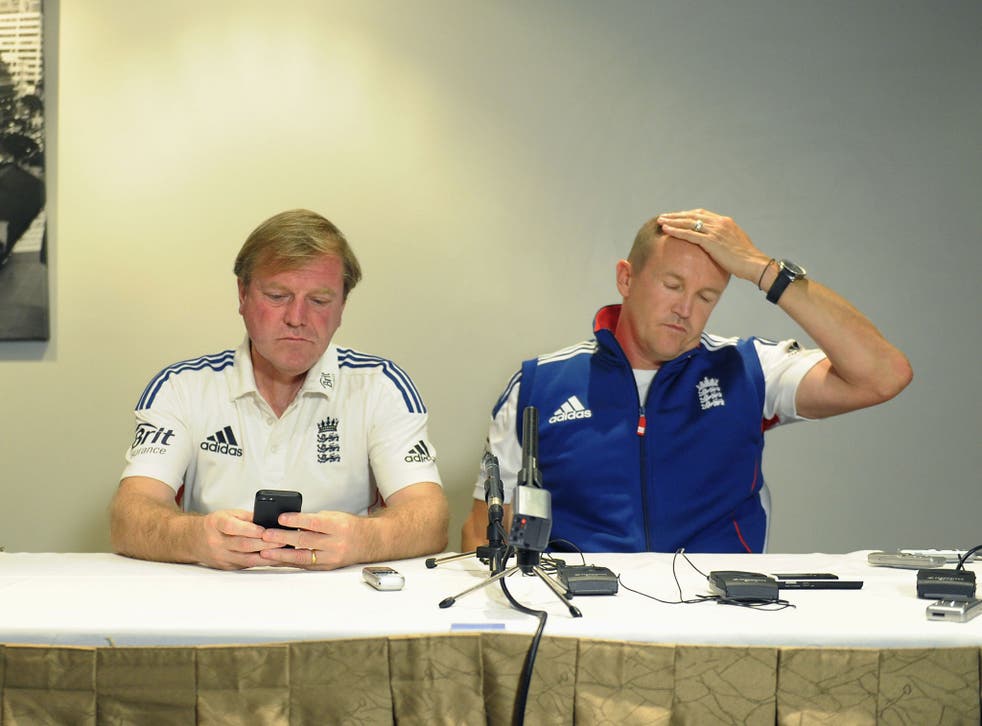 England's tour of Australia is in crisis. The sad departure of Jonathan Trott, their No 3 batsman, with a stress-related illness threatens to disrupt the stability of a team who were already facing a grim struggle for survival in the Ashes series.
Trott left for home on Sunday night shortly after England's overwhelming defeat by 381 runs in the opening Test at The Gabba. The teams were virtually at each other's throats by the end of the match. Insults and abuse were being freely exchanged on the field and Trott, who had a poor game with the bat, was subjected to a verbal attack off it in a press conference by Australia's controversial opening batsman, David Warner.
England are seething about Warner's description of Trott's second-innings dismissal as "pretty weak and pretty poor" but insisted it was nothing to do with his return home. So far, Warner has escaped punishment and, as he was expressing a personal opinion, discourteous though it was, that should be the end of it.
Read more:
Kevin Garside: The case of Jonathan Trott has shone a light on the thug culture of 'sledging'
Batting: Ian Bell likeliest No 3 as England ring the changes
Criticism when you are not playing well can cut deep
But Michael Clarke, Australia's captain, was fined 20 per cent of his match fee for sledging Jimmy Anderson, England's No 11, as the match drew to a close. With Mitchell Johnson, Australia's terrifying fast bowler steaming in for the last, but decidedly not the first time in the match, Clarke said: "Get ready for a fucking broken arm."
There is a long and often inglorious history to the rivalry engendered by the Ashes and the rancorous extremities of it were palpable immediately before and throughout the Brisbane match. Trott was out cheaply in both innings, dismissed on both occasions by bouncers from Johnson, the man of the match, against whom he seemed powerless.
On Monday England defended their decision to select Trott in the match, even though they were well aware his condition had returned at the start of the tour. He had also clearly been discomfited by Johnson in the recent one-day series in England.
Hugh Morris, the managing director of England cricket, said: "I want to be really clear on this. Jonathan has managed a stress-related illness for a period of time. It is not down to any particular incident of the last few days.
"It's something he has successfully managed. We've got to a situation now where it is important to take him out of this particular environment and make sure he's in and around his family and gets the support that he needs."
Trott has been largely outstanding for England, especially in Test cricket, since he marked his debut in the 2009 Ashes series by scoring a century. But the stress-related illness has never been far away, it was revealed last night, and manifested itself again early on this tour.
He is the third England player to leave tours in the last few years with stress-related illnesses. Marcus Trescothick was forced to leave the 2006-07 Ashes tour before the Test series started and Mike Yardy departed from the World Cup campaign in 2011. England, who have a huge back-room staff on tour, including a squad doctor and psychologist, decided that Trott was fit enough to play in the first Test.
Andy Flower, the England coach, said: "I was first aware that Jonathan struggled with these things from our first contact as player and coach. He's been managing it from the start of the tour. This condition didn't pop up just before the first Test.
"He has handled it really well over the years and he has handled it well on the tour so far. Just as if someone had a hamstring issue leading into the first Test, it is our job to assess the likelihood of him being able to last the Test or that hamstring not hampering his performance. In the same way, with Trotty we believed that he would handle it as he always has handled it very successfully and that was the decision we made."
As it was, Trott was dismissed in both innings, for 10 and 9, flapping at bouncers bowled by the hostile Johnson. It was decided shortly after he was out on Saturday night that he should go home and on Sunday he caught a flight accompanied by a member of the back-room staff.
At about the same time as Trott's departure was being first discussed by player and management on Saturday evening, Warner offered his view of events. After scoring a high-class century in Australia's second innings Warner said: "It does look like they have scared eyes and the way Trotty got out was pretty poor and weak. Obviously, there is a weakness there and we are on top of it."
Asked if he was sure Warner's comments came from a position of ignorance, Flower said: "Yes. Very good description. I think they were ill-advised, I think they were disrespectful. I think that competition on the field is fine and perfectly acceptable. But having players comment about fellow professionals on the international circuit is disrespectful and I think he overstepped the line there."
Although Trott was obviously in deep trouble against Johnson, Flower said there was no question of his not going into bat on Saturday evening.
"He's been dealing with these issues for his cricket career and dealt with them extremely successfully. I can say on record now I have the utmost respect for Jonathan as a bloke and as a really successful international cricketer. I'm lucky that I've been coach while he's been our No 3. He's been an absolute rock for us, and, hopefully, he comes back and he has similar success in international cricket."
In a statement Trott said: "I don't think it is right playing, knowing I am not 100 per cent. My priority now is to take a break from cricket so I can focus on my recovery."
Join our new commenting forum
Join thought-provoking conversations, follow other Independent readers and see their replies