Ashes 2017: England must wise up and realise they have no friends in Australia after 'Buttyline' spirals out of control
Just five days into the Ashes, the bizarre circumstances surrounding Jonny Bairstow and Cameron Bancroft should be a lesson for England if they are to make this series a contest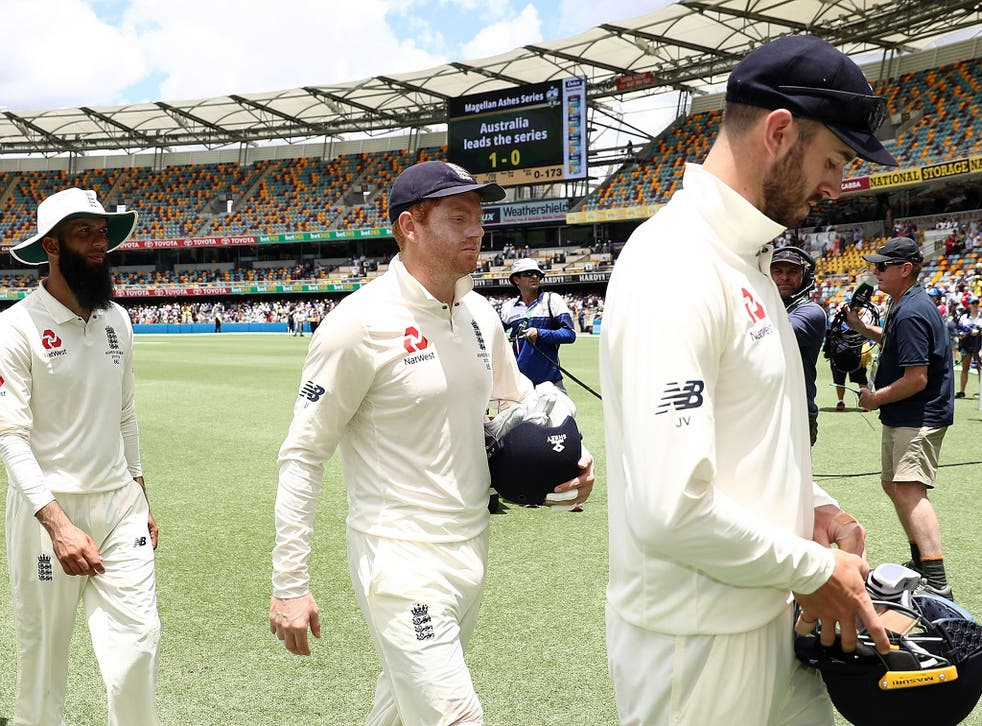 Less than a week into what is in danger of being called the 'Buttyline' series, a day of high farce saw Australia's win in the first Test take a back seat to one of the more surreal episodes in recent Ashes history. Those of you who remember The Mung Bean Curry Scandal (2013-14), The Leaking Of England's Bowling Plans (2006-07) and David Warner Punching Joe Root As A Blow Against Islamophobia (2013) will know what a cherishably high bar that is.
The fallout from Jonny Bairstow's playful headbutt on Australian opener Cameron Bancroft almost a month ago continued in the aftermath of the Brisbane Test, as a contrite Bairstow, an exasperated Joe Root and a bemused Bancroft all gave their sides of the story. No official action will be taken against Bairstow for what appears to have been a benign but highly strange form of greeting, but public ridicule may yet achieve what the England management does not.
Meanwhile Bancroft gave one of the more incredulous press conferences in recent memory, in which he was cross-examined at some length on the nature of the headbutt, which took place in a Perth bar at the very start of the tour. Was it a strong headbutt? Which part of Bancroft's head did it butt? At one point, Bancroft explained that he had the heaviest head in the Western Australia squad. For a man who had just scored 82 not out on Test debut, this was truly not the introduction to Ashes cricket he was envisioning.
Ashes 2017: Cameron Bancroft explains Jonny Bairstow headbutt incident
From England's side, all this was merely a butt in a teacup, butt ado about nothing, the Australian media doing their buttmost to unsettle them ahead of the second Test in Adelaide this Saturday. "It's come up four weeks later, on the first day Australia have had a good one on the field," a quizzical Joe Root advanced, wearing his metaphorical Columbo mac. "If it was a big deal, it would have come out a lot earlier."
Ashes First Test - in pictures

Show all 33
And he was right, sort of. What he failed to acknowledge, of course, was that following the arrest of Ben Stokes in Bristol in September, the Australian press and public has been itching to trigger a similar altercation on their own soil, no matter how flimsy the pretext. England's coach Trevor Bayliss knows this better than anyone, which may explain why he appears to have been angered the most by all this. "If you put yourself in that situation," he explained sadly, "you're fair game."
Bairstow, for his part, issued a prepared statement in which he explained what had happened without really ever coming close to explaining what had happened. "We were just in the bar, having a good laugh and a good evening out," he said. "There was no intent, nor malice, about anything during the evening. Personally, I think it has been blown completely out of proportion."
Ashes 2017: Jonny Bairstow gives statement after headbutt incident
Bayliss used that phrase too: "blown out of proportion". And of course it was. No crime was committed, no misdemeanour even attempted. No team regulation was violated. England have agreed on a midnight curfew on some nights during the tour, but this was not one of them. Bairstow was guilty of nothing more than being a little awkwardly over-familiar.
So yes, it was blown out of proportion. But this is what England will need to learn very quickly: everything is blown out of proportion on an Ashes tour. The spotlight is harsh and unrelenting, and occasionally downright duplicitous. Saboteurs and provocateurs creep out of the paintwork. The media – British, local and social – create their own ominous, irrevocable gravity. What happened matters less than what people think happened. Perception is nine tenths of the law.
"That's what we've got to be better at," Bayliss said. "We can't put ourselves in these situations, no matter however small they are. The disappointing thing is that something like this comes up only a few weeks after the Bristol incident. There'll be another stern talking-to tonight. It doesn't reflect well on the image of our side."
Bayliss, like Root before him, denied that there was a drinking culture in the side, whatever that means. "That's wide of the mark," he said. "They don't drink more or less than any other team I've coached." But again: the perception matters more here. The casual follower will have seen Stokes throwing 15 punches in a minute outside a Bristol nightclub, and now this, and – however erroneously – joined the dots. Two points is a trend.
If they did not know it already, England have no friends in this country. They get on well with the Australians off the field, but on it, with the lippy Warner at the vanguard – they can expect to be confined in international sport's worst and most persistent wit warehouse. Steve Waugh called it 'mental disintegration', which made it sound like something out of Sun Tzu's The Art Of War. In fact, it is the art of sledging with the quality dial turned down so low it takes on the pitch of nails scraping down a blackboard.
"You're not f***ing facing Trent Boult's 80mph half-volleys now, mate," Warner is said to have shouted at Root as he took guard at Cardiff in the 2015 Ashes. This is the level of repartee we are dealing with here. Even that looks positively Wildean compared to his contribution to Bairstow on Monday: "You shouldn't headbutt our mates." Which as withering taunts go, is likely to fall some way short of cricket's banter pantheon – if you will, its bantheon.
And so, in a climate where everyone and everything is out to get you – from the snakes in the grass to the spiders in the bushes to the jellyfish in the sea to the bogans with camera phones – who can you trust? Only each other. England will deal with this issue like they deal with every issue – internally, and with as little fuss as possible.
An alcohol ban, Bayliss suggested, is not out of the question. "Most people in the world like going out at night having a couple of quiet ones. We've just got to be a bit smarter. If that means not having anything to drink, so be it. Probably tightening up on the curfews. We make dumb decisions at different times."
Quite apart from which, there is a Test series to salvage. England may ultimately be thankful to the Bairstow sideshow for diverting attention from their capitulation at the Gabba and allowing them to attend to their flaws in private. Team insiders have confided to The Independent their belief that neither side has the skill or the discipline to bat long periods of time for big totals. This will be a series won, England reckon, by whichever team seizes the pivotal moments. In 2015, it was England. Here, it was Australia.
That must change in Adelaide this weekend. "The most important thing," Root said, "is that we stay strong and tight. For three days, we played some excellent cricket, then unfortunately we got into some good positions and didn't quite capitalise on them."
And this, you suspect, is the heart of the issue. Momentum is a fickle thing. A series-levelling win in Adelaide would swing the series England's way, and turn the glare Australia's. Losing teams are easier to kick. Winning teams are harder to dislodge. Everything that has happened over the last 24 hours should be seen in the context of the match. England are being punished here, but their real wasn't drinking, or socialising, or headbutting. It was losing.
Join our new commenting forum
Join thought-provoking conversations, follow other Independent readers and see their replies