Ashley Giles favourite as Andy Flower quits over split role and awful Ashes
Team director resigns after reassessing position and says his successor should have overall control of rebuilding England 
Stephen Brenkley
Saturday 01 February 2014 01:00 Comments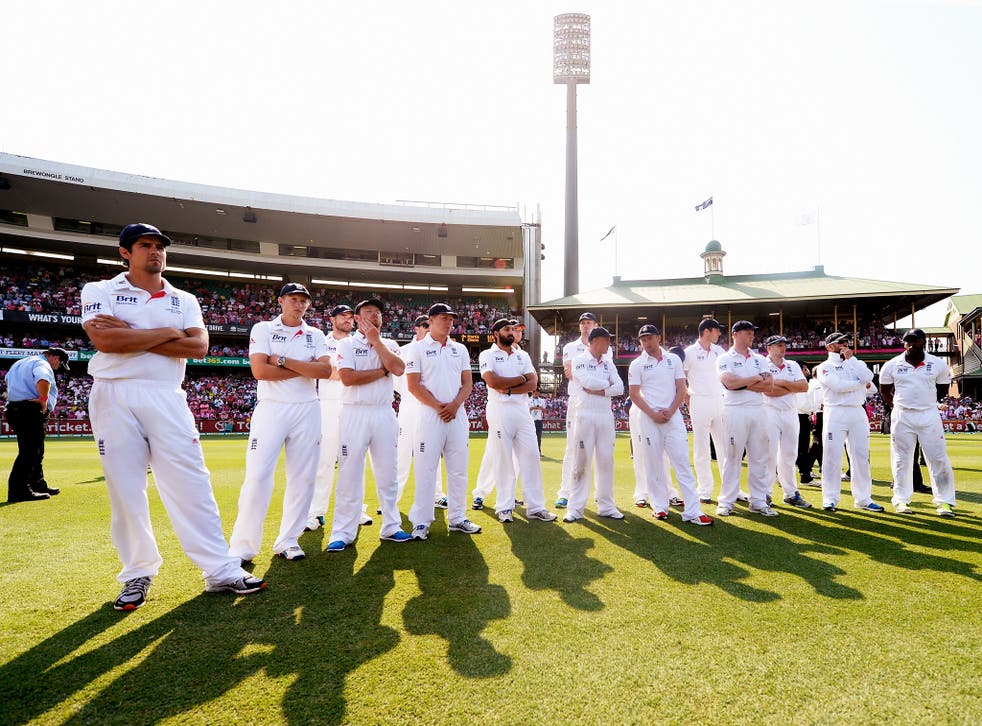 English cricket was offered an opportunity for swift and deep reform after Andy Flower's resignation as coach. The new managing director, Paul Downton, can launch a worldwide search for his successor as England approach the end of their worst tour in history.
It is perhaps a reflection of the parlous state of England's cricket at the moment that the news came out some time before any official announcement was due to be made.
Flower himself gave an indication of what was required after deciding it was impossible for him to continue despite his insistence four weeks ago that he intended to stay. A brief period of reflection at home seems to have persuaded him that the 5-0 Ashes whitewash combined with the splitting of the coaching roles made his continuing impossible.
In his farewell statement, Flower said: "Following the recent very disappointing Ashes defeat it is clear to me that this is now time for England cricket, led by Alastair Cook, to rebuild with a new set of values and goals.
"The opportunity to start with a clean slate and begin to instil methods to ensure England cricket is moving in the right direction will be an incredibly exciting challenge for someone but I do not feel like I am in a position to undertake that challenge."
Although nothing can now be taken for granted, it still seems certain that Cook will remain as captain. A new coach from outside the structure developed by the England and Wales Cricket Board may have different ideas.
So who now? Candidates for top job

Show all 6
The easy option would be for Downton, who does not officially start until Monday, to appoint Ashley Giles as Flower's successor. Giles has an early chance to impress in the World Twenty20 in Bangladesh in March but he has had almost as wretched a time of it in Australia as Flower, losing both the one-day international and Twenty20 series.
Their capitulation by eight wickets yesterday with 5.1 of the 20 overs still left at Australia's disposal was as embarrassing as anything they have suffered all winter.
When Downton applied for the job last autumn he can hardly have expected to be confronted with such a dire position. Although he tried to persuade Flower to stay on and intends to find another job for him within the ECB, he has the chance now to take a long, hard and cool look at the way forward.
While Downton's predecessor, Hugh Morris, was proud of the system he put in place over his six years in the job it has largely been torn asunder by a rampant Australia this winter. Many of England's leading players have been brutally swept aside and potential replacements, as shown by the limited-overs performances, look thin on the ground.
There seems to have been some contradiction and mind-changing. Flower stepped away from the day-to-day running of all England's teams in late 2012 citing family reasons. Morris then heralded it as the way forward and was still clinging to that belief when he left office last month.
But Flower said: "In order for England cricket to make significant progress I believe that the team director, together with the respective captains, needs to be responsible across all formats in order to positively influence the rebuilding process.
"This will ensure complete clarity and continuity across the squads and having stepped aside from the limited-overs squads 14 months ago that is not something I am able to do and I do not therefore feel that starting the process would be in the best interests of all involved at what is a pivotal time for England cricket."
His departure, albeit of his own volition, is at best embarrassing for the ECB. When Flower insisted, following the Ashes whitewash, that he wanted to be the architect of the rebuilding, the head honchos were all behind him. Since then the tour of Australia has gone from merely disastrous to a joke.
There are few obvious candidates for the job from outside. None of those mentioned in the bookmakers' odds have overwhelming credentials. Gary Kirsten, who has enjoyed huge success with both India and South Africa, resigned last year because he wanted to spend more time with his family. He is not the sort of chap to be lured thousands of miles from his home with the prospect of more world travel simply by a heap of money.
Other names mentioned include another former South Africa coach, Graham Ford, who recently agreed to join Surrey after working with Sri Lanka. Ford was an early mentor of Kevin Pietersen, which may work in his favour but equally may not.
Tom Moody, Dav Whatmore and Mickey Arthur formed a list of usual suspects and the appearance of the former New Zealand captain Stephen Fleming in the bookies' shortlist seemed the wildest of left-field candidates since his coaching has been limited so far to the Indian Premier League.
England gave no indication of what the next step would be. Downton will presumably have more to say when he arrives in the ECB offices at Lord's on Monday. He told Flower this week he was very disappointed at his departure. It was hard for him to go.
Flower added: "This has been a very difficult decision to make and I remain committed to England cricket and would like to wish Alastair Cook and Paul Downton every success. I will remain in my position as a selector for the time being and am currently exploring possible roles within the ECB. The priority must now be to establish the direction and personnel needed to ensure English cricket moves forward."
His mention of Cook was almost certainly made in the knowledge that there will be no change there. As for the direction, it could be said that appointing Giles would be going the same way. On the other hand, his style and approach are different from that of Flower. Downton has no time to put his feet under his desk next week.
So who now? Candidates for top job
Ashley Giles (Odds: Evens)
Age 40
Nationality English
Experience Ex-England player; Warwickshire coach; now England limited-overs head coach
Stephen Fleming (12-1)
Age 40
Nationality N Zealander
Experience Former NZ captain, now coach of Indian Premier League side Chennai Super Kings
Graham Ford (8-1)
Age 53
Nationality S African
Experience Former coach of South Africa (1999-2002) and Sri Lanka (2012-13), as well as Kent director of cricket (2005)
Gary Kirsten (7-1)
Age 46
Nationality S African
Experience Led India from 2008-11 and South Africa between 2011-13. At Delhi Daredevils since last September
Mickey Arthur (10-1)
Age 45
Nationality S African
Experience Coached South Africa from 2005-10 and Australia from 2011 until sacking last year
Paul Collingwood (20-1)
Age 37
Nationality English
Experience Ex-England player; on coaching team as Scotland qualify for 2015 World Cup
Register for free to continue reading
Registration is a free and easy way to support our truly independent journalism
By registering, you will also enjoy limited access to Premium articles, exclusive newsletters, commenting, and virtual events with our leading journalists
Already have an account? sign in
Join our new commenting forum
Join thought-provoking conversations, follow other Independent readers and see their replies