Cook fancies T20 role but Broad plays silly straight bat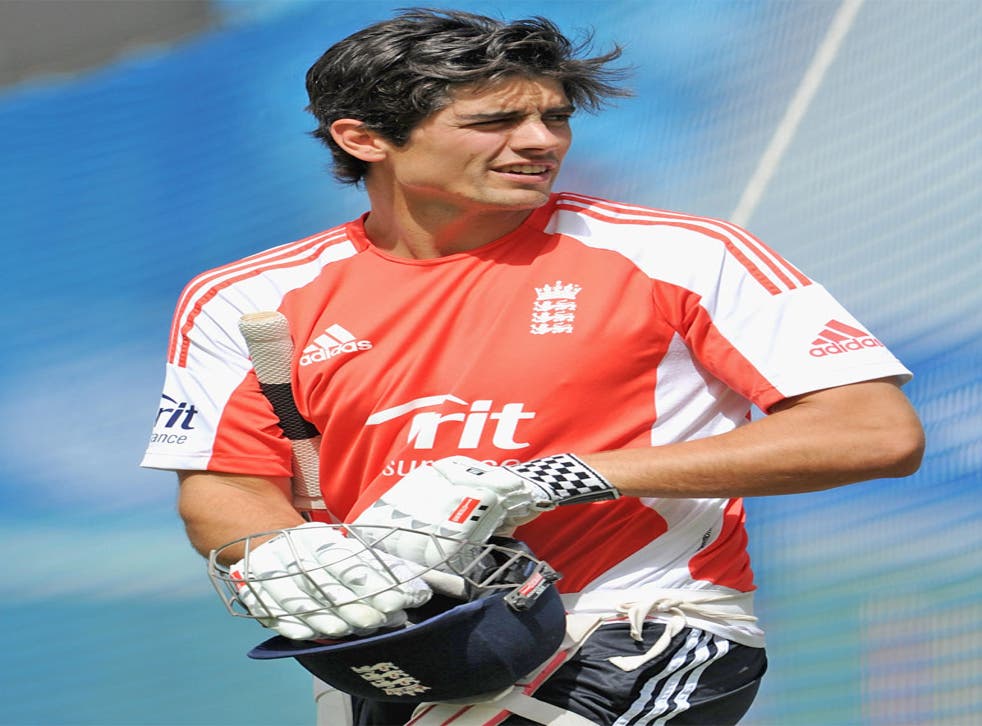 In many eyes, the real business of England's tour of the UAE starts tonight. With the irritating diversions of the Test and one-day series finally over it is at last time for the Twenty20 matches.
So nonplussed are England by the delayed advent of the shortest form of the game they declined yesterday to reveal the balance of their team or the names of injured players. Above all, they avoided saying whether Alastair Cook, the one-day captain who has been recalled to the T20 squad as cover, would play.
But Cook, according to T20 captain Stuart Broad, is available for selection which suggests he might be something more than cover. Broad, however, issued information as if he was a captured spy desperate to avoid divulging secrets.
At one point he seemed about to say: "Name, Stuart Broad; rank, captain; Twenty20 cap number 17, I'm sorry that's all I'm prepared to disclose."
Asked about the injured players, he actually said: "I can't digress into that too much. It's quite personal to the team, you don't want to comment too much on injury problems. We're hoping they will come through OK and be available."
Cook has nominally been asked to stay on tour because Ravi Bopara is suffering from a sore back and hamstring which kept him out of the final one-day international. But Bopara practised like Action Man yesterday, batting and drilling long sixes, bowling, generally looking on top of the world.
Broad said: "Cooky is very keen to play Twenty20 cricket. He has not played a huge amount of Twenty20 cricket for Essex so it's hard to gauge whether he is a good Twenty20 player but you can see from his ODI form he has developed scoring areas and shots, and he has played some fantastic one-day innings for us."
Actually Cook has played 23 Twenty20s for Essex (whereas Broad has played three for Nottinghamshire) and averages 37.55 with a scoring rate of 134.59. But picking Cook may mean leaving out Alex Hales, the man in possession of the opening batting spot. Hales has a slightly better scoring rate for Notts than Cook and adds an extra dimension in the outfield.
Since Broad was reluctant to offer any information it is difficult to say who is struggling, though Kevin Pietersen, Eoin Morgan and Cook himself missed voluntary nets yesterday. It is possible that England will continue with the new ODI format of having Cook and Pietersen open the innings, though the more advisable pairing would be Hales and Craig Kieswetter with Pietersen at three and Cook carrying the drinks.
It will be only Broad's third match as captain since he has missed three through injury – which England were forced to reveal at the time. The team defend their World T20 title in Sri Lanka later this year which probably explains why there are three matches in this series. England have four more before their defence begins. Broad was right about one thing yesterday when he said there was an exciting element to some of the batting. A batting order containing Jos Buttler, Jonny Bairstow and Hales can make up in brio what it lacks in experience.
Pakistan, with several players still suffering from colds, look pedestrian by comparison and England will again have a decisive edge in the field. England's bowling is truly formidable at present and while they may be callow their cause has been helped by the 4-0 whitewash in the one-dayers. By the end of the series in Abu Dhabi, England ought to have retained their No 1 ranking.
Possible team S C J Broad (capt), C Kieswetter (wk), A D Hales, K P Pietersen, E J G Morgan, R S Bopara, J C Buttler, S R Patel, T T Bresnan, G P Swann, S T Finn.
Join our new commenting forum
Join thought-provoking conversations, follow other Independent readers and see their replies