England fall agonisingly short despite Sam Curran heroics as India seal ODI series victory
India (329) defeated England (322-9) by seven runs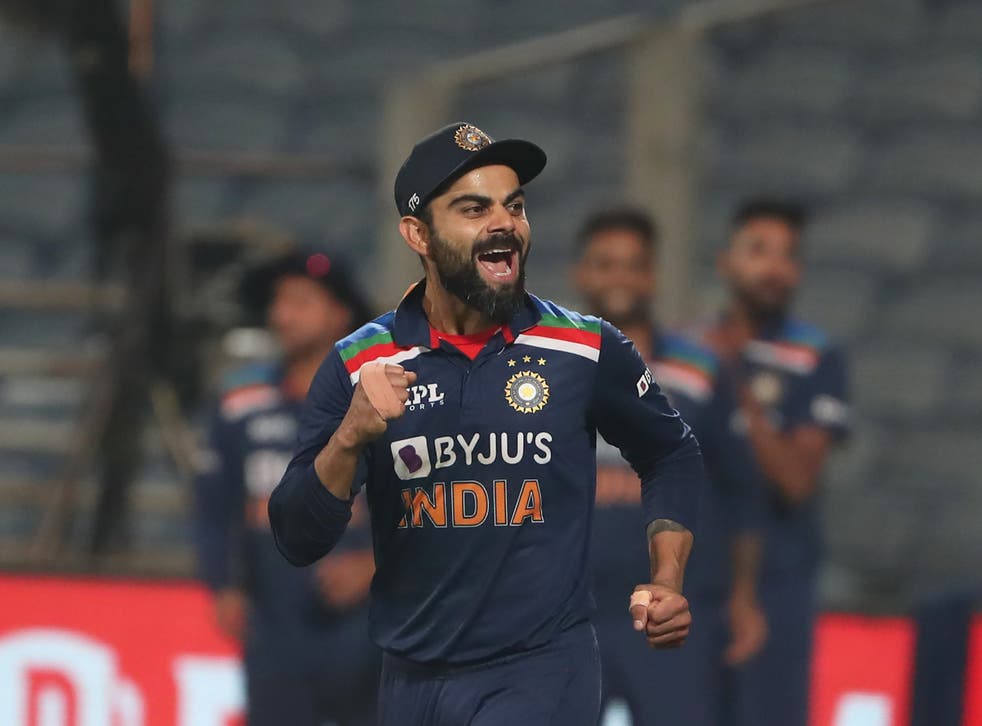 A nail-biter in Pune closed out England's tour of India, finishing as all of it had done with a series win to the hosts. A seven-run victory secured at the death confirmed a 2-1 ODI win for Virat Kohli's side to go alongside a 3-1 and 3-2 in the Test and Twenty20 legs. That England came away with nothing from the limited-overs portion of this tour will hurt them most.
And the sting of this particular defeat will be enhanced by how close they came to pulling off the most unlikely victory in this third ODI. Its improbability was contained within the man, Sam Curran, who finished unbeaten on 95, and the situation in which he arrived. 
The 23-year-old had a previous best ODI score of 15 meant that when he came to the middle with England 168 for six, chasing 330. Such was the sense of inevitability of another home win that when Curran was dropped in the deep by Hardik Pandya on 22, which would have made it 218 for eight, it seemed a minor blip. 
That placid disposition flipped after Curran struck 18 from the 47th over to leave England needed 23 from the final 18 balls. And when the penultimate over from Hardik saw both Mark Wood and Curran dropped in consecutive deliveries - by Shardul Thakur and Thangarasu Natarajan, respectively – Indian nerves were a state. 
But the amends for those involved came immediately in the final over. With England needing 14, Natarajan nailed his yorker which Curran could only bunt down the ground. Searching for two, a slip from Curran meant Wood had to retreat back to the striker's end where he was found short of his ground by a bullet of a throw from Hardik. 
Read more
Reece Topley found a single giving Curran four deliveries to find 12 runs via even numbers to ensure he kept the strike. Alas, two shots to fielders meant two final sixes were required. Managing only a four from the penultimate delivery of the series, a grounded hit down the ground confirmed victory for India. 
Whatever debrief there is of this winter in Asia will not be entirely downbeat. After all, it began with a 2-0 Test win in Sri Lanka, and they took the lead with victory in the first Test against India. They were also up 2-1 in the T20 series before the hosts fought back and dominated the second ODI to ensure this final match would be a decider. And yet, even those plus points lead to a harsher conclusion: despite promising moments, England lost when it mattered most. 
Indeed, this match was no different. Stand-in captain Jos Buttler made it 10 English tosses won out of 12 and, as per the last three calls this week, opted to field first. Thanks to two collapses, of four for 54 up top and four for eight down low, India were bowled out for 329 when much more looked likely. Wood took three for 34, one of seven bowlers to register a wicket in India's innings. Alas, an inexperienced bowling attack was ultimately let down by their more senior batters. 
The key difference this time to the previous two ODIs was India's intent up front. After Power Plays of 39 and 41, India flew to 65 after 10 overs, ticking over to 100 at the end of the 14th over - the first time they'd reached three figures earlier than the 22nd. Shikhar Dhawan had passed 50 for the second time this series - and 49th in his career - while Rohit Sharma was making his bed for what looked a long stay and a certain 350-plus total. A necessary score after England had chased down 337 with 6.3 overs to spare at the same venue on Friday to level the series. 
With the quicks taking the brunt of the punishment – Topley's fourth over went for 17; Wood, in the XI for Tom Curran, taken for 11 off his third – on came the twirlers to tie India down. Within 20 balls, the top three had been picked off for just 18. 
Adil Rashid bowled Sharma with a googly (37) and then pocketed a return catch from Dhawan (67), before Moeen Ali took his first ODI wicket since February 2020 when a sharp off-spinner surprised Kohli with bounce to push him onto the back foot and clip his leg stump. And when Liam Livingstone was gifted a first ODI wicket after Rahul flipped a full toss around the corner to short fine leg, taken brilliantly by Moeen for just seven, India's 103 for none had become 157 for four with just over 25 overs to go. 
Rather than consolidate, Rishabh Pant and Hardik decided to simply bring their death-hitting forward. Together, they thrashed 99 from 73 deliveries, which started in earnest when Hardik struck three sixes in a Moeen over that went for 20. Pant returned serve with some lusty blows of his own which saw the half-century between them come up in just 31. 
The issue, however, was that with India's elongated tail – Natarajan's inclusion for Kuldeep Yadav offering nothing extra with the bat – these two had to take the innings deep. The return of the seamers saw off both. A Curran outswinger had Pant (78) playing to leg but edging to Jos Buttler's left, who managed to stick out a mitt as his body swayed right to take a fine one-handed catch. Hardik (64) went on to a seventh fifty before he lost his leg stump to Stokes who found his fellow fast-bowling allrounder walking across the crease. 
Elder brother Krunal and Shardul Thakur took the score from 276 to 321 before the latter edged Wood behind for the Durham quick's first wicket. He then summoned the pace to prise out Krunal and york Prasidh Krishna before Topley came back to account for Bhuvneshwar Kumar. With that, India's last four were done for just eight runs. 
Having chased 337 down with six wickets and 39 balls to spare just a couple of days ago, this total, along with the botched manner it was achieved, suggested England were the favourites at the break. 
What few anticipated was a chaotic start to the tourist's innings. Jonny Bairstow and Jason Roy, opening century stands in the first and second ODI, were both gone with 28 on the board. An eventful opening over of the chase started with Roy striking three fours off Kumar (three for 42) before the bowler had the final say, taking Roy's off stump with the last delivery. With the last delivery of his second, Kumar had trapped Bairstow leg before for one. 
And when Stokes flayed a just-under-waist-high full toss to Dhawan at deep square leg – he was shelled on 15 by Hardik for what should have been Kumar's third – England's top three runscorers in the series were back in the hutch with 264 remaining. 
Buttler was able to end a run of five single-figure scores but was only on 15 when a smart review gave Thakur his wicket. Dawid Malan and Livingstone, who had seen off the final 50 runs of the 2nd ODI's chase, now had to find the best part of 235 between them. 
They bettered it, but not by much: 60 put on when Livingstone (36) bunted a full toss back to Thakur. And the bustling seamer was in the game once more when Malan, two balls after notching a maiden ODI half-century, pulled straight to Sharma at midwicket. 
Contributions from Moeen (29) and Rashid (19) supplemented Curran as he brought up a first limited overs half-century for England off 45 deliveries. And together with Wood, the ask was whittled down to 48 needed from the last five overs. 
Thakur, the pick of the bowlers with four for 67, was taken down with two fours sandwiching a six from Curran in his final over, the 47th. Unfortunately, Curran and England would only find one more boundary in the next three overs to fall eight runs short. For India, after four drops and countless misfields, victory was by no means clean, even if it was, ultimately, well-earned. 
Join our new commenting forum
Join thought-provoking conversations, follow other Independent readers and see their replies