How should England use Ben Stokes? Latest defeat leaves familiar question
It is coming up ten years since Stokes made his international T20 debut and England are still yet to determine how best to use him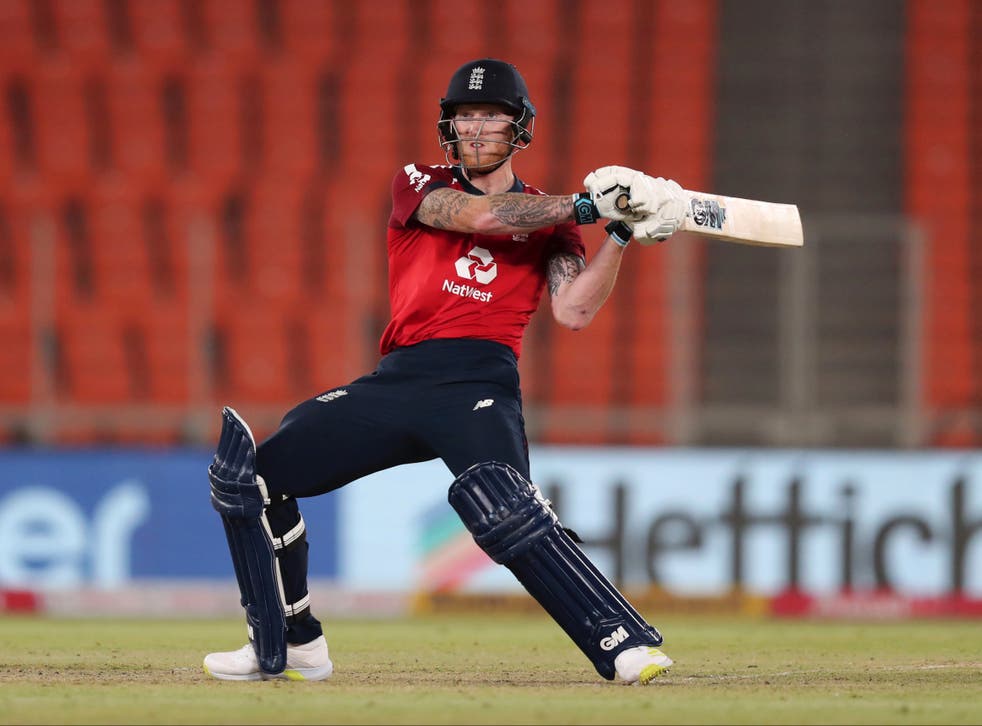 A close series, not a close result between them. Nevertheless, a high-quality back-and-forth between India and England saw the hosts emerge triumphantly on Saturday evening; a dominant 36-run win in the fifth and final match sealed a deserved 3-2 win.
The billing throughout was of two favourites for this year's T20 World Cup seizing each other up, and the neatness of a deciding contest in Ahmedabad - the venue touted for the final - ramped up that narrative. No doubt the West Indies were a little puzzled that plans were being made without consideration for the defending champions, but these two are certainly the biggest threats to their crown.
Introspection and jostling for positions await on both sides. And even though India claimed the win, you could argue Virat Kohli has more to ponder.
The emergence of the next generation in Surayakumar Yadav, Shreyas Iyer and Ishan Kishan has already started some awkward conversations around the older members of the establishment. The latest bright young things from the Indian Premier League starting to displace those like KL Rahul, who emerged from the competition's beginnings. Some high-profile absentees could be in the offing if Indian selectors move away from legacy picks that often colour selection for major tournaments.
By contrast, defeat has not distorted Eoin Morgan's mind. The England captain used the luxury of a full-strength squad to deploy just 12 players across the five games compared to host's 16. As per the lead-up to the 2019 50-over World Cup, it seems he already has a first-choice XI in mind, and the majority of the 15-man squad, well in advance of needing to officially commit anything to paper.
Morgan all-but-confirmed this will be the last time the "A" team will assemble before the World Cup. Multi-format players will not feature against Sri Lanka and Pakistan this summer, meaning those on the periphery in India – Sam Billings, Liam Livingstone and Reece Topley, for instance – will get the opportunity to advance their cases. Dawid Malan can re-state his, while at the other end of the spectrum, Alex Hales retains an outside shot at redemption.
Read more
Essentially, there is a belief that solutions to the problems of batting and bowling at the death exist internally. The door is not totally closed for bolters, but those already around the set-up will be given these priority auditions through the upcoming home summer.
However, any remedies will require figuring out exactly what England want from their allrounders. Because after years of going all-in on these one-man-band cricketers, the last few weeks have given way to some muddled thinking and even a hint of distrust.
Take Moeen Ali, who did not make a single appearance across the five games. Or Sam Curran, present throughout, but bowling just 10 of his allotted 20 overs while batting just three times but no higher than seven and as low as nine.
Beyond the residual angst from Moeen missing the last two Tests to ensure he was fresh for this series, the off-spinner's consistent role as drinks stirrer was not quite a reflection of his outright worth. Morgan has been adamant the XIs put out have been more than capable, even if England felt a hitter and slow bowler light during Saturday night's defeat. In any case, Moeen's presence in India later this year feels as inevitable as packing sunscreen.
Both are symbolic of trying to squeeze the most out of the "buffer" slot – usually number six or seven – that separates the full-time batters from the full-time bowlers. In turn, England have looked for this person to carry in-between overs: Curran's workload this series the latest example, following Moeen's most recent stint in the team when he bowled just six overs in his last five appearances.
With Moeen's T20 bowling on the wane, conditions will dictate whether preference will be given to his spin or Curran's, or someone else's, seam. Regardless, this situation makes the circumstances around Ben Stokes that little bit more peculiar.
It is coming up ten years since Stokes made his international T20 debut and England are still yet to determine how best to use him. A by-product of Tests and then ODIs getting preferential treatment throughout is that Stokes has made just 33 outings in England's 92 T20s since that bow in September 2011.
It's worth narrowing his role down to "batting allrounder" considering he's only bowled his full allotment of four overs in fewer than a quarter of his 28 innings in the field. And secondly, we should start this discussion off by looking at his last 10 caps in isolation, if only because it kicks us off from the beginning of 2020 - when this latest World Cup tilt really began (Stokes didn't play a T20i in 2019).
Once Jos Buttler was shifted to open, Morgan was wary he had a gun-shaped hole lower down the list and, naturally, Stokes was the one to fill it. Think of it like your standard school cricket team conundrum, where the best players are spread out. Only they are, you know, world-beaters. The difference with Buttler's previous gig, which Stokes would now undertake, was that he would not enjoy the same luxury of a floating role, instead fixed to five or six. If Moeen is not a lock in the XI, losing Stokes early is too great a risk if they want to make the most of the latter overs.
It started well enough: the second T20 on the first South Africa tour of 2020 saw Stokes make a career-best T20i score of 47 off 30, with 28 hammered in the final five overs in which he only faced half the deliveries - close to the desired strike rate of 200 for this period of a short-form innings. A more subdued 37 off 27 later in the year against the Proteas took England home to a five-wicket win.
At the time of writing, Stokes' numbers during the death (the last five overs) are the weakest of Morgan's options. Taking in all T20 matches from the start of 2018, Moeen strikes at a rate of 214, while the captain himself goes at 206, per CricViz. Curran hits at 169, with Stokes tipping the scales to 154.
The reason for his low ranking is down to his "mainstream" T20 work at Rajasthan Royals where he emerged as a top-order batsman last year, returning 285 runs at 40 for arguably his best IPL since his first in 2017 when he made 316 from three more knocks. With his country's opening stocks more crowded than a vaccine waiting-list, it was never going to be a role he'd reprise at the international level.
Thus, here we are in something of a pickle, where the more deliveries Buttler faces, the fewer Stokes does. His capacity in the finishing role is not in question, reinforced by his 23-ball 46 in the fourth match of this series - two strikes away from a match-winning hand as India saluted by just eight runs.
The issue now is that the upcoming IPL season is to be the last competitive set of matches that Stokes will get to hone his finishing skills. And he will probably end up doing nothing of the sort with the Royals as they are likely to stick with him up top.
Unlike in domestic cricket, the ECB cannot ask for the Royals to shift him down, even with the strong English connection throughout the organisation. That said, Stokes carries enough sway at the franchise to request it, though it's unlikely he will.
In that way, Stokes remains in control of his destiny, which is the best of this odd situation. He has a track record of making roles work for him across the formats: the square peg fitting the round hole without dulling his edges. There is no reason why mastering this one will be a problem.
The only question is whether a player pulled so many different ways has enough time to tighten this additional string to his bow by October.
It is the most unsettling factor in an otherwise settled group. Fundamentally, the trust that it'll all come good is simply down to the fact it is Ben Stokes. He generally finds a way, and when he does, England do too.
Join our new commenting forum
Join thought-provoking conversations, follow other Independent readers and see their replies