Martin Odegaard cuts through pressure to provide the precision Arsenal need
Gunners will be increasingly keen to sign up the Real Madrid loanee based on recent showings
Miguel Delaney
Monday 22 March 2021 07:14 Comments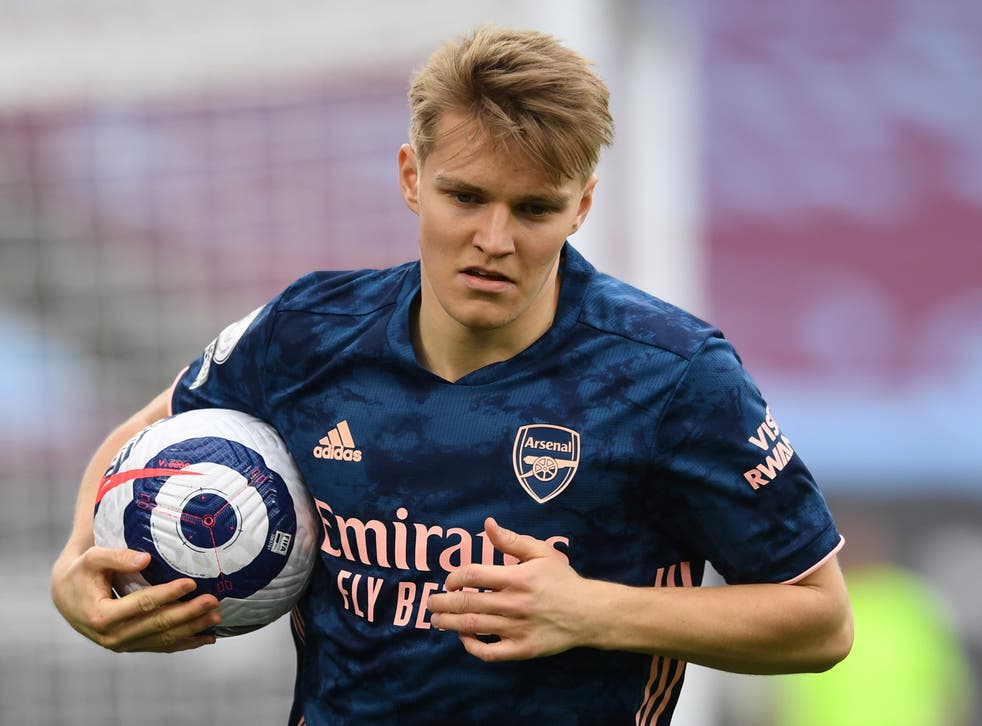 After Martin Odegaard repeatedly put the ball where it was needed, Mikel Arteta put it best.
"When everyone was a little trembling, he gave us that stability and that composure on the ball and he created chance after chance."
"Trembling" probably isn't exactly what Arteta meant, given he praised his team's impressive character in coming back from 3-0 down away to West Ham United, but there was a period in the game when Arsenal were mostly frenetic energy. They needed a bit of precision to go with the pressure.
Odegaard provided it. It was his two angled balls that put West Ham United on the backfoot, and ultimately turned the game. For the first, on 61 minutes, Aaron Cresswell didn't know which way to go as Odegaard played in Callum Chambers to force an own goal. The second was almost identical in execution and effect, except with more pressure given it was the 82nd minute, and with Nicolas Pepe elegantly lifting the ball rather than driving it.
Alexandre Lacazette rose highest to head it in, but there was no question over who stood above everyone else on the pitch in terms of performance. Odegaard's two angled balls weren't just individual moments of inspiration. They were indicative of how he ran the game.
That is entirely in keeping with how much of an influence he is on the squad as a whole. Afterwards, Arteta particularly praised how much of a "leader" Odegaard has been. "Well, he's showing that I think from week one. The way he steps on the pitch, he always wants the ball, the way he commands the pressing. He's been really influential. I think we've all been a bit surprised because he looks really shy and humble, but when he steps on that pitch he's a real character and he loves to play football."
Read more:
Arsenal, now, would love to sign him. That's how central he's become, literally. Odegaard is precisely the kind of player that makes Arteta's attacking plan work as it should, because of the precision and imagination he can offer between the lines. The question of whether they can buy him, though, comes down to more than what Arsenal can offer.
Finances are constrained at the club, yes, but it is much the same at his parent club. Real Madrid are being squeezed at all ends. They are also in need of a refresh, but any transfer budget is likely to have to be extremely calculated in its use. Sources say Florentino Perez will direct all money to the pursuit of Erling Braut Haaland, who does favour Madrid. Given that, and the need for a bit more around any new star, you would think a 22-year-old playmaker who offers real spark – as well as something so polished and exciting – would be perfect. It almost seems the right time for Odegaard to return.
The problem, and one of the reasons he's at Arsenal, is because his individual situation at the Bernabeu is anything but perfect. He has had difficulty with Zinedine Zidane, who has not been that keen on him. The future of Odegaard and Arsenal could well be tied to the fortunes of Madrid. If the Spanish champions' regression continues, and they win nothing while finishing third in the league, Zidane could go and Odegaard would almost certainly be wanted back. If they rally – and maybe even win a Champions League again, unlikely as it seems right now – Odegaard would be much likelier to leave.
There is almost a catch-22 there for Arsenal, though, since there is no option to buy in his loan deal. The better Odegaard performs for Arsenal, the better his potential options will be. It will drive up the price, and the level of interest.
In making Arsenal more competitive, he could ensure they have more competitors for his signature. That is a concern for later, though. Right now, it feels like his performances should only be enjoyed.
Register for free to continue reading
Registration is a free and easy way to support our truly independent journalism
By registering, you will also enjoy limited access to Premium articles, exclusive newsletters, commenting, and virtual events with our leading journalists
Already have an account? sign in
Register for free to continue reading
Registration is a free and easy way to support our truly independent journalism
By registering, you will also enjoy limited access to Premium articles, exclusive newsletters, commenting, and virtual events with our leading journalists
Already have an account? sign in
Join our new commenting forum
Join thought-provoking conversations, follow other Independent readers and see their replies