Forgotten Alex Oxlade-Chamberlain may need to leave Liverpool to revive England career
Midfielder was overlooked by Gareth Southgate in what should be the prime of his career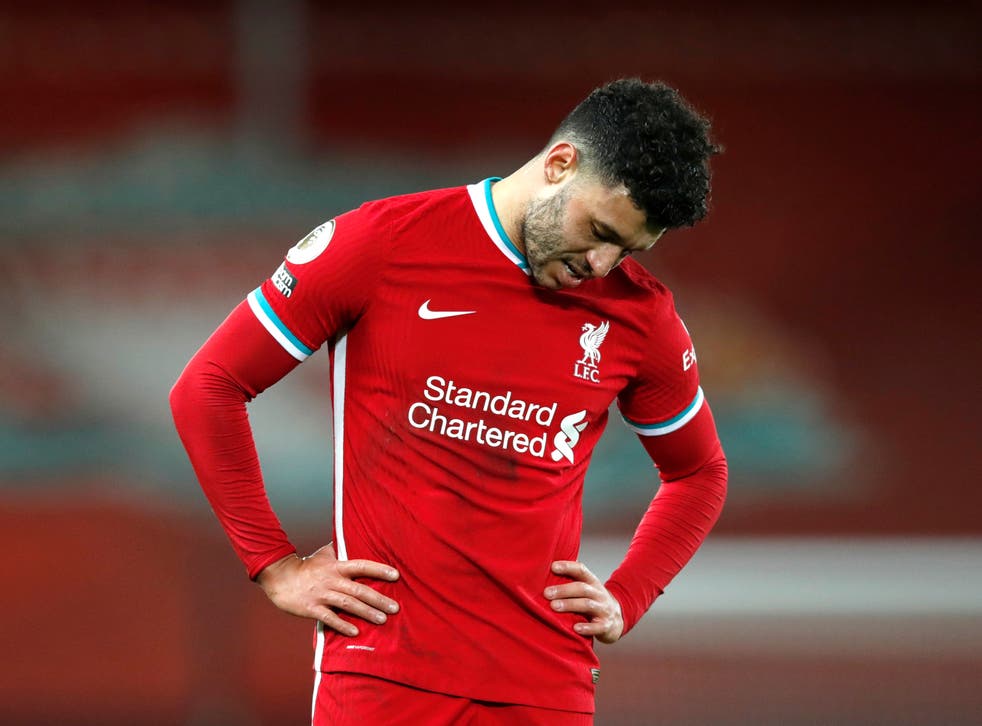 Trent Alexander-Arnold's omission from the England squad is a surprise but it is only a temporary setback for the Liverpool full back. The 22-year-old will get a recall from Gareth Southgate very soon and will probably be involved in the Euros. He still has an international future.
Things are very different for his team-mate Alex Oxlade-Chamberlain, whose career for both club and country has gone down a blind alley. The 27-year-old should be somewhere near his peak. Instead of spending the summer with the national side, it is likely that Oxlade-Chamberlain will be watching from home and working out his next move after his exit from Anfield.
Injuries have played a big part in stunting the midfielder's progress. The most severe was the cruciate ligament rupture sustained in the first leg of the 2018 Champions League semi-final against Roma. He was sidelined for almost a year but bounced back to become an important member of Jurgen Klopp's title-winning squad.
Last season Oxlade-Chamberlain started 17 times in the league and was involved in 13 games as a substitute. He earned his Premier League winner's medal.
This campaign started badly with a knee problem that kept him out until December. His return came at a time of opportunity for someone on the fringe of the team. Liverpool's issues at centre back left the midfield in a state of flux. Oxlade-Chamberlain, often seen as an ideal Klopp player, was in position to cement a place in the side and catch Southgate's attention.
Instead, he has made just 12 appearances, all but two off the bench. In the matches he started, the defeats by Southampton and Burnley, he was withdrawn early.
In Monday night's 1-0 victory over Wolverhampton Wanderers at Molineux he joined the action in the 84th minute, deployed in the centre of the front three. Klopp was effusive afterwards. "Ox came on and was a real breath of fresh air," the manager said. "He was brilliant when he came on, especially in that position." It sounded like a particularly unconvincing sales pitch.
Liverpool coveted Oxlade-Chamberlain for a long time. They asked for, and secured, first refusal to buy him from Southampton a decade ago but John W Henry did not pick up the call from St Mary's and the 17-year-old went to Arsenal instead. He finally arrived at Anfield four years ago and initially thought he had made a mistake. The intensity of Klopp's approach – both physically and psychologically – can push players to the edge. He emerged from the process feeling much more athletic than at any point in his career and ready to take on a significant role at the club.
In the first half of 2018 Klopp's trophy-winning side began to take shape. Oxlade-Chamberlain played a big part in the process. He was excellent in both legs of the Champions League quarter-final victory over Manchester City and started both England games against Holland and Italy in the spring international break.
Three years on he is toiling away in shop-window bursts for a malfunctioning side and is unlikely to have crossed Southgate's mind. It is not just that he has fallen behind Thiago Alcantara, Curtis Jones and Naby Keita in the midfield pecking order but the team evolved in a manner that does not suit Oxlade-Chamberlain during his prolonged absences. Arsene Wenger shunted him from position to position during his six years at Arsenal and was never consistently able to mine his full potential. Klopp seemed to have worked out how to showcase his ability but, as the 53-year-old begins to reshape the side, Oxlade-Chamberlain is being left behind.
Read more
The cameo against Wolves showed the player's strengths and commitment. He pressed ferociously – fitness is not a concern – and slipped through a clever ball to Mohamed Salah, who found the net. Unfortunately, the pass was a millisecond too late and the goal was ruled out for offside. No wonder Oxlade-Chamberlain's timing is slightly off, given how little he has been involved this year. He needs to get back on the pitch.
There will be a clear-out at Anfield this summer. Even in a depressed transfer market, Divock Origi, Xherdan Shaqiri and a number of less high-profile players need to be offloaded. Oxlade-Chamberlain is another whose spell on Merseyside looks to be coming to an end. If that happens, a rival club may well get a bargain. The forgotten man still has the ability to make the next phase of his career memorable and the chance to make Southgate think again.
Register for free to continue reading
Registration is a free and easy way to support our truly independent journalism
By registering, you will also enjoy limited access to Premium articles, exclusive newsletters, commenting, and virtual events with our leading journalists
Already have an account? sign in
Register for free to continue reading
Registration is a free and easy way to support our truly independent journalism
By registering, you will also enjoy limited access to Premium articles, exclusive newsletters, commenting, and virtual events with our leading journalists
Already have an account? sign in
Join our new commenting forum
Join thought-provoking conversations, follow other Independent readers and see their replies