Humble Dom Bess plays down performance for England after spinning Sri Lanka off the pitch
Bowler recorded the cheapest five-for by an English spinner in 30 years in the first Test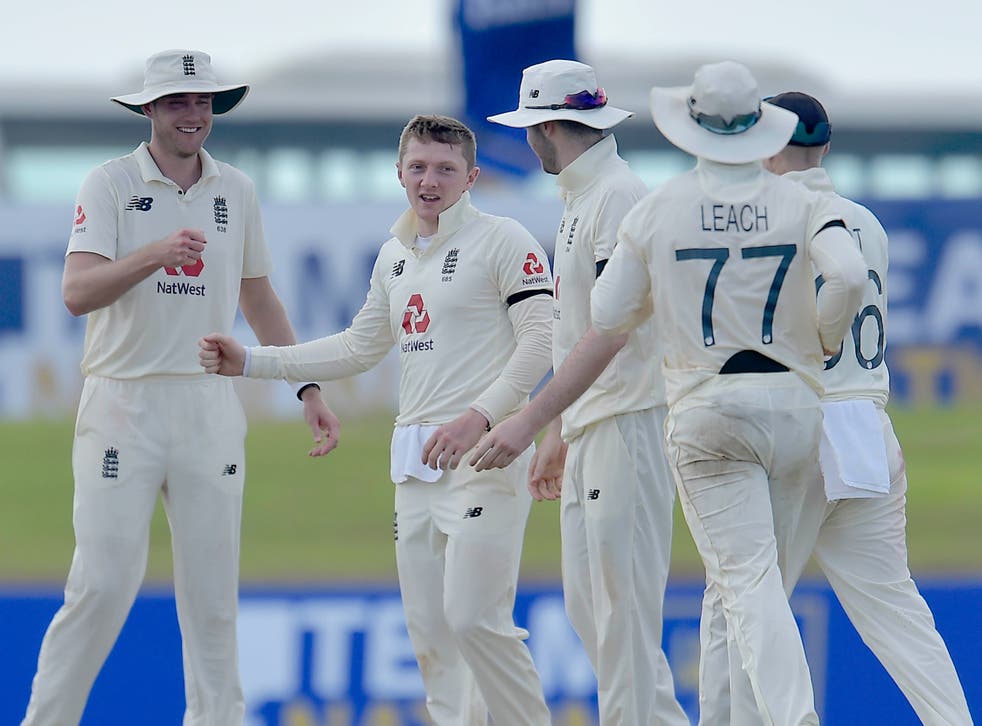 "I certainly know I haven't bowled as well as I could have done," said Dom Bess, modest in his appraisal of a feat most English spinners would shout about from the rooftops.
His five wickets on day one of the first Test against Sri Lanka have his side in a commanding position. The hosts were bowled out for 135 inside 46.1 overs, allowing England to bat through until stumps to 127 for two. Trailing by eight, on a pitch that is still good for batting – exhibited by the calm competency of Joe Root, unbeaten on 67, and Jonny Bairstow, 47 not out – a sizeable first-innings lead seems a foregone conclusion.
In the scorebook, Bess returned excellent figures of five for 30. Coupled with his five for 51 against South Africa in Port Elizabeth last year, he has become the youngest men's spinner to take two five-wicket hauls in Tests before 24 since Derek Underwood in 1968. This was also the cheapest five-for by an English spinner in 30 years.
READ MORE: The Independent's big cricket review of 2020
The 23-year-old's humility, though, was understandable. There was a degree of fortune to his dismissals, such as the sweep from Dasun Shanaka that ballooned off Bairstow's heel off short leg before nestling into Jos Buttler's gloves, and the reverse sweeps from opener Kusal Perera and Wanindu Hasaranga gifting him the first and fifth respectively. CricViz, who have devised an "expected wicket" algorithm, calculated that his 10.1 overs carried a threat of returning just 0.55 dismissals, which encapsulates how badly Sri Lanka batted generally, not just against the off-spinner.
That was summed up by Sri Lanka's batting coach, Grant Flower, who pulled no punches when assessing how his team fared. Rebuilding from an early setback to make it to 81 for four, they threw what initiative they had clawed back, losing the final six wickets for just 54. Their 135 is the lowest first-innings score recorded at Galle.
"I'm at a loss for words, I've never seen us bat that badly," raged Flower. "They know these conditions well and it should have been a big advantage. England's batsmen showed us there's nothing wrong with the pitch, we batted terribly."
Bess, meanwhile, was phlegmatic about his fortuitous haul.
"Do you know what, I thought I started really well and there was patches where I obviously didn't bowl as well.
"I certainly know I haven't bowled as well as I could have done, and got away with probably one or two. But that's cricket. I think we flip it and you look how well Broady (Stuart Broad, who took three for 20) and Sammy (Sam Curran, none for eight from four overs) bowled up front, I thought it was exceptional and probably set the tone."
He was also more than happy to fight his corner. Bad deliveries from spinners always look worse than those from quicker bowlers given the extra time afforded to the viewer to compute misjudgements of line and length.
"There was one pretty bad ball in there," he said, specifically about the wicket of Niroshan Dickwella: a short and wide delivery that was scuffed to Dom Sibley at backward point.
"But, I just feel like if a seamer bowls a wide half-volley and they get nicked – do you know what I mean? I've bowled a short wide one, but if a seamer bowls that and it's caught fine leg or caught behind, keeper, it's a wicket at the end of the day. Again, it's probably not my best wicket – it certainly isn't my best wicket.
"You're going to bowl good balls and they're going to go out of the park or get dropped. So I think, it's cricket, you know? You've got to take it when it comes, for sure."
Nevertheless, it is a perfect start to a winter where Root as captain will ask a lot of Bess. His previous 10 Tests have come on relatively unhelpful pitches in England and South Africa. As such, his bowling average after this haul has dropped to 33.38 from 40.57.
He will be called on again in the second innings to repeat his trick, followed by the second Test at Galle and four Tests in India. Harnessing the shot of confidence gained on Thursday will be key to stamping his authority on those future assignments.
"The first thing is it's getting yourself into the game and I think it is really important because there are probably going to be days in India or here I'm going to bowl 10 times better and not take any poles.
"At the end of the day, it's about the outcome rather than how people look at it. It's obviously a proud moment because I've taken five wickets for England and no one can take that way from me.
"But I also want to go back to the whole collective: I thought Broady and Sammy bowled phenomenally well up top. I thought Woody (Mark Wood) backed it up with some excellent pace, and certainly what he's been told to do he's delivered then. And it's really nice again to see Leachy (Jack Leach) back in the England shirt and I thought he bowled really nicely and got back into it. As a collective, as a five, we had 12 opportunities and we've taken 10. I think a group the confidence is certainly going to build."
His buoyant mood was at odds with Flower, who warned that things were only going to get tougher for Sri Lanka, who now look set to bat last on this pitch.
"You ask me who should take the blame? Every single batter should take the blame, they've only got themselves to blame. One of our guys was unlucky, Shanaka caught off Jonny Bairstow's ankle, but the rest got themselves out. It was good bowling but the pitch isn't a minefield – it will get worst. No excuses."
Word of conditions getting tougher will be music to England's ears. They wanted to bat first given how things usually go at this ground. But after losing the toss and fielding, they find themselves in a commanding position with four days to go.
Join our new commenting forum
Join thought-provoking conversations, follow other Independent readers and see their replies