Eoin Morgan urges England's fringe players to seize their opportunity ahead of this summer's Champions Trophy
The England captain has ambitiously targeted a series clean sweep against the West Indies and has urged several players to take their opportunity to gatecrash their way into the team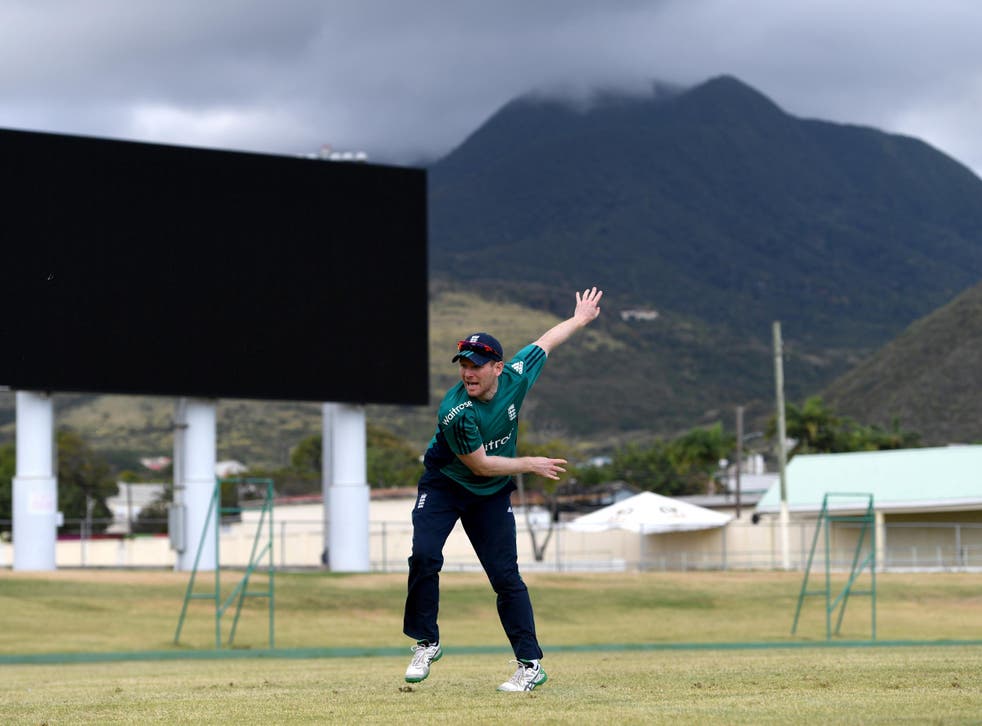 Although Eoin Morgan has targeted a confidence-boosting series clean sweep against the West Indies, what England's limited-overs captain would cherish most from this tour of the Caribbean is clarity of selection in the run-up to this summer's Champions Trophy.
On the surface this trip, which comprises three one-day internationals against depleted opposition who have failed to qualify for the Champions Trophy, appears of limited value.
However, with just eight matches to go before England begin their Champions Trophy campaign at The Oval on June 1, it offers several players an opportunity to gatecrash their way into the team.
Sam Billings, the Kent batsman, is one. With Alex Hales continuing his recovery from a broken bone in his right hand, Billings will open alongside Jason Roy in Friday's first ODI in Antigua and most probably the second as well.
Steven Finn, called up as an injury replacement for David Willey after the squad had been announced, is another who has a chance to show what he can do. The Middlesex fast bowler has not played a one-day international since September 2015.
But with Jake Ball also injured, the knee injury sustained in Monday's second warm-up match in St Kitts keeping him out of at least the series opener, Finn also has the chance to remind everyone of his talents in 50-over cricket.
Then there is Tom Curran, whisked away from the England Lions tour of Sri Lanka to join the squad in the Caribbean as cover for Ball.
The Surrey fast bowler, 21, will not play on Friday given he arrived in Antigua less than 24 hours previously. Yet there is likely to be a chance for him thereafter.
"It's a series that I'd like to win 3-0," said Morgan. "Whether we do that or not is down to us.
"I think if we produce our best I'd like to think that we'd be there or thereabouts.
"We do have one eye on the Champions Trophy, getting a reasonable squad together before then and nailing down our team.
"We only have two more series after this before the start of the Champions Trophy, and it's important to get games for the guys we feel are going to be playing a part in it.
"I think we've been a bit unlucky with injuries, particularly to the bowlers. We have a good crop of guys, it's just at the moment we're getting injuries. We've always said we've 16 or 17 people who can always play but we're stretching the limits of that at the moment.
But our batting's certainly in the right space."
Morgan is right about his side's batting – after all they have posted seven scores of 350 or more since the 2015 World Cup. That was a tournament England abjectly exited at the first-round stage.
Since then things have transformed markedly, although the recent 2-1 one-day series defeat in India – when they lost both games in which they posted 350-plus totals - was evidence that the bowling attack still has much work to do.
Missing key players such as Willey, Reece Topley and Mark Wood does not help. Morgan has at least confirmed that Wood is on track to be fit for the Champions Trophy having had a third major ankle operation earlier this winter. "Mark is an impact player," he said. "But he's progressing nicely."
The Durham fast bowler, who can swing the ball at 90miles-per-hour, could make all the difference in the Champions Trophy.
Liam Plunkett, another capable of bowling 90mph, will be key in this series. There are questions over the capabilities of Adil Rashid.
The slow, dry pitches in the Caribbean should at least suit the Yorkshire leg-spinner, even if they blunt England's attacking verve with the bat.
"The way we play isn't exactly easy to adapt to West Indian conditions," said Morgan.
"I think it's a different challenge. That doesn't mean to say we still can't score 350 or 300. But certainly it won't be as free flowing as it has been."
So what kind of opposition will the West Indies present? Missing almost all of their star names because of political wrangling, the only players with proven international pedigree taking part in this series are captain Jason Holder and Carlos Brathwaite, the man who smashed Ben Stokes for four successive sixes to rob England of World T20 glory in a dramatic final in Kolkata last April.
Yet Morgan is not taking anything for granted. "When you play against an inexperienced side, certainly internationally, you always have to be wary, that's why we've got to be at our best," he said.
Join our new commenting forum
Join thought-provoking conversations, follow other Independent readers and see their replies