India vs England: Alastair Cook admits his captaincy is now in doubt following humiliating Tour defeat
The Essex opener, who celebrates his 32nd birthday on Christmas Day, will meet with Andrew Strauss, England's director of cricket, in the second week of January to determine his future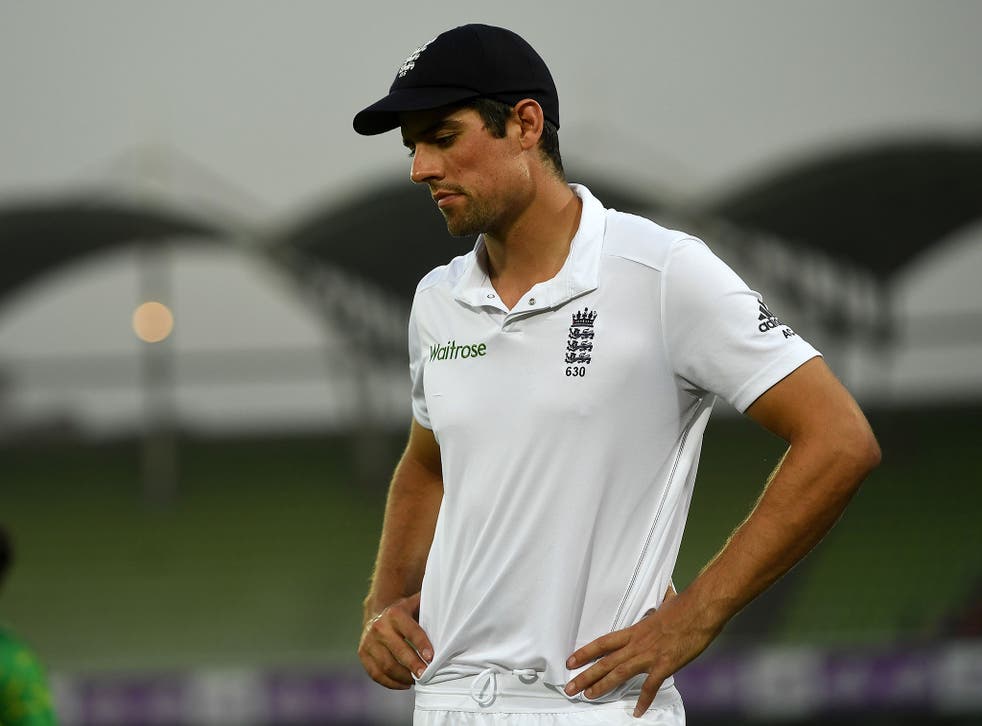 Alastair Cook has admitted he is no longer sure he is the right man to captain England after his side suffered their second successive innings loss to India to slump to a 4-0 series defeat.
England were routed for 207 in their second innings in Chennai as left-arm spinner Ravindra Jadeja took a career-best seven for 48 to propel the hosts to victory by an innings and 75 runs in the final Test.
The tourists have lost five of their seven Tests on the sub-continent over the past nine weeks having drawn 1-1 in Bangladesh before this.
This latest humiliation came just eight days after England lost by an innings and 36 runs in Mumbai.
The nature of this defeat has been brutal, Cook's side losing their final six wickets for 15 runs a day after India plundered 759 for seven declared – the most runs England have ever conceded in a single Test innings.
It means Cook is now seriously considering his position after more than four years leading the side.
The Essex opener, who celebrates his 32nd birthday on Christmas Day, will meet with Andrew Strauss, England's director of cricket, in the second week of January to determine his future.
And Cook is glad of the breathing space to reflect on what to do next after indicating he is on the verge of quitting the captaincy.
"I've got to go away and do some thinking," he said. "This is not right time to make decisions as big as that. I need to go home first, enjoy Christmas as much as I can do and then come back in January and look to plan with Straussy and see what's the right decision for English cricket.
"I've got to go away and decide whether I am the right man to take England forward. It's the wrong time to make those decisions as energy is low, morale is low and you can make foolish decisions as those times. While there is a bit of space why not use it?"
Asked how he is feeling after this series defeat, Cook added: "It's tough, it's been a tough tour. When you lose games of cricket it becomes very hard and it can be quite a lonely place.
"We weren't good enough or skilful enough as players to stop that momentum. So, yes, it's tough, jeez.
"Blood sweat and tears went into this tour but the bottom line is we weren't good enough."
England have now lost eight Tests in 2016, equalling their record number of defeats in a single year.
"We've played some good cricket at times and played some pretty average cricket," said Cook. "We haven't been very good when we've been behind in games. Finding a way to survive in tricky situations. But when we've been in front we've dominated. It's been a frustrating year and to lose that many times with the players we've got is disappointing."
Join our new commenting forum
Join thought-provoking conversations, follow other Independent readers and see their replies