India vs England: Cheteshwar Pujara wears bouncer threat with ease on way to century as England fail to threaten
Pujara was struck three times on the helmet by Chris Woakes but looked unshaken at the crease, such is the advancements in safety after the Philip Hughes tragedy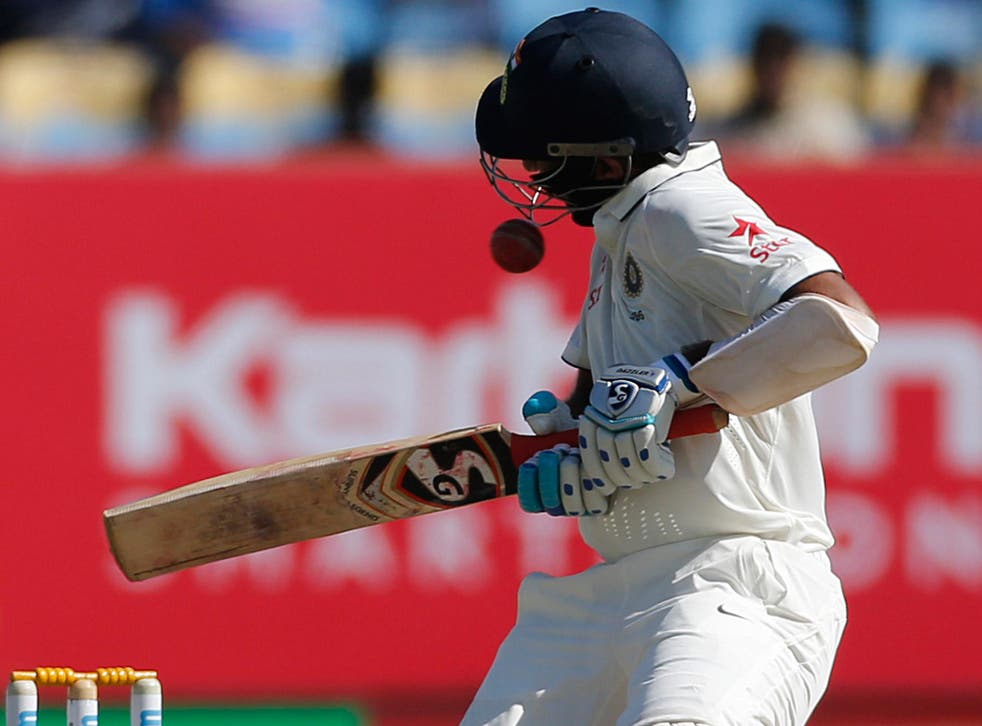 When Cheteshwar Pujara raised both his helmet and bat in Rajkot to acknowledge his third Test hundred against England, it was a fitting gesture given the equal billing both had played in helping him reach the milestone.
Pujara averages just over fifty against England in 11 Tests against them, so he enjoys their bowlers. But this latest encounter would have ended badly for him had he not been wearing a helmet with re-inforced grill, after Chris Woakes struck his head three times in short succession.
Woakes has put on a yard of pace in the last year and these were well-directed bouncers at around 86mph, a potentially lethal prospect when striking unprotected flesh and bone, as the shocking and sad death of Phillip Hughes demonstrated two years ago.
Hughes was wearing a helmet but was struck on an unprotected part of his neck by a bouncer, after he swivelled around too far. A major artery was ruptured and while a recent judge's inquiry shone a light on some of the less savoury aspects of top level cricket in Australia - sledging and the specific targeting of some batsmen with bouncers - he found nobody was to blame for what history suggests was a freak accident.
Pujara's method of avoidance is to sway inside the line of the ball, but Woakes's bouncers followed him. Instead of putting his wicket at risk by fending at the ball with bat or gloves he turned his head away and let the ball strike him flush on the grill on all three occasions.
So hard and solid were the impacts (none were glancing blows) that without a helmet he would have suffered a broken jaw, cheekbone, or worse, and hastened the end of the series for him. But so good is most of the protection afforded by modern equipment that he was able to bat on seemingly unruffled, a skill in itself given that the impact can still shock despite the absence of physical injury.
There are those who feel that such good protection (helmets as well as chest and arm guards) removes the fear factor that was traditionally part of a fast bowler's threat. But whether it was that (and the fact that Pujara didn't look discomfited in the least), or the raw emotions unleashed by the Hughes inquiry, England did not persist with their barrage - something you cannot imagine the Aussie or West Indies teams of earlier eras doing.
Instead, Alastair Cook brought on Ben Stokes who pitched the ball full in search of reverse swing and got caned for his troubles, his four overs costing 28 runs.
Pujara's unorthodox way of dealing with bouncers does not apply to the rest of his game, which is based on the classical ideals of remaining sideways on and keeping the ball on the ground. Nothing outre for him or even from coaching manuals post-1972 - just patience and play the ball on its merits.
Another modern development, the Decision Review System, also came to his aid, a small irony given the Indian Cricket Board's refusal to use it in Test matches for the past seven years, at least until now. Given out lbw to Zafar Ansari when he was on 86, after the spin defeated his forward prod and hit him on the back leg, he reviewed the decision and was reprieved when Hawkeye found the ball to be passing above the stumps.
It was a rare moment of expectation for England's bowlers who had struck in the second over of the morning when Stuart Broad trapped Gautam Gambhir lbw with a full, straight one.
While England did not bowl badly they rarely threatened Pujara and his equally patient partner, Murali Vijay, who also scored a hundred.
Vijay was dropped on 66 at short extra cover by Haseeb Hameed, diving to his left after the batsman had checked his drive against Stuart Broad. Hameed later made amends when he caught Vijay off the deserving Adil Rashid, but his was an innings of great gravitas.
Pujara eventually fell for 124, guiding a ball from Ben Stokes to Alastair Cook at fly slip but it was a rare success until Rashid and Ansari both struck in the last overs of play.
One reason for the lack of chances created, and the reason why Pujara's lbw was overturned, and why Rashid's plausible appeal for an lbw against Vijay was not given, is that this pitch has more bounce than most in India, which makes it unusual.
Another reason is that just as the rank turning pitches in Bangladesh helped England's batsmen prepare for the worst India's spinners could throw at them, their sporty nature also lulled England's bowlers into thinking that chances would come with the same frequency they did in Dhaka and Chittagong. So far, that has resolutely not been the case.
In situations where bowling takes on a Sisyphean futility, as it can do for visiting teams in India, the tactic has often been to bowl "dry" - when you hang the ball outside off-stump on a nagging good length, and wait.
England's master at this is James Anderson but he was carrying the drinks in Rajkot. None of those playing possess the discipline to use it as effectively as Anderson, though Broad did adopt it against Virat Kohli in the final session.
As a gambit, bowling dry is a plan B at best, but with England running through the alphabet in their search for wickets, it could yet prove a telling option.
Join our new commenting forum
Join thought-provoking conversations, follow other Independent readers and see their replies