India vs England: Ravindra Jedeja has Alastair Cook's number as captaincy weighs heavy on struggling opener
Cook has been dismissed five times by the left-arm spinner, and getting rid of his rabbit tag will prove a difficult task
Derek Pringle
Friday 16 December 2016 13:10 Comments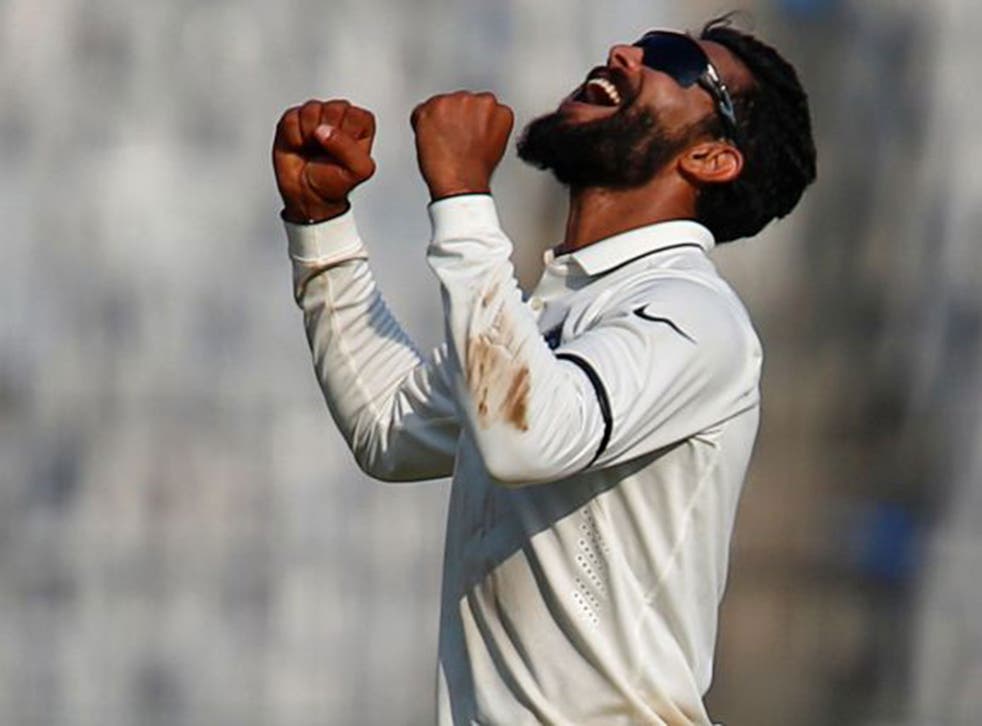 Four years for a Leap Year but also for a sea change in the fortunes of Alastair Cook, especially in India. Last time he was here, in 2012, Cook was hailed a minor genius after he led England to a rare series win in the country. Roll-on to the present day and he and his team have been humbled there in ways not even a pessimist would have predicted.
Chief among these, for Cook, has been his subordination at the hands of Ravindra Jadeja, India's left-arm spinner. Mostly, left-hand batsmen prefer the ball to turn into them, as opposed to away, but Jadeja has dismissed Cook five times in the series so far, the latest occasion coming in England's first innings of the final Test in Chennai.
You don't expect too much spin in the first session of day one and so it was when Cook pushed at one from Jadeja wide of off-stump. Trouble was, England's captain, never at his most secure when dragged forward outside his off-stump, clearly expected some turn when he played inside the line of the ball. It didn't budge though, and he edged to slip instead.
Five times in nine innings is what statisticians would call a significant trend. In cricket, the terminology is more colourful bowlers referring to regular victims as "Rabbits." In Australia, the expression is to "have the wood on someone," something Jadeja can certainly claim to have on Cook this series.
Reasons for this can be numerous and not just simply down to the type of bowling, in Jadeja's case slow left-arm orthodox. If it was simply a case of that then Cook would not average 74 against other left-armers in Test cricket as opposed to the 18 he does against Jadeja.
Sometimes it can be a product of the personalities involved and the friction created between them. Shane Warne used to wind up South Africa's Darryl Cullinan, claiming he had the batsman on toast whenever he bowled at him. But sometimes the perception can be misleading and while Warne probably got Cullinan out cheaply whenever he bowled at him early in the innings, he only dismissed him four times in 13 innings.
Cook is pretty unflappable in the face of provocation and while Jadeja is a feisty character unafraid to mix it verbally with England's players, as he has shown frequently with James Anderson, there hasn't been much chat between him and Cook.
What has been on Cook's mind, apart from England's woes, is whether he has run his race as captain and the guilt all players feel when they leave their family for long periods. In Cook's case that will have been compounded by the recent addition of a second daughter, born in October.
As an opening bat, Cook would probably expect to be a pace bowler's bunny rather than a spinner's. Michael Atherton was dismissed 19 times by Glenn McGrath over his career, but given the regularity of Ashes series and the fact that the new ball enhanced McGrath's potency, that was hardly surprising.
Indeed, Atherton's position as opener made him vulnerable to good new-ball bowlers everywhere and he was dismissed 17 times over his career by both Curtly Ambrose and Courtney Walsh. Which makes it a function of probability rather than anything more intriguing.
Once a link has been made, it can be hard to shake off. Cook will leave India and will probably not face Jadeja again in conditions so helpful to the bowler. The ignominy of it should, therefore, not linger as it did with Geoff Boycott, who was dropped from Test cricket between 1974 and 1977 due to a perceived weakness against left-arm pace bowlers.
In Boycott's case, hard evidence to that effect seemed slim on the ground, and the real reason for his absence was slow scoring after he made 99 and then 112 in six and half and seven hours respectively during a Test against the West Indies in 1974.
More complex is the relationship between the top-order batsman and the part-time bowler who gets him out unexpectedly and thereby inveigles his way into the psychology every time they meet. It doesn't happen often but a recent example was Kevin Pietersen's dismissal by Yuvraj Singh in the Chepauk stadium, the scene of this current Test in Chennai, seven years ago.
When Pietersen was asked about it, he described it as an aberration against "a pie-chucker," something Yuvraj countered in a press conference of his own. What was interesting is that MS Dhoni called Pietersen's bluff on almost every occasion the pair met thereafter, bringing Yuvraj on the moment Pietersen walked to the crease.
Dhoni was clearly playing on Pietersen's ego, as well as his perceived weakness against left-arm spin, but mostly the former. It made for some fine theatre, watching two alpha males posturing and giving each other the eye. It did not, however, amount in any more success for Yuvraj in the five further Tests in which the pair met, so KP could never be described as Yuvraj's bunny.
At the moment, Cook does fulfil that description with regard to Jadeja, but he could dispel it, to a degree, by belting him all over Chennai in the second innings. Yet, if he does try to do that he is admitting there is a problem with Jadeja in the first place - and so the cycle is reinforced to the point where the easiest resolution is probably just to get out to somebody else.
Register for free to continue reading
Registration is a free and easy way to support our truly independent journalism
By registering, you will also enjoy limited access to Premium articles, exclusive newsletters, commenting, and virtual events with our leading journalists
Already have an account? sign in
Join our new commenting forum
Join thought-provoking conversations, follow other Independent readers and see their replies