India crush England to seal convincing Test series win after opening defeat
India dominated to win the final Test and leave England still searching for how to win a series on their home patch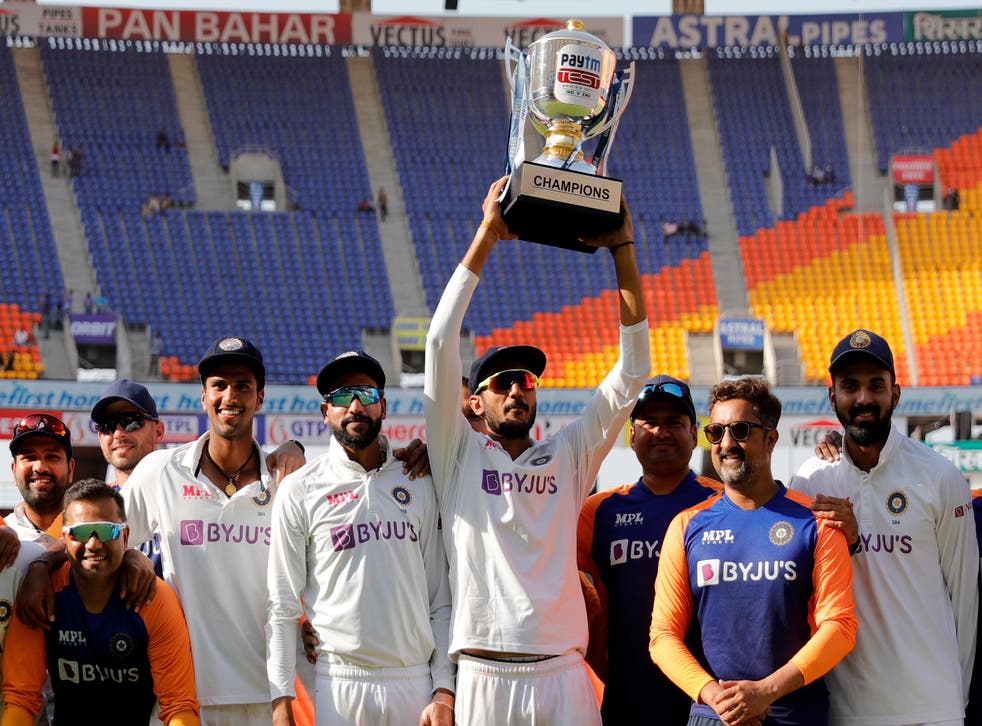 England have prevented Australia from reaching the final of the World Test Championship. A batting effort in keeping with their work over the last three Tests ensuring their Ashes rivals will play no part in the Big Dance this summer. Instead, they must watch on ruefully. Like England. 
That may be the only silver lining to a harrowing innings and 25-run defeat. One that confirms a 3-1 series defeat to India, so comprehensive in its conclusion the 227-run win they managed in the opener should probably be broken off and held in isolation. The defeats by 317 runs, then 10 wickets inside two days, and this one as they were skilled for 134 on day three, confirmed a come-from-behind success that secures India's 13th series win in a row. 
The last of the damage inflicted was started by Washginton Sundar, left high but dry on 96 not out, rubber-stamping the collective authority by lifting India's first innings to 365, their highest total of the tour. With a lead of 160, Ravichandran Ashwin and Axar Patel did what they have done: five for 47 and five for 48 doing all of the necessary work to dismiss England inside 55 overs. Their respective series hauls stand finish on 32 and 27 wickets respectively. 
It's worth pointing out Patel only came into the series for the second match, his debut at this level. His left-arm spin proved the major difference with four five-wicket hauls that gives him an average of 9.44. No doubt that will swell as time goes on, and he'll hope the other columns do too. He'll do well to get near Ashwin's: now on 30 five-fors and 409 dismissals. 
Looking at that, you might argue England didn't stand a chance. But they were 1-0 up, 1-1 going into a pink ball day-nighter and, at one point yesterday, sensing a first-innings lead with India four down and 125 behind. Even after Rishahb Pant's momentum trumping 101, they arrived to the ground on Saturday morning 89 behind but just three more batsmen to the dismiss. Success from that point was tough ask, but surely a fourth day was not.
Easier said than done, as it turns out. And in many ways, you could consider them unfortunate that one of the three to shift was a number six dressed in number eight's clothing. 
Resuming on 60, Sundar's class shone through for the 36 runs of the 71 put on this morning. Nevertheless, this being an industry that puts too much stock in milestones, the four that evaded him for a maiden Test century may hang over him for a while. Four runs that would not have added any extra value to his work, but certainly marked the occasion of a career-best with ladles of gravitas.  
What sympathies there were with Sundar needn't be too strong even considering the dismay etched on his face as the last three fell. In the space of five balls, 365 for eight turned to 365 all out as he stood helpless at the nonstriker's end. His walk off, unbeaten yet unfulfilled, was slow. 
The manner of his 62 on debut against Australia and the 85 not out in vain in the first Test of this series suggested a three-figure score wouldn't be long, even if the records show just one in all first-class cricket (this being his 16th match in the format). He'll just have to wait a bit longer.
Nevertheless, splits of 40 and 56 in stands of 113 and 106 with day two centurion Rishabh Pant and Patel respectively - only the third time India have posted century stands for the seventh and eighth wicket - should nourish him. 
Perhaps even the 23-year-old might not begrudge the recipient of those final two dismissals, Ben Stokes. The allrounder finished with four for 86 having opened the bowling on day one after top-scoring in England's first inadequate effort of 205. 
His 27.4 overs across these three days are the most he has bowled during a stint in the field since January 21016 against South Africa in Cape Town. A match where he also scored 258. Within 10 overs of England's second innings, he was back to the middle with the bat. He could bankrupt the ECB if he ever files for overtime. 
Continuing the introductory theme of silver-linings, Zak Crawley wasn't LBW or bowled to a non-turning ball from Ashwin (caught by Ajinkya Rahane at first slip instead). Jonny Bairstow played with the spin of the very next delivery (straight to Rohit Sharma at leg gully for his third duck in four innings). Dom Sibley nailed a sweep out of the middle off Axar Patel (which rebounded off Shubman Gill at bat-pad and nestled into the gloves of Pant). 
Stokes was even able to get some rest. A crouched lap-sweep off Patel found Virat Kohli around the corner. The 29-year-old's joints creaked one last time as he to his feet for an understandably stiff walk off. 
India were then "frustrated" for 11 overs until the fifth wicket, though only in the way you might be frustrated waiting for a toaster. In that time, Joe Root and Ollie Pope combined for 35 before out popped Pope, burned down leg on the charge and stumped by Pant, for Patel's third and India's sixth. Another "all out" in a session was on the cards. 
They managed to get to tea for the loss of those six. Dan Lawrence and Ben Foakes, former Essex stablemates, dragging the innings to the break with 91 on the scoreboard and a deficit down to 69. 
The niceties stopped there, even if both were able to continue on for most of the first hour of the evening session. They looked certain to notch England's first half-century stand since Root and Pope combined for 86 for the fifth wicket in the 576 that started the series in Chennai. Alas, when Foakes became Patel's fourth when edging low to Rahane - confirmed by the television umpire – the dream within the nightmare died for good. Dom Bess frittered and went, Jack Leach dogged it out and went. And when Lawrence was the last to fall after a character-filled 50, book-ending his debut winter with two half-centuries, that made it 75 stands without a fifty. 
With that came more confirmation of what we already knew. That the Ashwin-Axar axis might be here to stay, all 10 today making it a combined haul of 59 between them this series at an average of 12.8. And that whichever way you shake it, England, having taken the lead, missed their best chance of a first series win in India since 2012. 
Partly through necessary design: the nonsense of a 2021 schedule putting the onus on pro-active player management. Partly through being bested by an opponent built for world domination beyond the WTC final, packed full of engaging talent and veterans who, beyond Rohit Sharma and Ashwin, had quiet series. But also partly because, yet again, selection errors and ill-equipped batsmen have been their undoing in these parts. 
This might only be a third series defeat in the last 10, ending a run of four consecutive victories. But they have now lost consecutive series away to higher-profile sides in India, Australia, New Zealand, and also West Indies. It's a problem, one they are no closer to solving. 
Join our new commenting forum
Join thought-provoking conversations, follow other Independent readers and see their replies