England capitulate to leave plans in tatters as India maintain dominance to start third Test
Joe Root's side crumbled on day one to hand the advantage to the hosts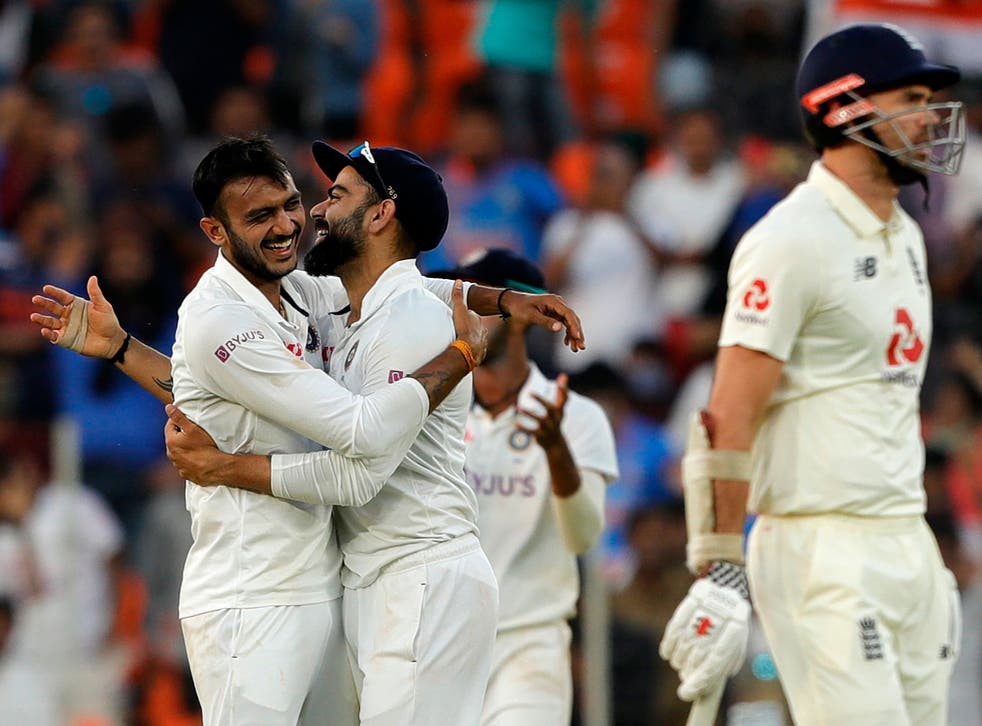 As India closed out the first day of the third Test on 99 for three, just 13 away from England's first innings score, you might find it hard to believe a lot of planning had gone into all this.
This day-night Test stood out like a beacon in the calendar, what with the seam-friendly conditions of dark skies and a pink ball. Much of the now controversial rest-and-rotation policy was implemented with an eye on pace options being fresh and plentiful at this point of the winter programme. And with the series level at one-all, rarely has a visiting side been better-placed to triumph in a series, or at least avoid outright defeat with two matches to go. Already, those plans are in tatters after England's most chastening day (and night) this winter.
England were bowled out for 112, plumbing depths lower than their 134 from the previous Test. Their main destroyer was Axar Patel with six for 38, snaring with deliveries that did not turn after the ones that did reopened the scars from his previous figures of five for 60 in Chennai, which confirmed a 317-run victory. Victory by a similar gap in quality already feels inevitable.
There was a sense coming into this fixture at Ahmedabad that the cacophony of noise from 40,000 fans let in would be at odds with a tacky, docile pitch. In the end, the only bit of tackiness came in the hours before play when the ground was renamed the Narendra Modi Stadium after the Indian prime minister.
READ MORE: Moeen Ali's muddled departure shines light on England's impossible selection balancing act
It's probably easier to start with what England did right because they did win the toss. But even in the moments before the coin went up, their confirmed team had a whiff of over-thinking when held side-by-side with India's XI. 
The returning Jofra Archer and James Anderson, along with Stuart Broad and allrounder Ben Stokes, made up four-seam options with just the one frontline spinner in Jack Leach. India, meanwhile, recalled Washington Sundar to bolster their twirl-attack, adding to Ravichandran Ashwin and Patel who combined for 15 of the 20 English wickets in the second Test. From an English perspective, it felt a bit like walking out your front door in shorts and seeing your neighbour carrying an umbrella. 
And, my, did it rain. Within 49 overs, England's first innings had come to an end: nine of their 10 dismissed batsmen falling to spin, Patel's six taking him to 13 overall in a pretty special start to his two-caps to date at this level. 
It was a man on the other end of the experience and pace scale who made the first intervention. Ishant Sharma, celebrating his 100th Test, set the game in motion when his 10th delivery of the day snatched the outside edge of Dom Sibley through to Rohit Sharma at second slip. The right-hander was gone for a duck, extras contributing the three runs England had at the time. Another duck came when the returning Jonny Bairstow, in place for Dan Lawrence as a superior player of spin, was trapped LBW for Patel's first off the left-armer's first delivery. The misjudgement was followed by an even bigger one when a review sent upstairs by the No 3 came back down affirmed with a path plotted straight between middle and leg stump. 
Had it not been for Zak Crawley's 53, returning from a wrist injury to replace Rory Burns, the first session and, indeed, all of this might have been a lot more embarrassing. The first runs off the bat came from his immaculately timed forward defence, the first of 10 boundaries that rounded out a wonderfully accomplished fifth score above fifty in this format. 
On a scorecard with only three other double-figure scores, and nothing else above Joe Root's 17, it stood as tall as the man himself. Not quite a rose among thorns, more a lesson amid the failures. Sound judgement, composed feet and clean contact. The things Root has provided in 2021 that were found wanting when he pressed forward on off-stump against Ashwin from around the wicket was trapped in front of leg, as a review confirmed. 
Crawley, too, was eventually found wanting five minutes before the first break, beaten on the inside edge by Patel who had given him grief earlier on the outside. And when Ollie Pope (turned inside out and giving up his off stump to Ashwin for 1) and Ben Stokes (LBW to Patel for 12) fell within 11 deliveries after the break, England's lower-half was as badly exposed as a man stepping out of a shower with a hand towel with Archer, who averages eight, coming in at No 8. 
Ben Foakes was the man to shepherd them, albeit only directing matters at one end while the rest of the flock went off a cliff. Archer ended up bumping up his average with 11 before being bowled by Patel. Stuart Broad's first swish in anger had him caught at deep square leg to end a partnership of seven from 54 deliveries that suggested a tactic to take things through to the twilight period to give India as much discomfort as possible when they came to bat. When Foakes was bowled attempting a cut to a ball that followed him for Patel's final scalp, after Ashwin had sorted his three for 26, they had their wish. Sort of. 
What followed was, again, not quite according to plan. Anderson and Broad opened the bowling either side of the final 40-minute break, frustrated by a couple of near misses. The closer of the two came 10 deliveries into India's innings when Shubman Gill edged Broad to Stokes at second slip. Stokes made the catch, but with doubt over how cleanly it was taken, the decision was sent upstairs to the television umpire accompanied by a "soft signal" of out. Replays showed the ground had helped.
Broad also provided the second with a promising LBW shout against Gill. But the on-field call of "not out" meant the marginal impact on the stumps stayed with the opener, who went on to finally get off the mark after 26 deliveries and 49 minutes on nought. 
Gill would eventually get off the mark from his 27th ball faced, though only reached 11 when he skied a pull shot off Archer, caught by Crawley running in from square leg. And when Cheteshwar Pujara became the day's third duck five deliveries later, pocketed by Jack Leach for the third time this series, a tough day looked like it might give way for some evening relief. 
Of course, it was anything but. And as Rohit and Virat Kohli continued, their relative serenity reasserted Indian dominance and further calls only exacerbated English frustrations. Rohit picked up where he left off in the second Test, glitzing to 50 off 63 deliveries. That 161 out of 329 in India's first innings at Chennai had similar characteristics to this one in that he seemed to be operating on a much easier surface. 
Their partnership built to 64, sapping enthusiasm and energy. Pope's ingenuity almost led to a blinding catch at short leg, anticipating a lap sweep from Rohit and putting in a diving effort that got his left hand to the ball from a couple of yards away. Then came a gut punch when he started the next over with a simple drop at gully when Anderson had drawn an error from Kohli with some extra bounce. 
Mercifully, Kohli picked up just three more runs when, on 27, he chopped Leach onto his stumps. Even that could only lift spirits so high after the previous Leach oversaw another TV umpire consultation done in a flash: this time a stumping off Rohit used just one angle before returning a "not out" decision despite a momentary raising of the back foot, which seemed to correspond with the flashing of the zing bails. 
Rohit remains, 57 by his name, alongside Ajinkya Rahane (one). And it speaks of India's control that the latter came out to face what remained of the final over. Rahane felt there was no need for a nightwatchman, confidence in keeping with India's overall. They had no reason to worry, the difference between the sides simply night and day.
Join our new commenting forum
Join thought-provoking conversations, follow other Independent readers and see their replies