India vs England: Tourists have come to know the harsh realities of sub-continent cricket
Despite a first innings total of 400 on a turning pitch, England find themselves almost certain of suffering defeat in Mumbai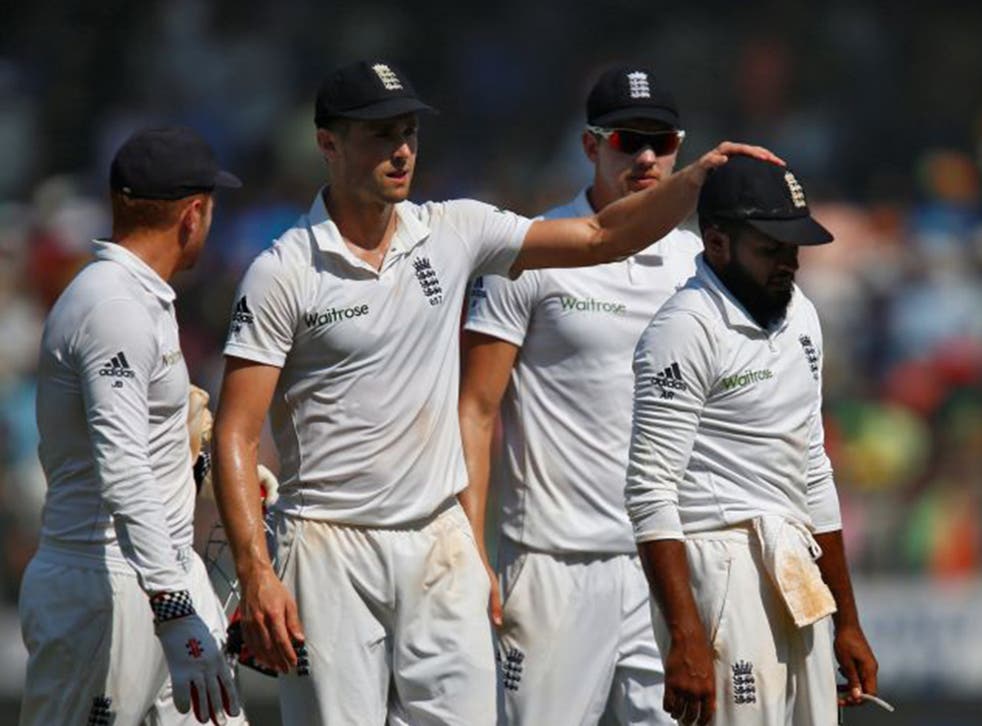 It's been a while coming but the fourth day's play in Mumbai will seem scarily familiar for scores of England cricketers who have toured India down the years.
It is the Indian hope trick. One minute they have ambitions to win the game, the next they are clinging on for dear life. To go from one extreme to the other in the space of a few days without quite understanding why is what makes playing there one of the greatest tests in cricket of a player's character, technique and sanity.
The sense of helplessness for England has been palpable and has been for just about every visiting team to India for generations, save for Pakistan and Sri Lanka. To score 400 in the first innings on a turning pitch and be so under the cosh a few days later defies the laws of nature let alone cricket. As Virat Kohli and Jayant Yadav took India's total into the realms of fantasy, and then Ravidra Jadeja began fizzing them feet rather than inches when India bowled again, Alastair Cook's team could do little more than wear the dazed expression of somebody mugged in broad daylight.
On past visits, the cultural shock of visiting India added to the discomfort felt by visiting teams on the pitch. These days players are cocooned in five star hotels with security details to keep civilian India at bay. But that isolation can give a false sense of security as England's growing bewilderment showed.
People watching will ask, quite rightly, why Kohli was barely discomfited by England's spinners on the kind of dusting pitch their ilk should dream of bowling on? Kohli is an exceptional talent who has made batting look easy in Mumbai but part of the answer can be found by taking any rush hour journey in India by tuk-tuk, the motorised scooters that teem in every city, town and village.
The sheer dexterity, judgement and daring shown by tuk-tuk drivers as they weave through the traffic finding gaps that to the untrained eye just don't exist, are breathtaking. Proof, if any were needed, that verve and virtuosity, two key ingredients to Kohli's brilliance, are in India's DNA.

Not all the excellence belonged to India though. When all looked set for a quick despatch by India's spinners, who posed more threat in two overs than England's did in two days, the visitors looked as if they might have found their Kohli equivalent in Joe Root, though his method of coping with the spin was very different to that of India's captain.
Root was positive but his big shots were cross-batted against the spin whereas Kohli probably played just two of those in his 235. English batsmen are still not that comfortable in using their feet against spinners, doubly so with the dip that India's spinners manage to get. For them, nullifying the spin comes easier with a scything blade than nimble feet, though there is also more risk.
But a bit like the way the West Indies pace attacks would wear resisters down with their relentless barrage, so too India's spinners with their "oohing and aaahing" over near misses and their phalanx of squawking close fielders. The sheer claustrophobia felt by batsmen hemmed in by those situations can be immense but just Root and Jonny Bairstow looked like they were coping well, Root misjudged the length, and with it his footwork, to fall lbw to Jayant Yadav.
With a wicket looking like it could fall to the spinners every ball, the pressure was on for the umpires to make correct decisions, albeit with the checks and balances now afforded by the Decision Review System.
It is a tough job and Bairstow, who has quietly matured into a very fine batsman, was twice given out caught behind by umpire Bruce Oxenford, no doubt pressured by the resounding chorus of appeals. On both occasions DRS reprieved him but while Oxenford may have felt chastened by the TV replays on the big screen, which showed Bairstow to have missed both by some distance, it did not put him off giving Ben Stokes out when the left-hander was caught, freakishly, off his boot as he reverse-swept Ravichandran Ashwin. That was a brilliant decision.
If Stokes can count himself unlucky spare a thought for Keaton Jennings, England's sole centurion in the match so far. Having been dropped on nought in the first innings, Jennings got a first ball duck in the second, playing across one from Bhuvneshwar Kumar. In a parallel universe, Jennings might have begun his Test career with the rushing ignominy of a pair rather than the heady bliss of a hundred.
The game and series look up for Cook's team though there is just a glimmer for them if they can somehow, through Bairstow and Jos Buttler, get 130 runs ahead on the final day. Then, with England's so far disappointing spinners finding their mojo on this minefield of a pitch, as well as the edges of Indian bats, they can bowl out the home side in two sessions.
For that to happen, though, they will have to depart from a script written long ago and rarely departed from since.
Join our new commenting forum
Join thought-provoking conversations, follow other Independent readers and see their replies