The Indian Angle: India's sloppy stars still view fielding as beneath them
The 'Maharajas' are merely continuing a tradition. No running, no diving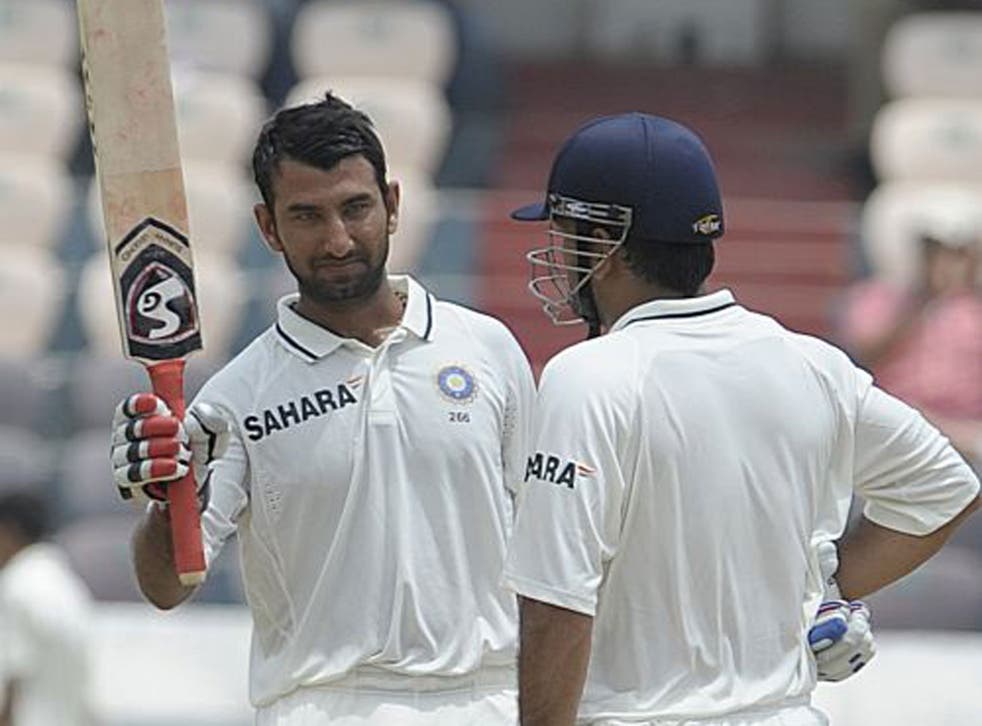 Asked why fielder Zaheer Khan seldom bothered to walk in as the bowler approached the stumps, India's fielding coach Trevor Penny said, "Zaheer has his own methods." He wasn't about to let down one of his boys publicly or put his own job in jeopardy, but added, "He is a superstar of Indian cricket."
The message is clear: Indian superstars do not need to field. There was a moment at Eden Gardens when the ball was played between Yuvraj Singh and R Ashwin; the former, more senior, was happy to allow the younger man to chase. In fact, he probably expected it.
India's fielding has escaped censure only because the focus has been so much on their failures with bat and ball, but it has been embarrassing. Alastair Cook doesn't need the encouragement of being let off twice; both were straightforward chances. It just happened that Cheteshwar Pujara (above) at first slip was fielding in that unfamiliar position (for him) with shin guards that might have made it difficult to bend for the low, hard, catch when the batsman was 17. Then at 156, bowler Ishant Sharma let the ball hit his palms and drop.
There are two aspects to India's poor fielding: fitness levels (in some cases connected with age, although Sachin Tendulkar at 39 is safe even if not brilliant) and the superstar syndrome. For so long was the trio of Rahul Dravid, Tendulkar and VVS Laxman – each with more than 100 Test catches – established in the slips that little thought was given to grooming a youngster there. Virat Kohli is a natural choice, but he is needed elsewhere, at point, or as he was today, at square leg from where he ran out Cook while thinking on his feet.
"Our plan," says the fielding coach, "is to field everybody everywhere." This post-modern approach to fielding ignores the fact that cricket is a game of specialists. India's great close-catching cordon of the 1970s, Sunil Gavaskar and Ajit Wadekar at slip, S Venkataraghavan at gully, Abid Ali at backward short leg and the great Eknath Solkar at forward short leg gave their spinners an edge that they acknowledged. "We wouldn't have been as successful without Solkar's catching," the leg-spinner Bhagwat Chandrasekhar often said. Dravid took more than a hundred catches off the Anil Kumble-Harbhajan Singh combination, and finished with 200 catches.
The late Tiger Pataudi was an outstanding cover point; Colin Bland once said his anticipation was sharper than Jonty Rhodes's, and he would know. Later, Kapil Dev was a delight in the outfield while Mohammad Azharuddin was possibly the greatest all-round fielder India had, quick in the covers and a brilliant catcher close in.
In some ways these players may have been exceptions, though. In general, as I have said before, the philosophy is best summed up by the attitude: "As for fielding, our servants can do that for us."
In the early days of Indian cricket, fielding was for servants, not masters, for the less fortunate who, for reasons of class or caste, did not find a place in the real scheme of things.The modern "maharajas" are merely continuing a tradition. No running, no diving, no attention to the modern methods of sliding, pulling the ball back for a colleague to throw or challenging batsmen to run.
Fielding coaches are up against history (India's tradition of poor fielders), geography (the hard grounds where diving is fraught with danger in the early days), and perhaps economics (why take a chance on an injury when fielding which might lead to a fall in earnings?).
There is such a thing as the joy of fielding. You could see it in Azharuddin, and in Rhodes. With that comes an abiding interest in fitness. When he retired at 39, Dravid was the fittest player in the side, which is both amazing and sad.
There are no hiding places in the field today. India's players know where to hide though: behind their big scores, their reputations and their ability to let the fielding coach know what his boundaries are.
Suresh Menon is editor of Wisden India Almanack
Join our new commenting forum
Join thought-provoking conversations, follow other Independent readers and see their replies