Joe Root refuses to blame England's seamer selection for humbling defeat by India in third Test
The day-night fixture and the pink SG ball had England certain pace would play a prominent part in proceedings, but spin proved the key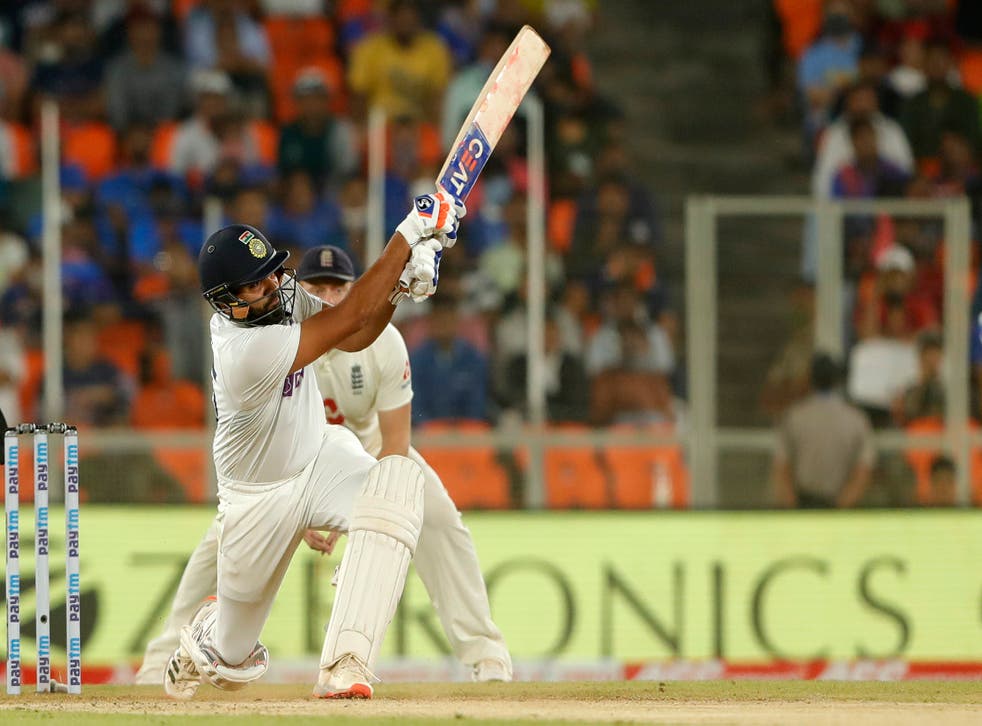 Joe Root refused to blame selection as England succumbed to a two-day defeat in the third Test where 28 of the 30 wickets to fall were taken by spin. 
The tourists went into the third Test in Ahmedabad with just Jack Leach as their frontline spinner as Dom Bess sat on the sidelines for the second game in a row. It meant Root had to turn his own off-spin, doing so with great effect to take a maiden five-wicket haul of five for eight as India were dismissed for 145 in their first innings. Unfortunately, England then folded to spin themselves for 81 all out, handing India a simple target of 49 they knocked off for no loss. 
The day-night fixture and the pink SG ball had captain, coach Chris Silverwood and selectors certain pace would play a prominent part in proceedings. That proved to be far from the case as only Ishant Sharma and Jofra Archer registered a dismissal each for the quicks.
Though Root maintained he believed the XI had enough to cause India problems outright, he accepted that being 2-1 down with one to play, and the manner of this second defeat in the row, suggests the plan was not quite right. 
"We looked to try and play our best side in terms of utilising that pink ball," said Root on Thursday evening. "We thought the wicket would hold together better than it did. Throughout all the practice days it seamed around, it swung, the seamers looked a threatening option. 
"It's easy in hindsight to select a different team but we wanted to play our seamers which we feel is a big strength of ours, to give them the chance to exploit those conditions. Unfortunately it was a slight mystery in that regard. It is easy to sit here now and say we could have gone a completely different way, but it was a strong England team and it was frustrating it turned out the way it did."
He was also reticent to join the chorus of complaints against the pitch, notably from former captains Alastair Cook and Andrew Strauss who were on punditry duty for Channel 4 back in the UK. Cook, a veteran of four tours of India, claimed the pitch was "nigh on impossible" to bat on. 
Both he and Strauss also took objection with India captain Virat Kohli's assertion that the fall of 17 wickets in the first two sessions of day two owed more to error than issues under foot. "There was a lack of application from both sides," he said. Those comments were derided by the two in the studio, with Strauss retorting: "Kohli's looking after the groundsmen there to a certain degree."
Root, though, felt the nature of the pink ball, specifically its lacquer, had a bigger impact on batting misjudgements. 
"I honestly think the ball was a big factor in this wicket," he said. "The fact the plastic coating, the hardness of the seam compared to the red SG meant it gathered pace off the wicket. If it hit the shiny side and didn't hit the seam it almost gathered [speed]. A lot of those wickets on both sides, the LBW and bowleds, were due to being done for pace beaten on the inside. If you look at some of the replays batsmen probably ended up in the right position but because it was gathering pace off the wicket it was difficult. Credit to Axar [Patel, who took six for 38 on day one and five for 32 on day two] in particular, I think he exploited that really well and found a very good method on that surface."
England now have a week to dust themselves off and go again at this ground to salvage the series. The fourth and final Test begins on Thursday, and though the chance to reach the Wold Test Championship Final this summer is now off the table, a respectable 2-2 scoreline remains up for grabs. 
For that, those batsmen who have been dismissed for 193 across two innings will need to forget these last two days as quickly as possible. While that will be a challenge, especially with only six of them reaching double figures, and only Root doing so twice, he believes they have shown enough over the last two years to come good once more. 
"It is a young group, we can't have any scars going into the last game," he said. "We've got to keep looking forward and we've got to keep remembering we won six on the bounce away from home coming into the last two games and won six on the bounce in the sub continent so you don't become a bad team overnight.
"We have to be realistic about a number of things, and we have to understand there is going to be the odd bump in the road and we're not going to be perfect. We go into next week with a very good attitude and we take the hurt from this and apply it in our performance and use it as motivation to make sure we come away with something."
Register for free to continue reading
Registration is a free and easy way to support our truly independent journalism
By registering, you will also enjoy limited access to Premium articles, exclusive newsletters, commenting, and virtual events with our leading journalists
Already have an account? sign in
Register for free to continue reading
Registration is a free and easy way to support our truly independent journalism
By registering, you will also enjoy limited access to Premium articles, exclusive newsletters, commenting, and virtual events with our leading journalists
Already have an account? sign in
Join our new commenting forum
Join thought-provoking conversations, follow other Independent readers and see their replies