England down and out after chaotic and catastrophic defeat
England were ransacked inside two chastening days as India brought them brutally back to earth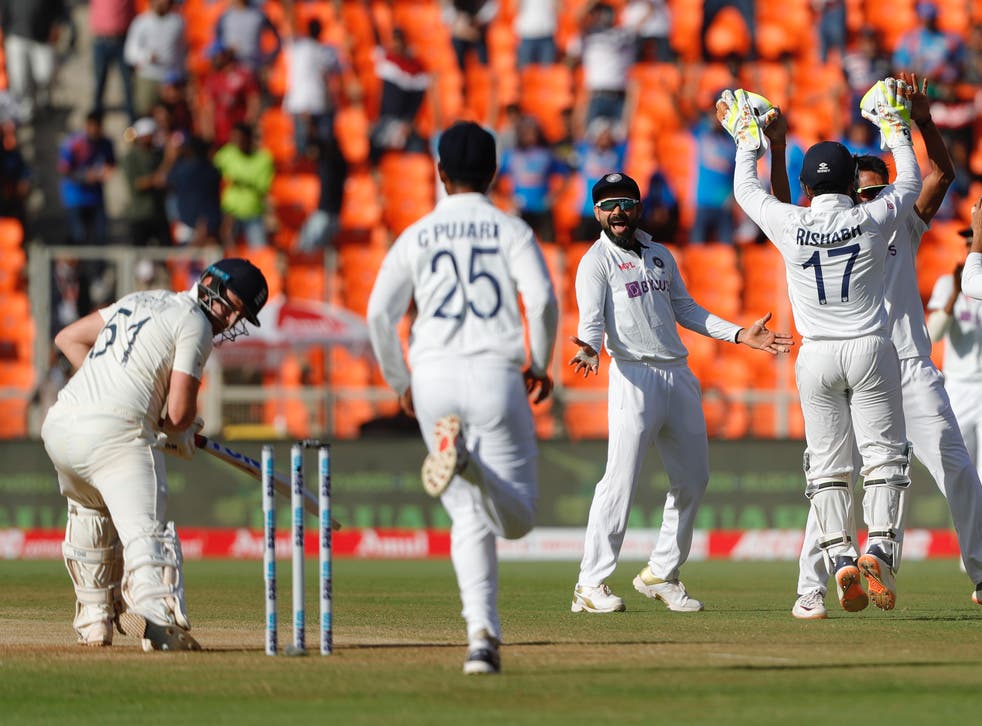 Done in two days. Barely even that, to be fair. India have ransacked England with a 10-wicket win in the third Test, taking an unassailable 2-1 series lead and so much of their opponents' dignity that whatever time needed in the nets to overcome technical deficiencies should be doubled with a counsellor to address the mental scars such a chastening defeat will cause.
Done in 69 overs, 17 wickets snapped like saplings in gale-force winds, the deciding factor being 10 of them belonged to England. Those spirits, buoyant after dismissing India for 145 in the morning, brought crashing back down to earth with sickening brutality. Muggings have lasted longer, yet this, particularly the middle session that contained England's second innings of 81 all out, felt like a lifetime. Mercy came at the very end with the winning target of 49 chased in just 46 deliveries.
This match in Ahmedabad is now the shortest completed Test since the Second World War, the result of India requiring just 79.2 overs to bowl England out twice. The collective 193 was England's sixth-lowest aggregate across two innings.
On Wednesday evening, with India 99 for three, just 13 behind, a different universe to the one entered into on Thursday, Zak Crawley said a route back for the tourists was not dependent on a miracle.
He was right, in a way. You would imagine those upstairs have bigger issues to contend with right now than a simple game of cricket. But the premise was sound: only an event of biblical proportions could flip this encounter on its head. Little did we or Crawley know the events that lay ahead would make the Old Testament wince.
There was no miracle, just pestilence and plague unto all batsmen. Indian and English, left and right-handed, young and old, first-borns and the rest.
Crawley himself was the eighth man to fall. Just as he stood out with 53 out of the first innings 112, here he was: the first drop of blood from the heavens. A warning that what was done to India in the morning was about to be reaped onto England, as yesterday's half-centurion became today's diamond duck, gone to the first ball of the second innings.
Because up to that point, the miracle was on. Through a remarkable five for eight from Joe Root - yes, Joe Root - India's first innings was wrapped up inside 21 overs of play, the final seven home batsmen felled for the addition of just 46 runs. Jack Leach would take the first two before Root brought himself on to clear up. At one point, he had three for none in as many overs. And is haul outright - a career-best, if that even needs to be said - saw him pocket the country's cheapest five-wicket haul since Arthur Gilligan's six for seven back in 1924, and the first by a captain since Bob Willis took as many for 35 against New Zealand 38 years ago.
Yet even that was a harbinger of doom. Just as Root snared the dangerous Rishabh Pant and Washington Sundar with his first and seventh deliveries, biting off the pitch and claiming an edge and off stump respectively, so Axar Patel bowled Crawley past outside edge and then Jonny Bairstow beyond the inside with the first three balls of the second innings. However grossly underprepared England might have been with an attack of just one front-line spinner, the harm done by a part-timer with a bowling average of 47 was to be inflicted ten-fold.
Patel had his third – Dom Sibley caught at slip flailing to deep midwicket - with India still 14 ahead. Root and Ben Stokes's pro-active stand stemmed the flow, the allrounder rallying against the tide with quick feet and quicker hands to sweep and reverse sweep into the lead. And when Root survived an incredible tight LBW review - given by standing umpire Anil Chaudhary, over-turned by television umpire Chettithody Shamshuddin after a lengthy review convinced him bat had made contact before pad - the tide seemed to be turning.
But Ravichandran Ashwin turned up, snaring the left-handed Stokes for the 11th time in his career, ending what would be the most productive partnership for 31. Then came some cherry-on-top dismissals. Root's eventual demise to Patel – leg before, pad well away from bat – handed the 27-year old 10 in the match, his second cap no less. When Ben Foakes was trapped in front to make it 80 for eight, a third five-wicket haul in as many innings was confirmed. This five for 32 taking him to 11 for 70 across these last couple of days.
At the other end, a lame swipe across the line from Jofra Archer took Ashwin to 400 career dismissals. It owed a momentary stepping out of the asylum for fresh, sensical air. A milestone reached in just 77 Tests, the second-quickest after Muttiah Muralitharan needed just to 72 to get there. That's the level we are talking about here: a great of finger-spin still running among us, aged 34 with plenty more of his own legend to cultivate.
Further cruelty came three-fold. First came Washington Sundar's introduction for a first bowl of the match, into the attack like the pint-sized fish hungry for what's left of the flesh after the sharks have had their fill. Four balls in, James Anderson was caught at slip reverse sweeping. He probably didn't even hit it - there were no reviews left to prove otherwise - but even that seemed beside the point. Pain for those pained fit too snuggly to dispute.
With that, India's ask was 49, whittled down to 38 after a two-over dash into the dinner break, which only served to give England 40 minutes to compute, deny, and accept what had befallen them. Sharma emerged for his second bat of the day, Shubman Gill for his second in 24 hours and Root led his charges out for one last course of bitter revenge. The magic in Root's fingers long gone, Sharma (25 not out) struck him for two fours and then a six to blaze his side to a staggering win.
Revenge, really, is the only word for it. After winning the first Test with a first-up score of 578, England have returned 669 runs for 50 ever since. Trumped on a fair turner in Chennai, then gutted on a grub of a deck in the third.
India may yet face a penalty from the International Cricket Council for producing a pitch where all batsmen struggled and the match was done with three days and just under a session to go. There will be rightful complaints, maybe even rightful whinges with plenty dismay. There will be comments beyond the pale and rambunctious accusations of bias, all the warts and puss that make such discourse so toxic.
But really, does any of that matter? The damage is done, and the wreckage of this England squad will require air-crash investigators to pick apart how things went catastrophically wrong and salvage what they can ahead of the fourth and final Test next Thursday.
Any post-mortem will need to start at the beginning. Winning the toss and going in with four seamers and one spinner when the former suit only accounted for two of the 30 wickets to fall. How they were spanked redraw by a pink ball that was supposed to do them right. A shame exacerbated by the day-night timings when all at home were watching to try and alleviate their own troubles.
It was fun; it was rubbish. It was exhilarating, exhausting and exasperating. Compelling Test cricket and yet not Test cricket at all. Whatever your conclusions among all that, England are down, and probably out. Their World Test Championship campaign over, but their torture feels like it's only just beginning.
Register for free to continue reading
Registration is a free and easy way to support our truly independent journalism
By registering, you will also enjoy limited access to Premium articles, exclusive newsletters, commenting, and virtual events with our leading journalists
Already have an account? sign in
Register for free to continue reading
Registration is a free and easy way to support our truly independent journalism
By registering, you will also enjoy limited access to Premium articles, exclusive newsletters, commenting, and virtual events with our leading journalists
Already have an account? sign in
Join our new commenting forum
Join thought-provoking conversations, follow other Independent readers and see their replies