Zak Crawley admits England left 'frustrated' after India benefit from marginal calls
The England opener made 53 in the only bright spot of dismal first innings for the tourists on day one of the third Test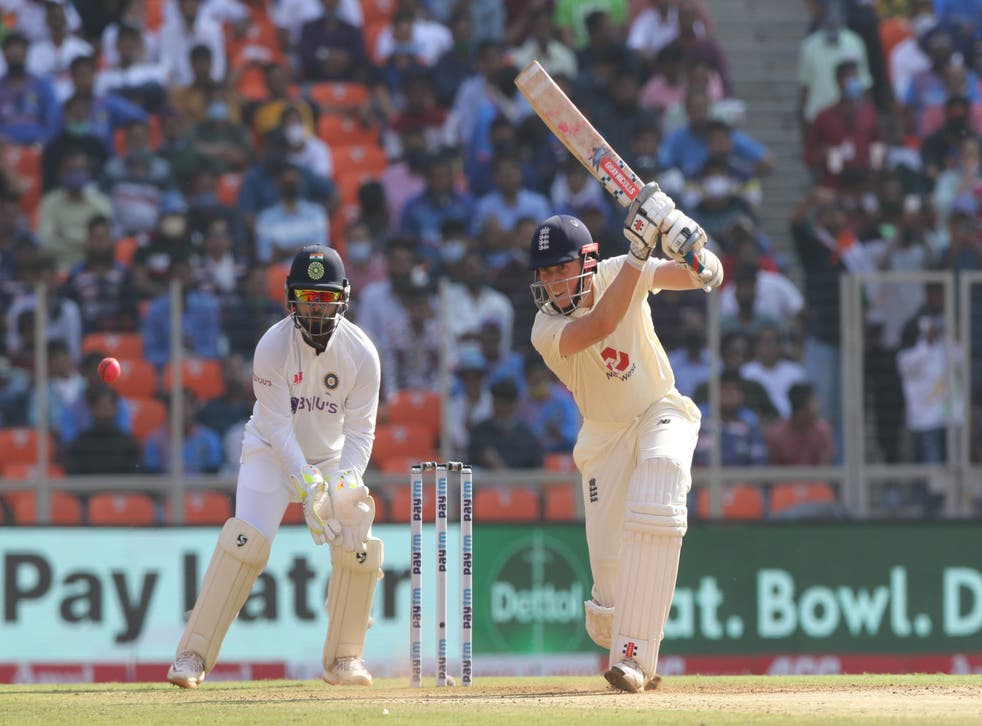 Zak Crawley admits England have been left frustrated after marginal umpire calls compounded by their own inadequacy with the bat saw skittled for 112 on day one of the third Test. 
After electing to bat upon winning the toss in Ahmedabad, India rolled through the tourists with ease in 49 overs, responding to finish day one on 99 for three. Opener Rohit Sharma led his team off unbeaten on 57. 
Were it not for Crawley's 53 upon his return to the side, this might have been a whole lot worse. The 23-year old missed the opening two Tests with a damaged wrist after slipping on some marble at the Chepauk Stadium ahead of the first match of the series, and his return for a fourth half-century provided some gloss on an aberration of a first innings. 
Along with disappointment at their own performance, England are aggrieved that a number of decisions seemed to go against them. Joe Root and Ben Stokes were given out LBW with reviews showing "umpire's call" on impact onto the stumps. That same margin went in favour of Indian opener Shubman Gill after he as given not out when leg before against Stuart Broad at the start of India's innings. 
READ MORE: Moeen Ali's muddled departure shines light on England's impossible selection balancing act
And Root was visibly disappointed when a couple of television reviews were concluded quickly, starting with a low catch to Stokes at second slip off Rohit Sharma in the second over. The soft signal was out, but after a quick view of a front-on angle, third umpire Chettithody Shamshuddin overturned the decision to "not out". 
Shamshuddin then came to a similarly sharp call when adjudicating a stumping of Rohit Sharma when the right-hander was on 53. It is worth noting the decisions themselves were not incorrect. But the lack of consideration, along with no calls for multiple angles on the disputed catch and stumping had England wondering if the correct protocols had been followed.
"It's very frustrating," said Crawley. "We're behind the game, need the fifty-fiftys to go our way and it seemed like none of them went our way today. That's just the way it goes and that's the way it was today. 
"It's frustrating because we want to win and it doesn't help our chances of winning. That's out of our control so we've got to keep trying to be better. Hopefully we play better tomorrow and we take the wickets without needing the fifty-fiftys." 
"When we batted, Jack Leach had a similar one [when caught by Cheteshwar Pujara] where it didn't quite carry and it seemed like they looked at it five or six different angles. When we were fielding they looked at it from one angle. That's probably where the frustration lies. I can't say whether they were out or not out but I think the frustration was not checking four or five angles."
Of course, England only have themselves to blame for being in the position they are in. The 112 has "beaten" the previous Test's 134 as their lowest total in India. 
"We know we've should have got a few more runs. If we'd got 200 that would be a nice competitive score, we're a bit short." 
However, with four days left, Crawley remains somewhat optimistic. England opted for just the one spinner to India's three, and alarm bells were ringing when the home twirlers took nine of the first 10 scalps. Leach also has two of the three home batsmen to fall so far. Ishant Sharma and Jofra Archer are the only two seamers who have registered dismissals so far. 
"I think our bowlers could easily take 20 wickets on this pitch, the standard they are," said Crawley. "It doesn't help with the lack of runs but we can put that right in the second innings. 
"I don't think it's going to require a miracle to be honest, batting last on this pitch is going to be extremely difficult. If we bowl well tomorrow even a 100-run lead, 150, we've got a great chance of winning the game. We need a lot to go our way and to play extremely well."
Join our new commenting forum
Join thought-provoking conversations, follow other Independent readers and see their replies