Mitchell Johnson: Exit the pantomime villain we loved to hate then learned to love
The shy country boy fooled  no one with his impersonation of a bloodthirsty baddie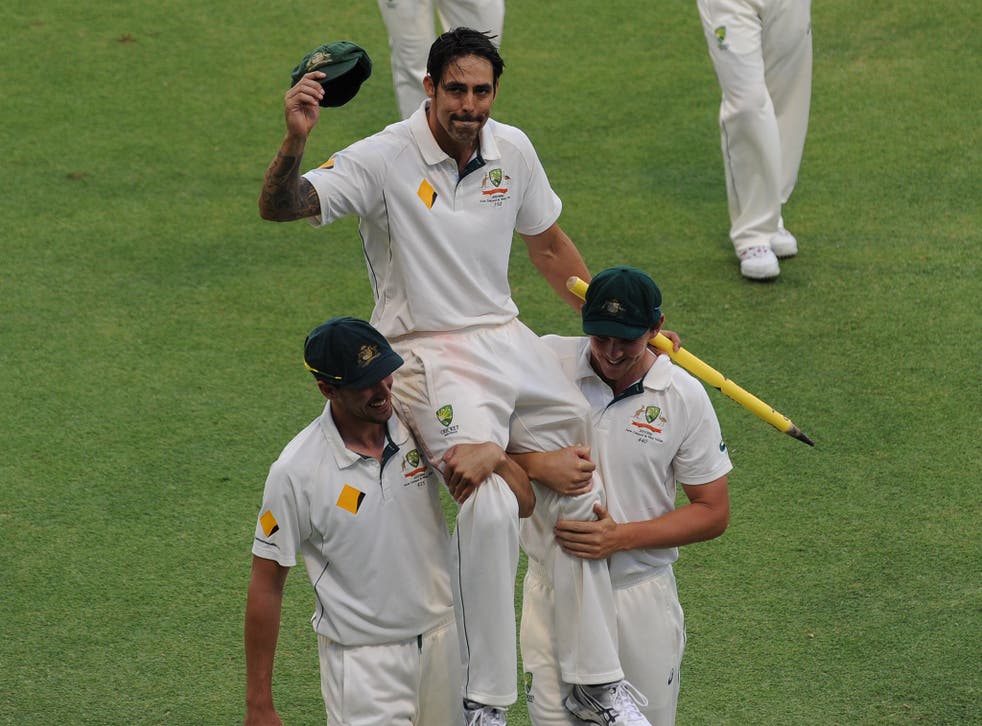 There was nothing Mitchell Johnson himself seemed able to do about it, still less the poor old batsman. Unleashed in short, wild blitzes, he seemed the unwitting agent of some primal force. It was a bit like watching a steel bin flipped around by a hurricane. Nobody ever knew quite what he would fling at you next, but you sure as hell didn't want to be getting in the way.
Johnson retired from international cricket this week, having found so discouraging a surface at Perth – of all places – that a ball discharged by naval artillery could only complete a journey of 22 yards if picked up by a liveried butler, and conveyed to the batsman on a velvet cushion.
By the same token, the fact that Mitchell Starc managed to send one down at 99.7mph registered a formal changing of the guard for a team already in giddy transition. In the meantime, however, the sporting world has just become a tamer, less entertaining place.
It was not so much raw, speedgun velocity that set Johnson apart, as the sickening instability he induced even in the most reliable defence mechanisms. That low, slingshot left arm made a virtue even of his erratic direction. Having apparently disintegrated, the ball would suddenly materialise in the last hundredth of a second, catapulted back into time and space from the very margins of physics.
When MJ had his mojo, all of us – of every flag – were sucked into the vortex of his energy: you could feel the electricity pulsing not just round the ground, but across a half-lit world.
If it did not feel quite the same already, last summer, then nor should those last vivid sketches be effaced from the Johnson gallery. They represent an instructive foil to his undisputed masterpieces, against England in 2013-14 and the following series in South Africa. Not just for the time he stoked up the embers against Bairstow and Stokes at Edgbaston, becoming the fifth Australian to 300 Test wickets. Nor even for the way he had so perfected the animal accoutrements of his vocation, the anticipation now almost as terrifying as the execution: hairy and tattooed, he loped drooling towards the wicket as though he had just heard a goat tiptoe over the bridge.
Those images amply sustained his assigned role as the cartoon cut-out quickie, snarling through Mexican bandit moustaches. And so too, you might think, did the vignette that preserved him best.
At Cardiff, after conceding his 100th run without a wicket, Johnson returned to the boundary to exultant applause from the England fans. Here was the pantomime villain of 2009, emasculated by pitches that demanded cunning as well as mere hostility. But when Johnson doffed his cap, they not only remembered how he had since won their respect with those 37 wickets at 14 runs apiece in 2013-14. They realised that the guy they loved to hate was actually someone they no longer even hated to love.
"Begin with an individual, and before you know it you find that you have created a type," cautioned F Scott Fitzgerald. "Begin with a type, and you find that you have created – nothing." Johnson, robotic epitome of the demon fast bowler, does not exist. But you will find the ultimate type in the individual whose confidence once seemed shattered beyond repair; who rebuilt himself by sheer force of character; whose very waywardness and inconsistency showed how precarious was the equilibrium that now supports a lasting monument in the annals of the game – a monument to heart, athleticism and professionalism.
Johnson, the nemesis of Pietersen, Flower and Trott, began that series with a leg-side full toss and was hauled off after three overs. The vulnerabilities of the individual were never far below the tattooed hide of the type.
Certainly, the shy country boy never fooled anyone with his impersonations of a bloodthirsty baddie. It was not just the fact that Scott Styris was wearing a helmet that made his famous head-butt in 2010 so comically half-hearted. Just look at the grinning, clean-cut lad who took five wickets in 20 balls against South Africa at Perth in 2008: all those white teeth hardly put you in mind of a shark. And it is surely no coincidence that Johnson, the individual, seemed to lose something of the venom essential to the type after the death of his friend Phil Hughes. Perhaps he could never again feel comfortable about taking the pin out of that grenade in his hand.
As England's batsmen are about to be reminded, Dale Steyn still bestrides Johnson's generation – they are 32 and 34 respectively – as an all-time colossus. Steyn's classical technique, variety and grace sooner evoke Brett Lee. But there is a bond, also, between Johnson and Lee. Having passed his compatriot's career haul, in his final Test, the former figure of fun should be saluted for having matched Lee not just as a type, but as an individual – wholehearted, decent, and hugely engaging. Forget what the old-timers tell you. They absolutely do make them like they used to.
Join our new commenting forum
Join thought-provoking conversations, follow other Independent readers and see their replies