Moeen Ali dismisses Marnus Labuschagne to boost England hopes in must-win Test
Australia were 187 for four at tea in Manchester.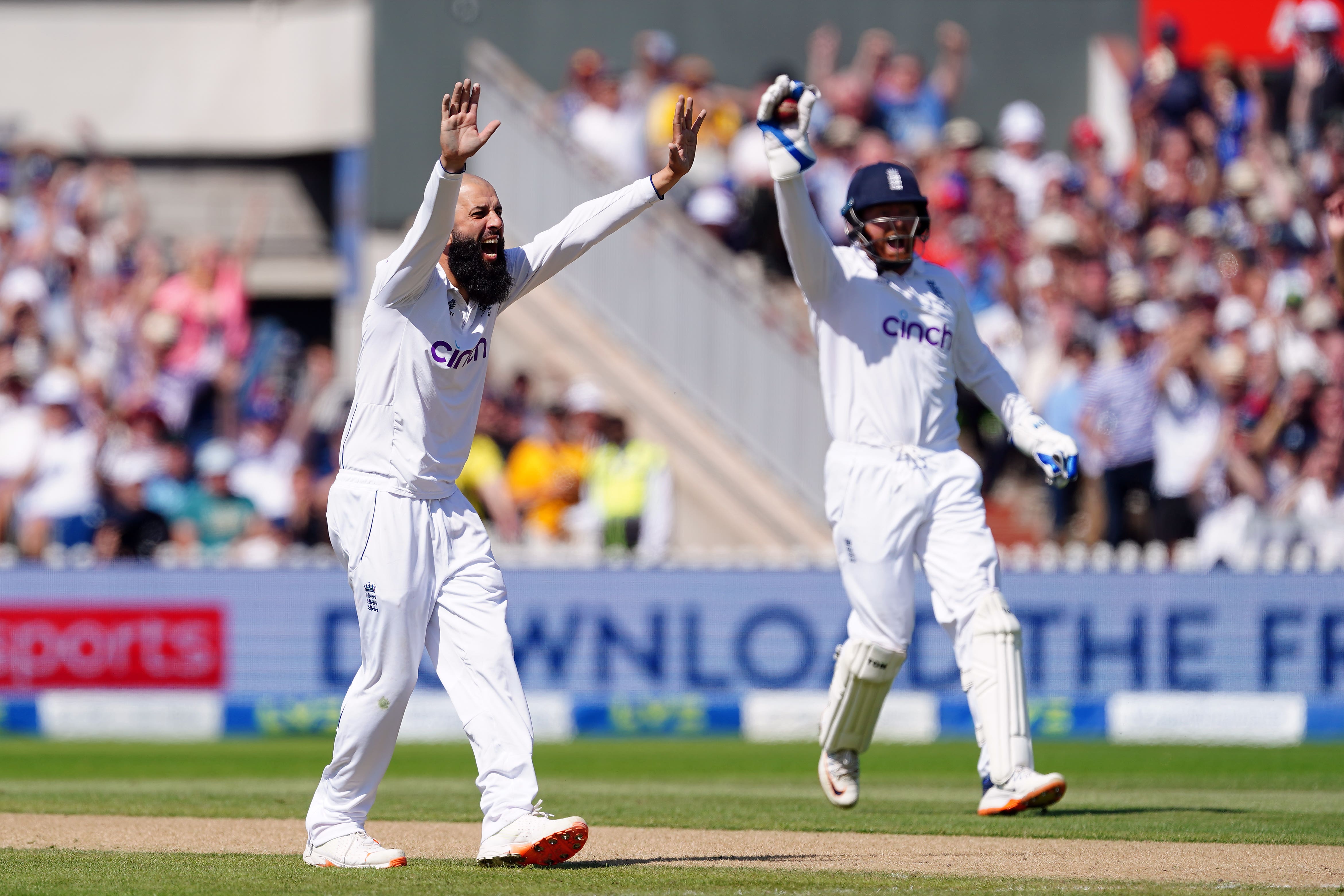 Moeen Ali made an important breakthrough on the first afternoon as England battled to keep their Ashes prospects alive at Emirates Old Trafford.
After sending Australia in to bat in increasingly placid conditions, Ben Stokes saw the tourists reach 187 for four at tea on day one in Manchester.
With rain predicted to be a factor over the weekend, that just about keeps the home side in touch as they look to force the win they need to take the series to a decider at the Kia Oval next week but the margin for error is slim.
Stuart Broad and Chris Woakes took care of Australia's openers in the morning, the former moving to 599 career wickets, but Australia's middle order threatened to drag the game away after lunch.
Mark Wood successfully removed Steve Smith to check that progress but a stand of 63 between Marnus Labuschagne (51) and Travis Head (47no) was beginning to become a major headache.
Then, 10 minutes before the interval, Moeen found enough spin to turn one past Labuschagne's inside edge and win an lbw decision via DRS.
Labuschagne had just celebrated his first half-century of the series and was starting to show flickers of the form that, until recent weeks, saw him occupy top spot in the ICC's world batting rankings.
The suggestion of early spin from Moeen also had the effect of casting question marks over Australia's team selection, having dropped Todd Murphy and gone in without a specialist spinner for the first time in 120 Tests.
The day began with Pat Cummins calling incorrectly at the toss for the fourth time in a row, a losing streak that left him jokingly asking to inspect the coin.
Eager to press the game forward due to his side's 2-1 deficit Stokes was happy to gamble by sending the opposition in, despite the fact that the morning cloud cover was already beginning to give way to sun and the pitch looked invitingly flat.
Broad saw a loose first ball slapped for four by his old rival David Warner, but was soon celebrating England's first success when a full delivery from round the wicket pinned Usman Khawaja deep in crease.
Nobody has scored more runs or batted for longer than Khawaja in this Ashes and England were delighted to see the back of him for just three.
James Anderson, back and bowling from the end that bears his name after being rested at Headingley, was tidy from start but was still wicketless heading into the evening session and appeared short of his absolute best.
The arrival of Mark Wood dialled up the pace as he once again cleared 90mph at a canter but his first four overs cost 21 – plus four byes down leg – as Australia stood up to his challenge.
It took the subtler promptings of Woakes to get England's second, Warner (32) caught behind on the drive just as he was beginning to grow in confidence.
Smith was next up and almost gifted England a chance with an opening stroke that was entirely out of character.
He stepped inside the line of his first ball from Woakes, hooking straight towards Wood at fine-leg. Had he been stationed on the rope it would have been a regulation catch, but he was several metres in and saw the ball clear his despairing dive en route to a one-bounce four.
Smith and Labuschagne scored with greater freedom as Australia moved to 107 for two at the lunch break, Moeen's first two-over burst costing 17, but England applied the brakes well in the following session.
Australia scored just 80 between lunch and tea, losing their middle-order engine room to a pair of lbws.
Wood's air-speed was the decisive factor in breaching Smith's defences, beating the bat with a ball that speared into the front pad at 92mph, while Moeen found the perfect combination of accuracy and grip to end a battling knock from the out-of-sorts Labuschagne. Both decisions were turned down on the field but Stokes picked his challenges well to get both appeals upheld.
Head, who was rattled on the grille by a Wood bouncer with just two to his name, played with his usual attacking verve and helped himself to seven boundaries as he stepped in to lead Australia's charge.