No pastures new - Jonathan Trott returns to the shires and won't be put out to grass yet
A year ago England's troubled batsman tried to make a comeback, and failed. He is back at Warwickshire hungry for runs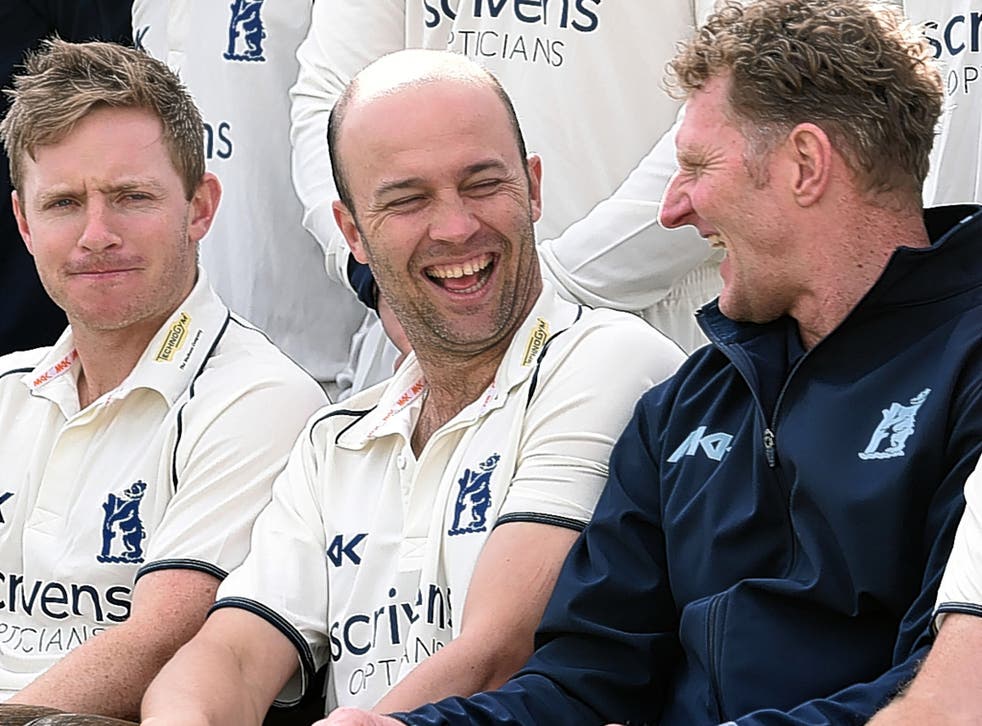 Exactly one year ago, Jonathan Trott was in Basseterre, on the Caribbean island of St Kitts, representing England in the first of two warm-up matches ahead of the Test series against the West Indies.
It was a significant moment, the final step in a journey of rehabilitation from the dark depths of Brisbane in November 2013, when the private battle he had been fighting to manage the stress of playing at the highest level tipped over into mental breakdown.
A week later, against all odds, the batsman stepped on to the field at the Sir Vivian Richards Stadium in Antigua and walked out to the middle alongside the England captain, Alastair Cook, to resume his Test career.
There would be no glorious comeback. Although he made a half-century in the second Test in Grenada, he was dismissed for a duck three times in six innings in the series and failed to make double figures in the other two. His aggregate of runs from the three Test matches was a mere 72.
Trott knew that it was not good enough and at the conclusion of the final Test of the series in Barbados he announced his retirement from international cricket.
The surprise for some, one year later, is that he is preparing for another season with Warwickshire, eagerly awaiting their opening match against Hampshire at the Rose Bowl on Sunday. Had he decided last May to call time on his career, full stop, no one would have questioned his reasoning. Yet he carries on.
"There were those thoughts," Trott admits. "Nowadays when guys make the decision to end their international career you don't see many going back to play county cricket. But I love the game, I love Warwickshire and it would be silly to pack it up when I still have the opportunity to contribute to [the county's] success.
"I'm very proud of the fact that I got back in the England side, against the odds somewhat at the age of 33. It didn't work out but I'll always be proud of the achievement, which took a lot of hard work and dedication – and a lot of fight.
"It brought a bit of closure I suppose. I spent a lot of time with Steve Peters [the sports psychiatrist] to get myself back in tip-top shape.
"I got the opportunity to play for England again, and give it another crack, and though it didn't work out I wouldn't change it for the world," he added.
Trott, who turns 35 later this month, has no plans to retire, at least not in the immediate future. His scores last season were modest by the standards of old and he has not made a century since the double hundred for England Lions in January last year.
Yet there is a motivation to continue based as much on wanting to give something back as on personal gratification.
"What's driven me most has been getting back to Warwickshire and winning trophies," he says. "But I also want to be a good ambassador for the club, a good professional, a good county player, maybe someone guys can look up to, someone who can help the younger players."
His condition, physically and mentally, is fine. The problems that manifested themselves so distressingly in Australia in 2013 were eventually diagnosed as performance anxiety, although the description seems inadequate given that Trott's anguish extended far beyond the field of play.
A relapse forced him to abort his first attempt at a comeback in April 2014, which made his five centuries that summer and his return to Test cricket a year later all the more remarkable.
Today, thanks to the expertise of Dr Peters, he enjoys a reassuring sense of equilibrium. "I think you learn from your past as regards doing things a little bit different, realising where you went wrong, that you shouldn't have perhaps thought this or that and put pressure on yourself," he says. "You learn from your mistakes. The older you get, the wiser you get, supposedly.
"It was just an unfortunate situation I got myself into and it was disappointing. But you have to move on and grow as a person. I'm feeling pretty positive about this season and I'm looking forward to it."
There is the added comfort, too, of being back in harness with his long-standing team mate at county and international level, Ian Bell. The two erstwhile England stalwarts have not played a full season together with Warwickshire since 2004, when Bell's 1,500 runs helped the county win the Championship and launched his own Test career.
Dropped from England's most recent Test tour, to South Africa last winter, Bell is adamant that he wants to win back his place yet has accepted the county captaincy and will give it his full attention.
"He'll do a great job," Trott says. "He is very astute tactically, a very good reader of the game, with an instinctive feel for the game that not many people have. He is very positive with the type of cricket that he wants to play and sets the tone by leading by example."
Trott made 1,100 runs in the Championship himself in the 2004 season, the start of the upward curve in his career that would see him follow Bell in becoming a fixture in the England side. Perhaps turning back the clock will kindle a return to his form of old too.
Register for free to continue reading
Registration is a free and easy way to support our truly independent journalism
By registering, you will also enjoy limited access to Premium articles, exclusive newsletters, commenting, and virtual events with our leading journalists
Already have an account? sign in
Register for free to continue reading
Registration is a free and easy way to support our truly independent journalism
By registering, you will also enjoy limited access to Premium articles, exclusive newsletters, commenting, and virtual events with our leading journalists
Already have an account? sign in
Join our new commenting forum
Join thought-provoking conversations, follow other Independent readers and see their replies