Paul Downton sacked: The curse of Kevin Pietersen led to his downfall
He could barely leave his office without being asked about the former England batsman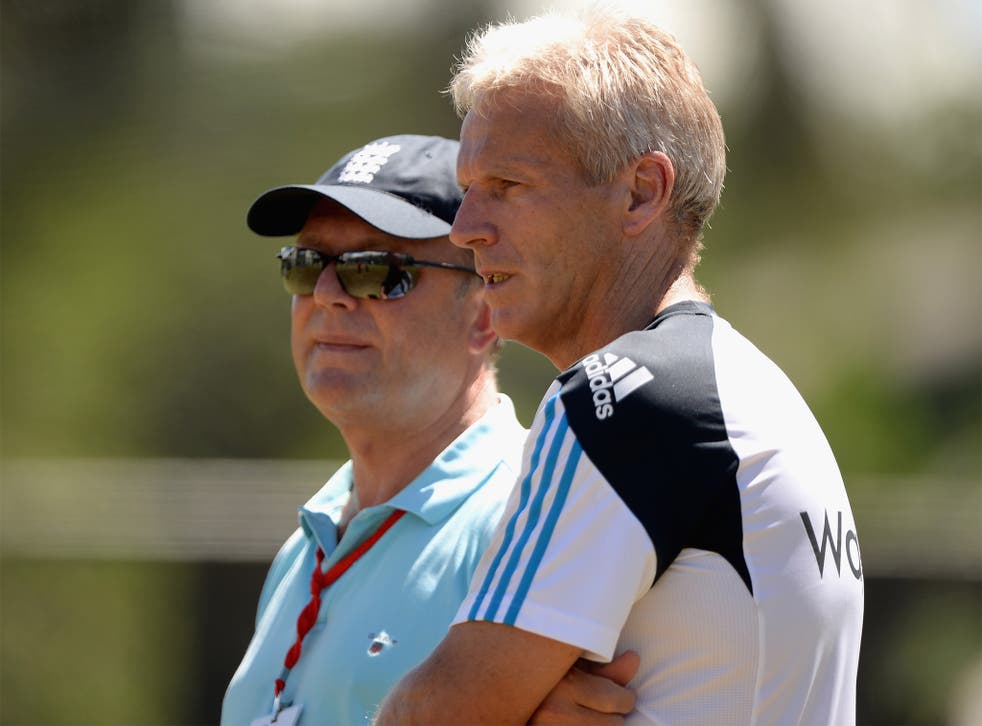 Despite his 30 Test caps, his part in an Ashes-winning campaign and durable playing career, as well as being a thoroughly affable chap, Paul Downton will go down in cricket history for one thing. He is The Man Who Sacked Kevin Pietersen.
That will be his legacy as it was his curse during his short time as managing director of England cricket. He took what was a brave, perhaps necessary, decision within days of officially starting in the job last year and it came to stalk him wherever he went and whatever he did.
Perhaps it came to affect his own outlook. Downton could barely emerge from his office without being asked about Pietersen and was never quite able to offer definitive reasons. On the occasion he did, he was lambasted for breaching confidentiality agreements.
As the months wore on, it became increasingly clear that Downton, while he had a deep love for the game, was out of touch with its modern version. He recognised that England were playing an outdated brand of one-day cricket but never quite detailed how he might change it.
In his last public utterances, he was confident and measured until the name of Pietersen was mentioned, when he virtually seized up. It is not without irony that he should have said: "I'm not saying everybody's job is safe and I'm not saying that everybody is going to be sacked. It feels as though, from your perspective [the media's], there needs to be a scapegoat. There needs to be a target.
"All I'm saying is we're in a position where we're a transitioning side and that will take time. We have to take the right decisions to ensure we do that as quickly and smoothly as we can. But it's too early to say yet in terms of any definitives: he's going or he's not going."
Now Downton has gone, removed before an England and Wales Cricket Board meeting on Thursday. Nor is it without irony that as soon as he had left the building the Pietersen question was again raising its rancorous little head. The sooner somebody says, "Yes, Kevin has a chance of playing again" or "No, he will not play in a thousand million light years", the better it will be for all.
Downton's departure will have other side-effects. The new man's job title as England cricket director is barely different but Tom Harrison, the recently installed chief executive of the ECB, has made it clear that he will be in overall charge of improving the performance of the England team in all formats.
This may well, eventually, have significance for those more directly involved, the National Selector, James Whitaker; the coach, Peter Moores; the captain, Alastair Cook.
But if England lose many of the 17 Test matches they are due to play in the next eight months, starting on Monday, Cheeta the Hollywood chimp of Tarzan fame, whose 84th birthday it would have been on Thursday, could have made the decision to make changes, let alone a cricket director.
For now, Moores is safe. Perhaps more under threat is Whitaker, since the new man seems bound to be a selector. Equally, that same new man may not have the time to travel the thousands and thousands of miles a season that Whitaker and his fellow selectors must do to try to find likely candidates for England's teams – not altogether successfully in recent times, it must be said.
It is clear that the director of cricket must have played internationals and that this will be more important than any administrative credentials. "Show us your caps" will be a more pertinent request at interview than "Do you have your MBA certificate with you?"
There will be the hunt for the usual suspects in the next few days, most of them former England captains. Two names spring to mind. Andrew Strauss, the most recent England captain before Alastair Cook, seems an obvious candidate. He knows the game, is a leader and has authority. It was always his intention to try to stay directly involved in the game if he could.
Perhaps it is still too soon for Strauss. Another possible candidate is Angus Fraser, director of cricket at Middlesex, who returned to the game six years ago after being cricket correspondent of The Independent.
Both these men would bring knowledge, empathy and integrity. There may be others beyond England, though an Englishmen it should be, considering a four-year plan is being drawn up.
Harrison, who was chiefly responsible for concluding that Downton had to go after England's abysmal World Cup performance that ended in a premature exit last month, did not offer a timescale for the appointment. But he and the board have to act quickly. A Test series in the West Indies is about to start, the Ashes are imminent and Australia are laughing their socks off.
So too, probably, is Kevin Pietersen, although all he would say was that he had no opinion on Downton's departure.
"Let me just work hard and try to score a lot of runs," he said via his favourite medium, Twitter.
Join our new commenting forum
Join thought-provoking conversations, follow other Independent readers and see their replies