South Africa: From global outcasts to top of the world
Having seen first-hand the horrors of apartheid, Paul Martin revels in multiracial team's rise to No 1 – and examines their long and arduous journey to get there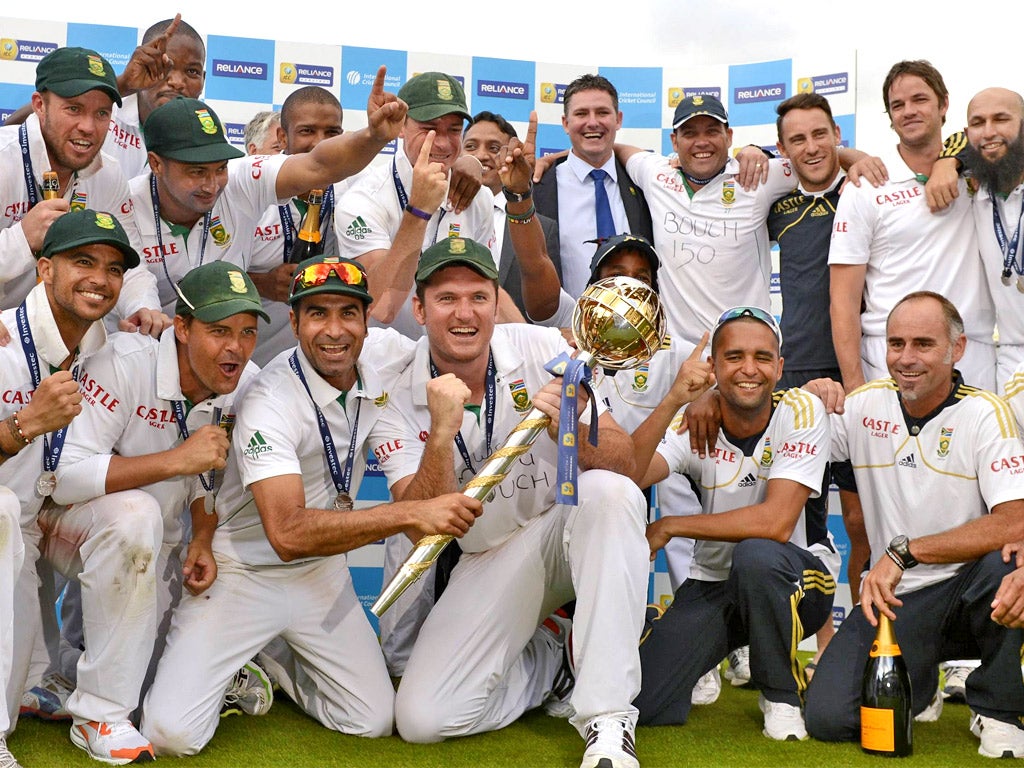 World No 1 at Test level. For South Africa, it is so much more than a sporting achievement; rather, it is the end product of a complex and difficult story of twists and turns in the battle against apartheid.
Watching this mace-wielding multi-racial team parade joyously around the Lord's boundary on Monday evening was a deeply emotional experience. Memories of the "bad old days" came flooding back.
I recalled many hours spent on the bumpy, dusty fields of the Cape Flats, where the pitches were made of matting and the outfields overlapped, so that boundary fielders from one match were standing close to the wickets of the neighbouring game. Appeals were not "Howzat!", but deafening bellows of "Umi-i-i-i-re!"
These were leagues for non-white players in an era when it was illegal for blacks and whites to play together. I was one of a tiny handful of whites who had defected from the elite white cricket set-up. As a cricket-mad university student, and a first-class umpire, deprived of seeing South Africa compete internationally, I had been "converted" to the cause by the leader of the non-racial cricket movement, Hassan Howa.
The Basil D'Oliviera affair followed and gave impetus to South Africa's impending isolation. In 1970 South Africa trounced Australia 4-0, but that was the end of its official international cricket for two decades. Backed by secret government money, South Africa's white cricket chiefs tried to flex their sporting muscles (and defy world pressure) through a succession of rebel tours by Australians, West Indians and Englishmen under Mike Gatting.
Weeks after the Gatting tour fiasco, President F W de Klerk unbanned the ANC and agreed that Nelson Mandela would soon be released. It took the former prisoner four years of tortuous negotiation to become the country's democratically elected leader.
Yet even as these momentous events were unfolding, Mandela the great icon had chosen to give cricket his unqualified support as a way of uniting hearts and minds and averting violence – through sport. He urged India to invite South Africa's almost entirely white team for three one-day internationals in 1991, then persuaded the West Indies to host South Africa's cricketers for a Test match – all before he even became president in 1994.
I was privileged to watch an ANC delegation, led by Mandela, meet International Olympic Committee representatives at an airstrip near Nelspruit, north-east South Africa. Mandela agreed to canvass for a multiracial Olympic team to go to Barcelona for the 1992 Games.
It symbolised a changing of the guard, and highlighted sport's role in it. That turnabout culminated in the famous scene in 1995 of Mandela donning the once-reviled green and gold Springbok jersey as the rugby team won the World Cup in Johannesburg. The film Invictus provides an accurate portrayal of events.
Soon after he was installed as president in 1994, Mandela chose to give the very first South African touring team to England a send-off in the once staunchly white racist-controlled city of Pretoria. "Sport is part and parcel of nation building," Mandela told me on the red-tiled stoep or balcony of the appropriately named residence, Libertas, formerly home to successive South African apartheid-era leaders. "We see these young men as representing our future – a society where everyone can reach for the top."
But Mandela gave tacit support to a form of reverse discrimination when he told me: "We are saying that the selectors must be broad-minded and make sure that the entire population is represented."
Cricket – though now open to all races – was not being conducted on a level playing-field. Decades of segregation and economic inequality put non-white players at a severe disadvantage. Lack of experience of top-class conditions, of coaching, of nutrition, of self-confidence, all took their toll.
South Africa became the Proteas, no longer using the "white" term, Springboks. But trouble continued in developing true equality. A provincial quota system was introduced to fast-track promising black players. Though it had produced the occasional gem, like speed-merchant Makaya Ntini, the take-up of the game in black townships was disappointing.
The quota system, or a feeling that being white was a disadvantage, caused the kind of exodus exemplified by Kevin Pietersen and Jonathan Trott.
Ironically, there was one South African cricketer beloved by all sections of the population, as he seemed to epitomise the true grit and integrity of South African sport: a white Afrikaans-speaking captain called Hansie Cronje. His downfall set back not just cricket but also programmes to develop it in untried areas.
Now, though, South Africa are heroes again – including non-white players like this week's man-of-the-match Vernon Philander and man-of-the-series Hashim Amla. True, one is from the minority mixed-race community, the other from the minority Asian community.
Steady hands on the tiller have been steering a wise course of late, with selections purely on merit, while care and consideration are given to the sensitivities and background of each and every player. Gary Kirsten, fresh from the sports-politics of India, has been invaluable, and Graeme Smith has done his share. Good black and white players are emerging, and will be introduced carefully into the South African national side.
Yet even today rumblings over race continue: especially in the City of Gold, Johannesburg, where the government has attacked the "racist" composition of the Gauteng Board. Now at last it has a competent black chief executive, and things are improving.
Once shoddy and at times corrupt cricket administration is sorted out, there could be a sea change in popularising the game among the majority black African youth.
And that would make the scenes at Lord's this Monday not only all the more glorious, but, ominously for the rest of the world, all the more common.
Six of the best: Post-apartheid milestones
1. First Test back in the fold – April 1992 v West Indies (away)
South Africa made their Test comeback – after 22 years away – in Barbados where they looked as though they could pull off a surprise win. Chasing just 200 to win, they cruised to 123 for 2, but then the deadly duo of Courtney Walsh and Curtly Ambrose struck, taking all 10 second-innings wickets between them as they were skittled for 148.
2. First Test win after readmission – December 1992 v India (home)
Allan Donald dominated this third Test with the Indians, taking 12 wickets to give his nation their first Test victory in the post-apartheid era, with Kepler Wessels' unbeaten 95 sealing a nine-wicket triumph.
3. First test win over Australia – January 1994 (away)
Nobody could dispute South Africa were worthy of Test status after they thrillingly beat Australia at the Sydney Cricket Ground. The five-run win owed a great deal to Fanie de Villiers, whose six wickets in the second innings helped skittle Australia for only 111.
4. Beating England in England – August 2008
Having won on their return to Lord's in 1994, South Africa completed their first series victory in England at Edgbaston 14 years later. An unbeaten 154 from Graeme Smith gave his country a five-wicket win and an unassailable 2-0 lead.
5. Beating Australia in Australia – December 2008
South Africa became the first visiting side to win a Test series in Australia since the West Indies in 1992 when they won by nine wickets at the MCG, Dale Steyn taking 10 wickets in the match.
6. Becoming world No 1 – August 2012 v England (away)
After briefly holding the honour in 2009, South Africa climbed to the top of the world rankings in Test cricket by beating the previous incumbents. Over three matches their batting and bowling proved far superior to England's.
Jeremy Culley
Join our commenting forum
Join thought-provoking conversations, follow other Independent readers and see their replies