South Africa's Dean Elgar admits England are just ahead in second Test after batting 'brainfart'
England fought back to end the second day on top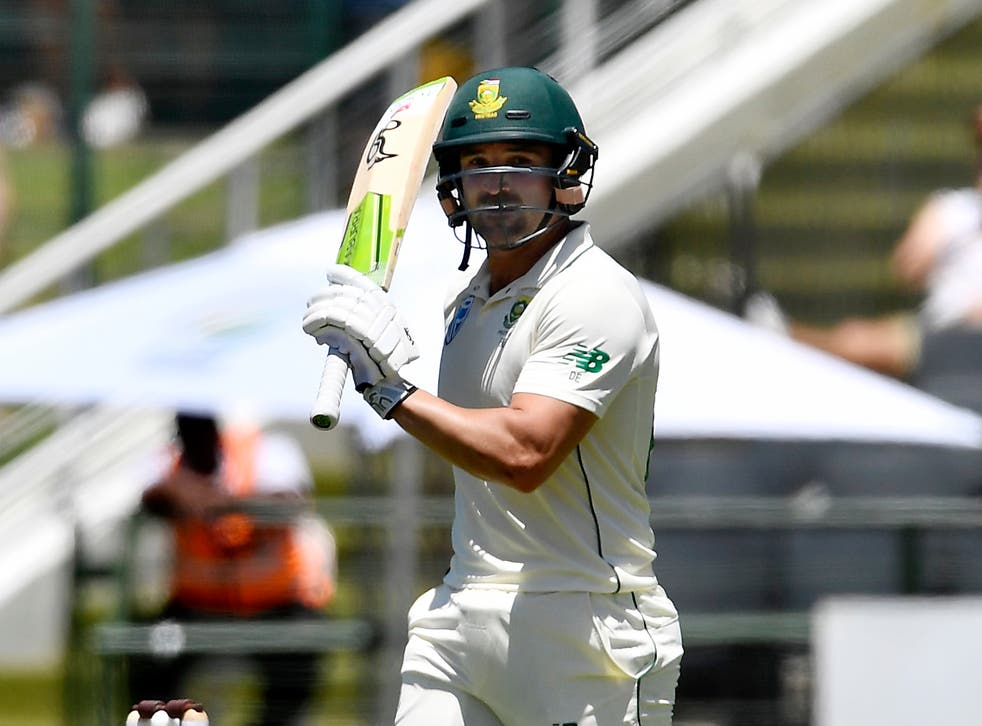 Dean Elgar has England just ahead in the second Test, as day two closed with a lead of 54 and South Africa just two wickets left in their second innings.
A late burst from the tourists of five wickets for 54 runs – triggered by the dismissal of Elgar for 88 – supplemented their opening three wickets for 40 to leave the hosts facing an uphill task similar to what greeted England on Saturday morning.
At 215 for eight, Vernon Philander (13 not out) at the crease with Kagiso Rabada and Anrich Nortje to come, even parity looks a long shot.
"I would say after the last hour potentially they've got one foot ahead of us," said Elgar at stumps, before adding, "it's difficult to look into the future of this game."
The turning point happened to be Elgar's wicket: an attempt at a lofted shot skied well short of the boundary rope and into the hands of England captain Joe Root. It was a first wicket of the match – and fourth of his Test career – for Dominic Bess, who has taken a convoluted route into this squad and, subsequently, this match. But he bowled with immense control to allow the seamers to take turns at the Wynberg End, and is sitting on figures of one for 62 from 27 overs.
South Africa vs England – in pictures

Show all 67
Elgar played with Bess at Somerset and was not surprised by the 22-year old's performance. "I played with him at Somerset and, already then, a couple of years ago, he was a good bowler," the left-hander stated. "He's playing for England, so he can't be that bad! I thought he played very well. He differed his place nicely."
Yet, Elgar was keen to take the credit for his own dismissal – calling it a "brainfart". A calculated risk of hitting over the top, which he had managed earlier, miscalculated in that moment.
"[My plan was to] Try to be as patient as possible and if he overpitches it, try hit the ball to long on. It was pretty much as easy as that. I felt I played him very well until the brain fart – a big one – then I was sat in the changing room. That all it is.
"I hit him for four a few overs before – great shot wasn't it? But I picked the wrong one and that's pretty much all she wrote. I could have blocked it out, blocked out the over and been not out over night, we'd have been totally in control but I've yet to see someone master this game."
South Africa came close to mastering it, though, recovering from 40 for three to 157 for no more. But Elgar's shot created an opening which, armed with the second new ball, was taken by James Anderson who picked up two wickets to take the batting side to stumps at 215 for eight.
"It's not right of me playing shots like that, especially being a senior batter, I shouldn't be putting the guys under pressure like that, but I'm a human being as well: two arms, two legs and the other thing as well. There's a bit of disappointment. We grafted so hard and fought to get ourselves in a reasonably good position, and let it slip in half an hour."
Sam Curran, whose brace of dismissals in the lead-up to the old ball – undoing Quinton de Kock (20) with a slower ball and Rassie van der Dussen (68) – nullified the threat of a late-order counter, praised the effort of the bowling collective to turn a sapping day's playing into a rewarding one.
"It was a great display as a group. I thought Bessy was outstanding. You saw the way Maharaj bowled for South Africa, held up that end. It's pretty obvious none of the seamers maybe haven't got as much movement from that end. I thought we bowled really well as a group and great way for Jimmy to end with those two wickets with the new ball. Hopefully in the morning the ball will still be pretty new and hopefully we can get our rewards quickly."
Register for free to continue reading
Registration is a free and easy way to support our truly independent journalism
By registering, you will also enjoy limited access to Premium articles, exclusive newsletters, commenting, and virtual events with our leading journalists
Already have an account? sign in
Register for free to continue reading
Registration is a free and easy way to support our truly independent journalism
By registering, you will also enjoy limited access to Premium articles, exclusive newsletters, commenting, and virtual events with our leading journalists
Already have an account? sign in
Join our new commenting forum
Join thought-provoking conversations, follow other Independent readers and see their replies