World Twenty20: England fall short but the gulf is far wider
A three-run margin of victory suggests a close contest but Broad's side were never in the hunt and they are going home after a long, desperately hard winter, writes Stephen Brenkley in Chittagong
Stephen Brenkley
Saturday 29 March 2014 18:58 Comments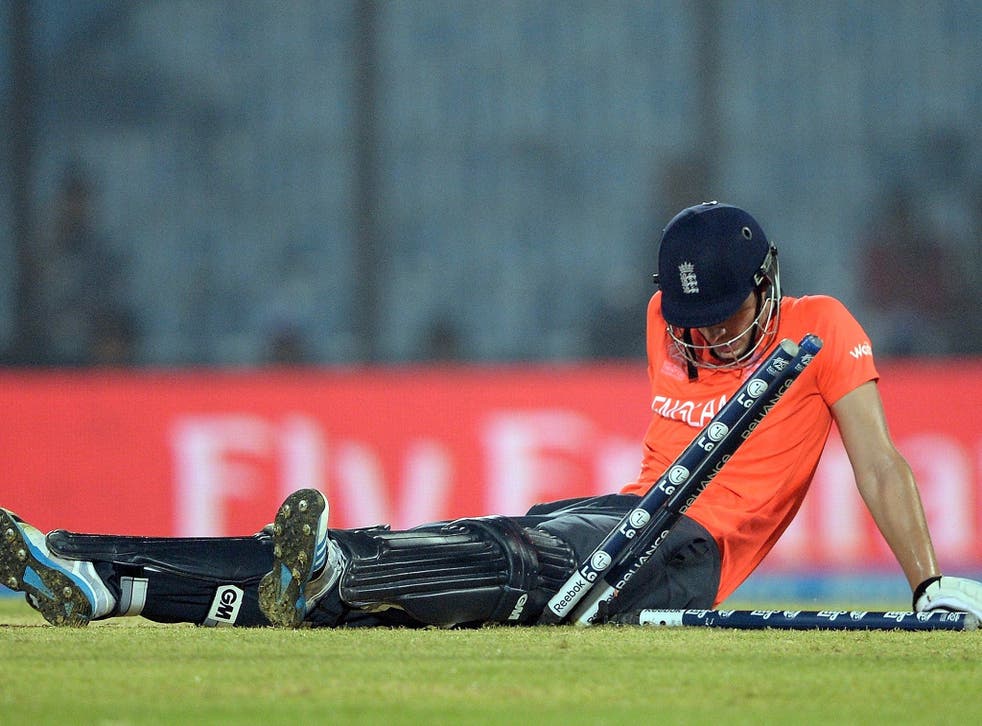 A long and dire winter has almost reached its merciful end. There is one match of it to play but England were dumped out of this World Twenty20 last night as they have been dumped out of everything else before it this winter.
They lost to South Africa by three runs, a chase of 197 proving beyond them. Narrow as the margin seems, England were rarely in the hunt for most of the chase – they lost too many wickets and always had too much to do.
The heroics of Thursday night when Alex Hales led a magnificent pursuit against Sri Lanka did not, after all, herald a new dawn. Or not yet. That will have to wait for the English summer.
Home cannot come too soon now. The latest defeat, their 19th against international opponents since they departed from home last October, renders meaningless the tie against Holland tomorrow.
Meaningless, that is, in terms of this tournament. The Dutch will be desperate to win, England desperate to avoid what would be an embarrassment too far.
When England won the toss last night it was hard for their captain, Stuart Broad, to suppress a smile. Night-time dew in these parts makes it a significant disadvantage for the side bowling second.
Twenty overs on and there was nothing to smile about. South Africa, rapid at the start and electrifying at the end, had made the competition's highest score. Hashim Amla's first T20 fifty for South Africa was responsible for the former and the explosive 69 in 29 balls by their stand-in captain, AB de Villiers, brilliantly ensured the latter.
Brilliant though De Villiers was in blazing away to his fourth T20 half-century, the essential difference between the sides perhaps came down to one over. It was the 18th of South Africa's innings, bowled by Jade Dernbach. It consisted of nine balls and went for 26 runs.
England had been moderate in the field for the second match in a row. It gave the South Africans impetus at the most crucial stage: 15 came off the 19th over, another 14 off the 20th – 55 from the last three overs.
Dernbach had a wet ball but it was still sloppy bowling, first to David Miller, who took him for two fours. Against De Villiers he was simply out of his depth.
Broad said after the match: "At the halfway stage we felt that was pretty gettable. It's obviously on the high side but the conditions are wet, it's tough to bowl and with the short boundary there was always a six option there.
"We have come up three runs short and there were pretty clear ways we could have stopped those three runs. We didn't particularly field well, we let a few go through, but that can happen in these conditions.
"We didn't have one guy to play the Hales-like knock of the other day or the 60 or 70 you realistically need in these sort of chases but there are times as a team you have to hold your hand up.
"That knock from AB de Villiers is as good as you'll ever see. We missed chances but that can happen. South Africa outfielded us, there's no doubt about that but the whole game was reliant on AB's knock."
Broad himself has been a minor contributor to England's cause on this leg of their winter which has also embraced the mind-bogglingly inappropriate practice matches in the West Indies and this tournament. The pace bowler has been impeded by patellar tendinitis in his right knee these past four weeks, which an injection has failed to avert.
Like many of the other players who have been on the road and on the field virtually since the end of the English summer, Broad needs a break. Ideally, he will be given some time before the new domestic season but it is difficult to see where he will obtain the eight weeks his condition needs.
Whatever happens, the last might have been seen of him as England's Twenty20 captain. He is too precious in other formats to continue playing in all three and a new era should see that anomaly terminated.
It was ultimately disappointing that England were not as uplifted by their exploits against Sri Lanka as they ought to have been. Perhaps disrupted by two interruptions for floodlight failure they were disjointed.
Jos Buttler, who has not taken the competition by its scruff as might have been hoped, missed a stumping and let four byes through his legs. The wet ball made England hesitant. Still when South Africa were 141 for 3 after 17 overs, England were ahead.
The pursuit started briskly with Hales, caught off a no-ball, brimming with confidence after his marvellous 116 not out against Sri Lanka.
However, wickets fell, Michael Lumb being the first to go and then two more fell in two balls in the eighth over. Eoin Morgan and Buttler rallied briefly before both fell to Imran Tahir, seemingly unaffected by the bar of soap in his hands. The scoreline told of a close game. It wasn't.
Register for free to continue reading
Registration is a free and easy way to support our truly independent journalism
By registering, you will also enjoy limited access to Premium articles, exclusive newsletters, commenting, and virtual events with our leading journalists
Already have an account? sign in
Join our new commenting forum
Join thought-provoking conversations, follow other Independent readers and see their replies