The Independent's journalism is supported by our readers. When you purchase through links on our site, we may earn commission.
As Sir Bradley Wiggins attempts to smash the hour record - our man takes on the world's toughest track challenge
Next Sunday, Sir Bradley Wiggins (Olympic champion, world champion, Tour de France winner) will attempt to smash the hour world record. To discover why this awe-inspiring event is described as 'death without dying', Simon Usborne (quite keen amateur) put himself to cycling's purest test...
Simon Usborne Comments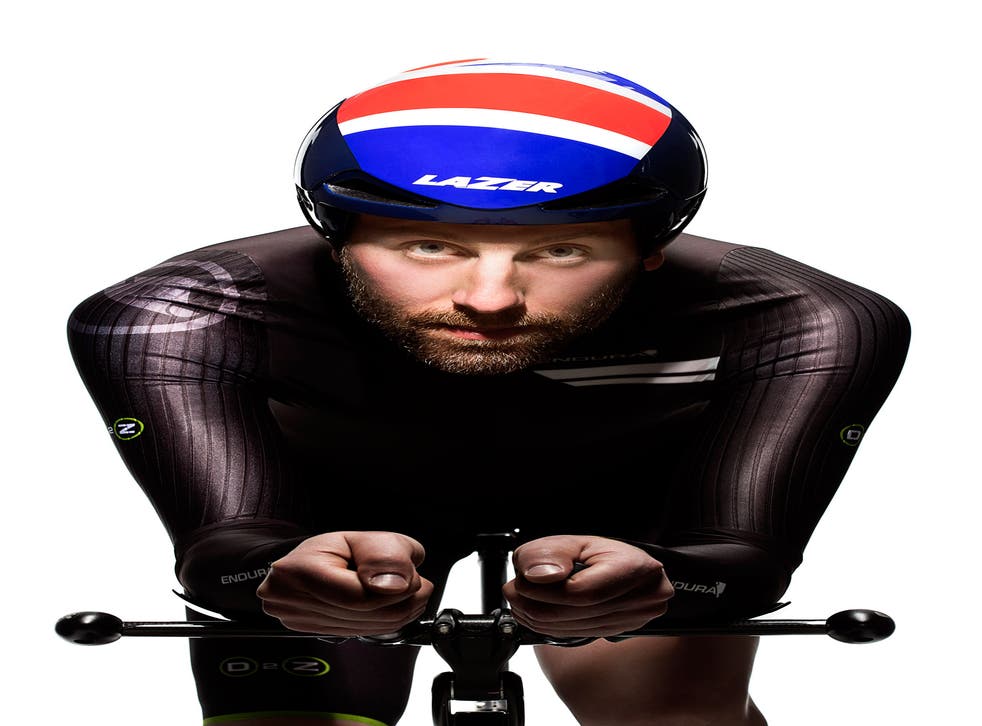 "Rider attention!" Inside the Olympic velodrome in east London, I am sitting on a bike that emerged, weeks ago, from the garage of its owner, who holds me upright for the countdown. "Five…! Four…!" Michael Hutchinson is an academic-turned-national cycling champion and writer. He also has an important place in the history of one of sport's greatest, yet – until now – least-celebrated world records.
"...Three…! Two…!" For more than 120 years, the hour record has bewitched and tortured generations of cycling giants. As beautifully simple as it is brutal, it takes a sport that can appear confusing, strips it back to its purest form, and throws it into the gladiatorial arena of a velodrome. One bike, one rider, one hour, one infinite loop of pine – the ultimate fitness test turned into spectacle. How far can you go?
"...One…! GO!" I lift my weight on to the left pedal and grip the bullet-like wings of my bars. The crowd at Lee Valley VeloPark erupts with as much noise as eight people can muster. Out of the saddle around the first, steep bank, I lower my body into position in the back straight. Elbows together, hands out front, legs cranking at more than 100 times a minute. It is immediately uncomfortable, but as I focus on the black line ahead, I know I am stuck here for 60 minutes.
Next Sunday, Sir Bradley Wiggins will ride the same line, if a touch faster, as he tries to achieve what he has called cycling's "holy grail". As rumours of his attempt began circling last year, I decided to get a very amateur view of what it takes, and what it means, from the saddle.
I started before Christmas with a tentative email to Hutchinson. The former time-trial king attacked the record in 2003, and later wrote a book about it (spoiler: he features in a distinguished list of hour-record failures). He was happy to help, but added in his reply: "I feel it's only fair to say that it's really quite difficult, and even doing it badly is surprisingly unpleasant."
Hutchinson later compared the relentless, accumulating discomfort of the one-hour attempt to that of pushing a nail through his own hand. Chris Boardman, who broke the record three times, warned me: "You wake up in the morning, knowing it's going to be the most unpleasant thing you can do… It's a beautiful thing, in a sick way." Other challengers have likened it to all-body toothache, torture, "the closest you can get to death without dying".
Ten minutes into my attempt, and a single drop of sweat plops on to the inside of my helmet visor. My head then becomes a cloud, and releases a downpour. The backs of my upper arms are already burning, while my neck strains under the weight of my head, which increases with the G-forces of every banked end of the track. The only way to lighten the load on my arms is to increase the load on my legs. I begin to pedal harder. Only 50 minutes to go.
Any cyclist can measure their speed, and imagine keeping it up for an hour, without gears, slipstreams, brakes or anywhere to breathe, coast or hide. "That's why the hour is great for cycling," Wiggins told me when I met him. "Everyone can test themselves against the world's best." But just how good is that? The man Wiggins has to beat is Alex Dowsett, who rode 52.9km in Manchester earlier this month; in doing so, he became the fourth person to break the record in the past eight months. Such is the hour's reputation, the young British rider blocked out all the stories of pain and glory. "I didn't want to know; it scared me," he told me by phone.
Next Sunday, Wiggins will attempt to cover 55km, or more than 34 miles. Imagine a straight, flat road stretching east from Trafalgar Square in central London. At that pace, in one hour, Wiggins would trigger every speed camera this side of the M25, and be on the beach at Southend in time for a celebratory choc ice. Few riders can maintain 55kph for one minute.
Simon Usborne attempts the hour record

Show all 10
After some negotiation, I managed to reserve the Olympic velodrome (now known as the Lee Valley VeloPark) for the morning of 19 May, leaving three months to train, organise, learn and decide on my target. I'd never ridden in the required "aero" position, and have thigh muscles that make gammons look supple. My track experience amounted to less than an hour and while I do a lot of road biking, I have never raced. I was also out of shape after a slow winter.
I searched for a possible target in the history books. Henri Desgrange, a French sports journalist, was the first official record-holder. In 1893, he managed 35.3km (22 miles) in Paris, 10 years before he founded that other big event, the Tour de France. I knew I could beat Henri, but by 1900, the record had already passed 40km. Then it got really fast as the greats lined up: Fausto Coppi (45.8km, 1942), Jacques Anquetil and, in 1972, Eddy Merckx, who almost hit 50km (31 miles).
After Merckx, technology and radical riding positions offered huge aerodynamic gains. In 1993, Graham Obree, the "Flying Scotsman", rode 51.6km, only to be beaten by Boardman (52.3km) six days later. A thrilling duel ended in 1996 with "superman" Boardman's stunning 56.4km (35 miles) in Manchester. But the UCI, the sport's governing body, panicked and, in 2000, the clock wound back to 1972: hour challengers had to beat Merckx's time, on a standard bike like his. Boardman stepped up straight away, adding just 10 metres to Merckx's 49.4km record in the last ride of his career. "I couldn't walk for four days afterwards," he told me.
Hutchinson's attempt followed, as he recounts in his book, The Hour, but pros and their sponsors lost interest in chasing a relic, and the hour risked dying a slow death. Yet everything changed last year, when the UCI permitted the use of faster track pursuit bikes. A starting gun had fired, and Wiggins will be the eighth rider to attack the new record.
Before I could set my own target, I needed to become a different rider. No more three-hour slogs before biscuit binges without stretching. On a cold February morning in Richmond Park, Ollie Roberts, a coach and time-trial specialist, taught me about power, diet and pacing. We calculated the sort of intensity I could manage for an hour. I tried it a few days later, managing only 33kph for 15-minute stretches. Slow. Perhaps the bike would make a difference.
In March, I cycled up to Hutchinson's house near Cambridge. He pulled his Look 496 track bike from his garage, almost 10 years after he raced in the 2006 Commonwealth Games. It did not look a comfortable machine. I could seek out a different bike, but my fears were confirmed days later at Cyclefit, a London bike-fitting studio, where my tight hamstrings raised eyebrows. My optimal hour position would be far from standard and, given time and budgetary constraints, I committed to riding Hutchinson's bike.
My hour began to take over my life, which was already pretty full thanks to a day job and a wedding to plan (sorry, Jess). The Look sat menacingly in the spare room, built up with cranks from Hutchinson's own, Merckx-inspired hour-attempt bike, and some handlebars that I later fixed using a cork coaster and duct tape. Most mornings, I used a separate time-trial bike on a stationary "turbo" trainer to grind out hundreds of imaginary miles as I attempted to remould my body. Soon I could feel a change, and within a few weeks I lost a stone in weight.
Endura, the Scottish company which made Dowsett's skinsuit, made one for me, and I borrowed a Team GB aero helmet. The kit made me feel every bit the hour pretender, but Hutchinson estimated it could win me more than a kilometre. I even agreed to shave my legs. It won't help, but "it's like you're signing a contract", Wiggins said. With just two weeks to go, I'd almost have been confident had I managed to secure any track time, or turned a single pedal stroke on the Look.
I booked a session at Herne Hill Velodrome, the outdoor track in south London where k Obree broke the British hour record in 1993. I managed 40kph for 15 minutes, so we agreed on that speed as a loose target, and chose a gear to achieve it (52 teeth on my front ring, 16 on the rear). "You don't do a dress rehearsal on opening night," Boardman warned me. I had no choice.
A quarter of the way into my hour, I am already riding into the unknown. The onrush of air strips all moisture out of my mouth. My left hand starts to go numb with the vibrations of one of the stiffest bikes ever made, and my knees keep knocking my elbows. I try inching back in the saddle, but my body wants to curl up the other way, like a salted slug. Yet, as lap succeeds lap, Hutchinson indicates that I am still increasing my pace. After half-an-hour, his iPad, held in the air as I pass, shows me that my average speed is up to 42kph. Perhaps I can go faster.
The hour is cruellest to those who start too quickly. Wiggins told me it shouldn't hurt until about now, halfway in. "'Bobridge' became a verb in our camp," Dowsett had said. Poor Jack Bobridge, an excellent Australian cyclist, got it all wrong in January after rocketing through the first few kilometres. "I have never felt like I did at the end of that hour," he'd said, before making the comparison to "death without dying".
Beyond "doing a Bobridge", my greatest fear is that my hamstrings will give out. But I can't think about that. Half my brain is focused on staying on the black line, which is not easy for a track novice. The rest is running a constant calculation: have I got what it takes to maintain this pace when, as Boardman put it, my engine is shrinking with every lap? I keep pushing and discover later that my third quarter is my fastest. I put in a few laps over 45kph (28mph).
Inside the final 15 minutes, I'm running on fumes. My heart and lungs feel like they are shrivelling, and my head bobs wildly. On one lap, a split-second loss of focus sends my front wheel way up the bank. "Line!" Hutchinson shouts as I pass him. I strain to check the time on the big screen high above one corner. Ten minutes to go, then five. Two minutes! A few more laps. My hour finally ends on the back straight. It takes a lap-and-a-half to wind to a halt, my body heaving. Hutchinson helps me down and my hamstrings erupt in agony. My buttocks join the protest and, when a chair appears, it is excruciating to sit.
In one hour, I have cycled 42.879km, or 26.644 miles, after 171½ laps, 6,240 pedal strokes, and several litres of sweat (that lap counter showing 168 in the picture above is incorrect). I have broken no record, and many of you could go further, given half a chance. Though, as Hutchinson says later, "I don't know how many people have ever ridden around a track for an hour, just to see what they could do. It might be fewer than 200." He adds: "That was a tremendous ride."
I am as elated as I am sore, and it takes another hour before I am able to lower myself into my car. For days I will feel like I have aged about 30 years. As Dowsett prepares to win back his record, assuming Wiggins breaks it, I will watch with renewed interest and wonder, as a historic record enters a thrilling new era.
Bradley Wiggins' attempt on the world hour record will be shown live on Sky Sports on 7 June. Huge thanks to: Michael Hutchinson (@Doctor_Hutch); Lee Valley VeloPark (visitleevalley.org.uk); Herne Hill Velodrome (hernehillvelodrome.com); Endura (endurasport.com); Oliver Roberts (pbscience.com); SiS (scienceinsport.com); Cyclefit (cyclefit.co.uk); Garmin and Lazer (madison.co.uk); Ridley Bikes (sportline.co.uk); and Performance-Pro (performance-pro.co.uk).
Register for free to continue reading
Registration is a free and easy way to support our truly independent journalism
By registering, you will also enjoy limited access to Premium articles, exclusive newsletters, commenting, and virtual events with our leading journalists
Already have an account? sign in
Join our new commenting forum
Join thought-provoking conversations, follow other Independent readers and see their replies