Bradley Wiggins' wife apologises for calling Chris Froome a 'slithering reptile' in wake of adverse test result
Catherine Wiggins deleted an angrily worded Facebook post which referred to a 'conspiracy theory'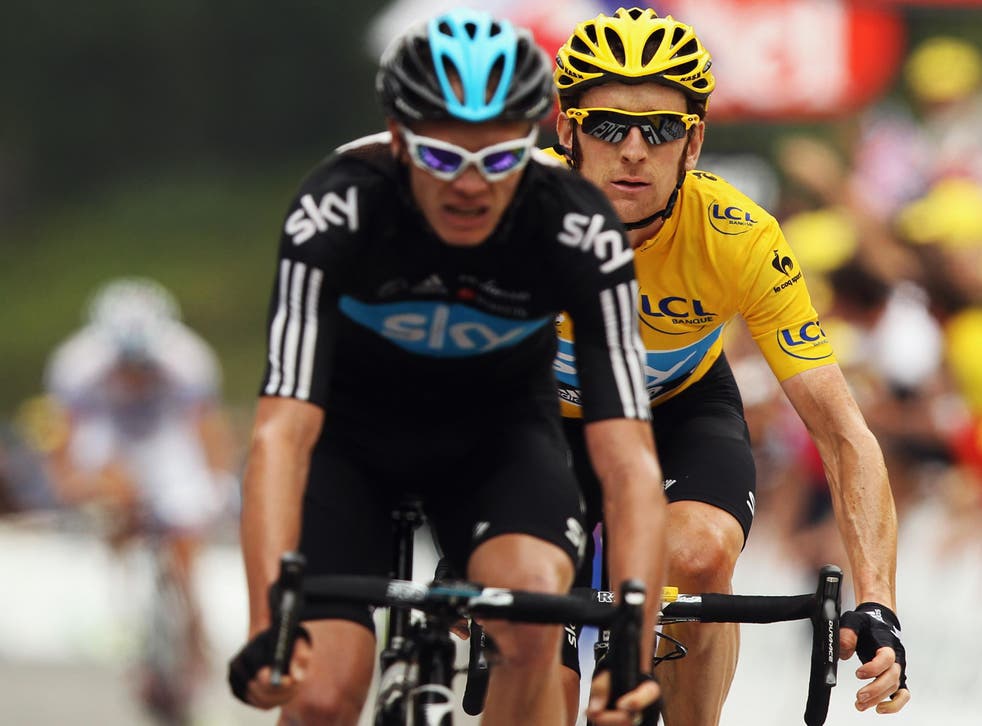 The turmoil surrounding Chris Froome took a bizarre turn on Thursday when Sir Bradley Wiggins' wife Catherine Wiggins had to apologise for posting a message on social media which described her husband's former team-mate Froome as a "slithering reptile".
The Facebook message, which was swiftly deleted, accompanied a news story about Froome's adverse drugs test result at the 2017 Vuelta a Espana – which Team Sky and their rider have been asked to explain to anti-doping investigators – and referred to a "conspiracy theory" that her husband's embroilment in recent controversies might have been exploited by Team Sky to protect Froome's reputation.
"I am going to be sick," she said. "Nothing in the news. If I was given to conspiracy theory I'd allege they'd thrown my boy under the bus on purpose to cover for this slithering reptile." Later she apologised, saying: "Sorry everyone for my emotional comments and insults. Too much stress got the better of me. Heat of the moment thing and certainly not my intent to fan the flames."
Froome and Wiggins have long had a fractious relationship stretching back to their days as team-mates and a power struggle which developed between Team Sky's two most prominent riders. Last year Wiggins was forced to reject accusations that he had exploited the Therapeutic Use Exemption system after a leak of medical records showed he had used a corticosteroid before three major races and, in an apparent swipe at Wiggins, Froome subsequently criticised the TUE system which he said was "open to abuse".
Froome is now facing a battle to save his own reputation and Team Sky have pulled together a team led by the high profile anti-doping lawyer Mike Morgan to present their defence to the Legal Anti-Doping Service, which will need convincing of the reasons Froome had double the permitted amount of the asthma drug Salbutamol in a urine sample submitted after stage 18 of the Vuelta on 7 September if he is to avoid a suspension and the rescinding of his Vuelta triumph.
The British rider has denied any wrongdoing. "I understand this comes as a big shock to people," he told the BBC in an interview on Wednesday. "I certainly haven't broken any rules here. I haven't taken more than the permissible amount and I am sure at the end of the day the truth will be told."
He remains eligible to compete, something which fellow rider Tony Martin labelled a 'scandal'. Martin, who rides for Katusha-Alpecin, wrote in a post on Facebook: "I'm totally angry. In the case of Christopher Froome, it is definitely a double standard. Other athletes are immediately suspended after a positive test. He and his team were given time by the UCI to explain themselves. I do not know of any similar cases in the recent past. This is a scandal, and he should at least not have been allowed to appear in the World Championships.
"For me and the public there is immediately the impression that there are agreements going on behind the scenes, agreements are being made and ways are being sought as to how to get out of this case. Do he and his team enjoy a special status? These actions lead to the serious anti-doping struggle that I and riders like Marcel Kittel are leading. We need a consistent and transparent approach by the UCI. What is going on here is inconsistent, not transparent, unprofessional and unfair."
The UCI explained in a statement on Wednesday that Salbutamol is among a list of drugs allowed up to a certain limit and which do not carry automatic bans when found to have been used in excess. However, the emphasis is now on Froome to justify the adverse sample and with no specified timeline, the case could drag on through 2018 with a shadow hanging over one of cycling's most decorated champions.
Join our new commenting forum
Join thought-provoking conversations, follow other Independent readers and see their replies