Timing, money, and 'no compromise': How Great Britain came from nowhere to conquer cycling's grand tours
More than two decades on from British Cycling's nadir at the Atlanta Olympics, the country has transformed itself into the dominant force at the sharp end of the sport's major races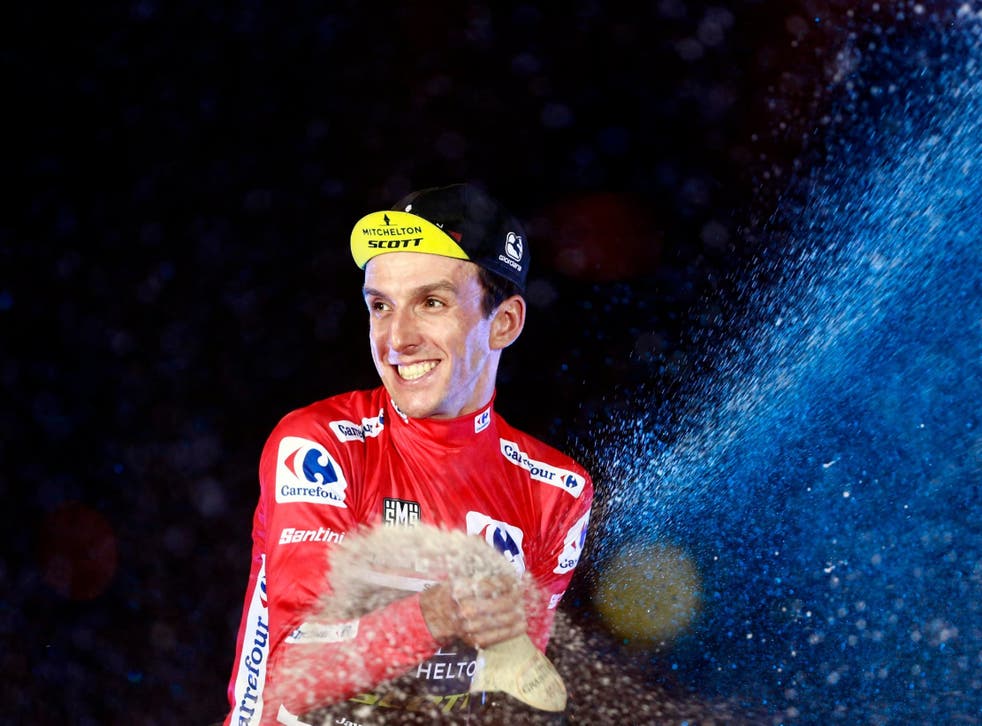 One of the most striking things about Britain's recent cycling success is that there is no simple line of causality. The star riders all have different backgrounds in life and in sport, and all chose different roads. They couldn't have started much further apart: Bradley Wiggins was born in Ghent, Belgium; Chris Froome was born in Nairobi, Kenya; Mark Cavendish was born on the Isle of Man; Geraint Thomas was born in Cardiff; Simon Yates, the latest to write history by winning the Vuelta a Espana on Sunday, was born in Bury. The one thing we know is that it's not something in the water.
So how does a country with such limited history in a sport emerge into an era of dominance? How did Britain become the first nation ever to win all three grand tours in the same year with three different riders? Or become the first country to win five grand tours in a row? There are an array of forces at play here, but perhaps the most powerful is a simple one: money. What unites each success is that they have all benefitted, to varying degrees, from the vast investment which has revolutionised the sport in Britain.
Back in 1996, UK's elite cycling scene was at its nadir, returning from the Atlanta Olympics with a couple of medals which had little to thank the national programme. "It was totally bankrupt, having been so poorly run," says Peter King, British Cycling's chief executive through its transformative years from 1997 to 2008. "It couldn't have been much worse. But it was so bad that it forced a reaction."
Tour de France 2018: The story of the race

Show all 84
Government investment pumped in while the new lottery funding provided targeted support for the best athletes. Performance director Peter Keen overhauled British Cycling's strategy, coining the "no compromise" approach that focused solely on winning medals and, in 1998, set a target to become the No 1 ranked nation in the world by 2012. They achieved that goal with time to spare, concentrating on track cycling which was identified as the area which could most easily be controlled, where investment in facilities, technology and coaching would have the maximum effects.
State-of-the-art velodromes in Manchester (1994), Newport (2003), London (2011), Glasgow (2012) and Derby (2015) created 'centres of excellence' where coaches could identify and improve talent, while British Cycling helped revive the Tour of Britain in 2004, and the Tour de France's UK visits to London in 2007 and Yorkshire in 2014 engaged and ignited growing interest around the country. At the same time as grassroots clubs were popping up, the elite cycling programme returned from Beijing and London with a sackful of Olympic medals.
Meanwhile, as the UK's snowball effect took hold, the cycling heartlands were fragmenting. France, Italy and Spain were all hit hard by the doping controversy du jour, each new scandal crashing down like a wave until sponsors and fans became reluctant to venture back in. Their pools of talent began to fade; while Britain was strategic in using track as a hotbed for moulding talent, the epicentre from which most of its success has emanated, many traditional European nations continued to focus on road racing.
And then, of course, Team Sky came along. "Dave Brailsford and Brian Cookson believed we could apply our learnings in the national programme to a professional team," says King. "They said 'we might even do quite well'. Wiggins came out of the track programme and joined the best funded team on the circuit in terms of coaching and technology. The confidence in that early success [when Wiggins won the 2012 Tour] has spread through the peloton – the Yates brothers would have seen that success and wanted to replicate it."
There is no doubt that the "no compromise" approach has brought huge success, but at what cost? British Cycling has been dogged by accusations of bullying and discrimination while Team Sky became embroiled in a parliamentary enquiry which concluded in a DCMS report accusing the team of abusing the system of therapeutic use exemptions. The Manchester Velodrome stands as both a symbol of the Yates twins' early development, and the place where testosterone patches were alleged to have been ordered by Dr Richard Freeman, while working for British Cycling and Team Sky.
That interwoven relationship of Sky and British Cycling was criticised by UK Anti-Doping, and King admits it may have gone too far. "Clearly there was overlap, and it might be perceived that it was too much," the former chief executive says. "The challenge was to win medals and develop talent, that's what the money was for, but you could argue it has gone far enough. There are challenges around funnelling money to the top of sport and whether that's good for participation. It worked in cycling but it hasn't for some others."
This is now the focus of a major public consultation by UK Sport, the body responsible for allocating funding which has made controversial cuts in areas not deemed likely to return medals at the 2020 Olympics in Tokyo, like basketball, badminton and weightlifting. It brings into focus the very purpose of elite sport, and how much emphasis should be put on medal tables.
But there is no doubt, 22 years on from Atlanta, that cycling in the UK has boomed, with the new Vuelta champion yet another product of the system. It is worth noting the other factors at play: that he opted not to join the Team Sky bandwagon, instead signing for Australian team Mitchelton-Scott; that his equally talented twin Adam took a different route, developing outside the British system in France with still excellent results; that these many British successes have relied on an array talent from other nations in their teams and backroom staff.
All of which means that perhaps there is not a conveyer belt of homegrown talent waiting to come through, but there is promise in several young riders, particularly in Wales like the 22-year-old climber Stevie Williams, who has signed to Team Bahrain-Merida, and the 19-year-old Mark Donovan whom Team Sky are trialling. Thomas, Froome and Cavendish are nearing the end of their careers but this is just the start for the Yates's, and with the infrastructure now in place and the money still flowing, Britain's rich run of results shows no signs of abating.
Register for free to continue reading
Registration is a free and easy way to support our truly independent journalism
By registering, you will also enjoy limited access to Premium articles, exclusive newsletters, commenting, and virtual events with our leading journalists
Already have an account? sign in
Register for free to continue reading
Registration is a free and easy way to support our truly independent journalism
By registering, you will also enjoy limited access to Premium articles, exclusive newsletters, commenting, and virtual events with our leading journalists
Already have an account? sign in
Join our new commenting forum
Join thought-provoking conversations, follow other Independent readers and see their replies