Commonwealth Games 2014: Lizzie Armitstead at pains to do it for Queen and country
Winner of 2012 silver in The Mall is determined to take gold in Glasgow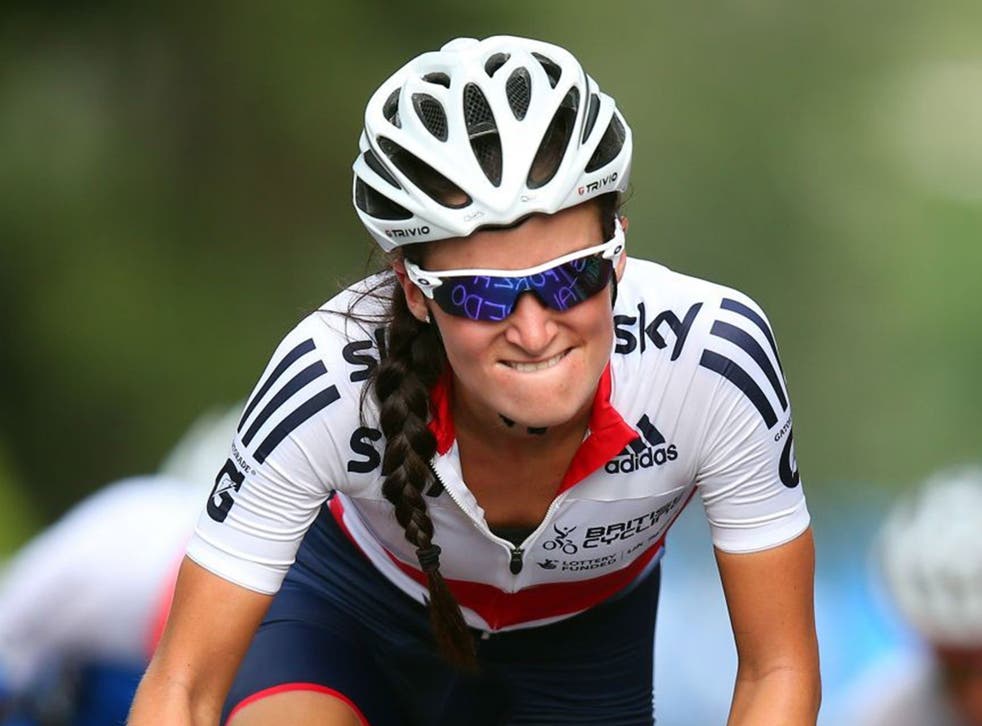 There are times when Lizzie Armitstead is at a loss to explain why she is on a bike. For all the race wins, and even near misses, there are moments of abject agony that go unnoticed to most spectators when the pain in her legs is so intense the last thing she wants to do is pedal on.
"Sometimes you'll try anything to take the pain away from your legs like biting the inside of your mouth until it really hurts," she says. "At times, it's just so horrible when you're trying to follow someone and you have this desperate desire to keep on their wheel. There are points when I don't know why I do it. I don't have the answer."
Answerless she may be, but her inexact science for enduring pain has been used to good effect. On the imminent horizon for the Olympic road-race silver medallist are the Commonwealth Games. The 25-year-old goes into it as race favourite following a season that has included three victories and countless podiums.
Joining her on the road will be the likes of Emma Pooley, Lucy Garner, Laura Trott and Dani King, with the race taking place on the Glasgow course where she won the British title last year, an accolade she recently conceded to Trott.
It is a course she can plot nearly perfectly if she closes her eyes, the two key areas that will define whether she becomes Commonwealth champion or not clear in her mind.
"The two hardest climbs are around the back of the university and the last climb before the descent to the finish – those will be key," she says. Armitstead was second in the previous Games in Delhi in 2010, the position she also finished at London 2012 as well as at her early-season goal, the Tour of Flanders. "I'm fed up of silvers, I want gold," says the English cyclist.
There are some that question the importance of the Commonwealth Games, but Armitstead is not one of them. "For me, it's very important particularly as it's effectively a home Games," she says. "I feel like I owe it to the Queen having sprinted down the Mall outside her house, I feel like I owe it to her and the rest of the Empire!"
It is said tongue in check but it was in the capital that Armitstead made history as Britain's first medallist in 2012. Such is her competitive nature, she was disappointed to play second fiddle to Marianne Vos.
In some senses, then, are the Commonwealths a chance of redemption? "It's different as it's not the usual cycling field," she says. "The Europeans are missing so it's different for me. But it means a lot to me. It's on British soil and I'll be riding in front of my friends and family. I feel lucky to have had the Olympics on home soil, the Commonwealth Games and the Tour de France."
The Tour passed through her Yorkshire home town of Otley in the opening days with thousands thronging the streets where she grew up and first pedalled a bike. She may not be in the stratosphere of Tour champions such as Sir Bradley Wiggins and Chris Froome but she remains a big name on the England team, although uneasily laughs off the suggestion.
She is similarly ill at ease talking about the big names she rides out with regularly from her Monaco flat, having become part of a group that includes a litany of Formula One drivers, past and present, such as Jenson Button, David Coulthard and Paul di Resta.
"I find it uncomfortable to talk about," she admits. "It's not like 'wow, I'm out for a bike ride with Jenson Button'. It's just it's a group of sports people who live in this strange but great place Monaco where people flit in and out at different times with their various commitments."
There will be little to no time now spent in Monaco before the Games. Prior to Glasgow, Armitstead will take part in La Course, a women's day race on the streets of Paris that will take place and be televised just hours before the final stage of the Tour de France, an indicator of the increasing interest in and coverage of women's cycling.
This year's other goal is the World Championships in Spain in September. If she had to choose between gold in Glasgow or Ponferrada, the choice would be a simple one.
"It would be the World Championships," she says. "It's the much harder one to do. But I've had three clear goals for this season: Flanders, the Commonwealths and the Worlds. For me, it would still be absolutely massive to be Commonwealth champion."
Join our new commenting forum
Join thought-provoking conversations, follow other Independent readers and see their replies