Storm envelops QuickStep over Iljo Keisse's sex-pose controversy which led to disqualification
While posing, Keisse stood behind the woman with his hands behind his head and allegedly pushed his genitals against her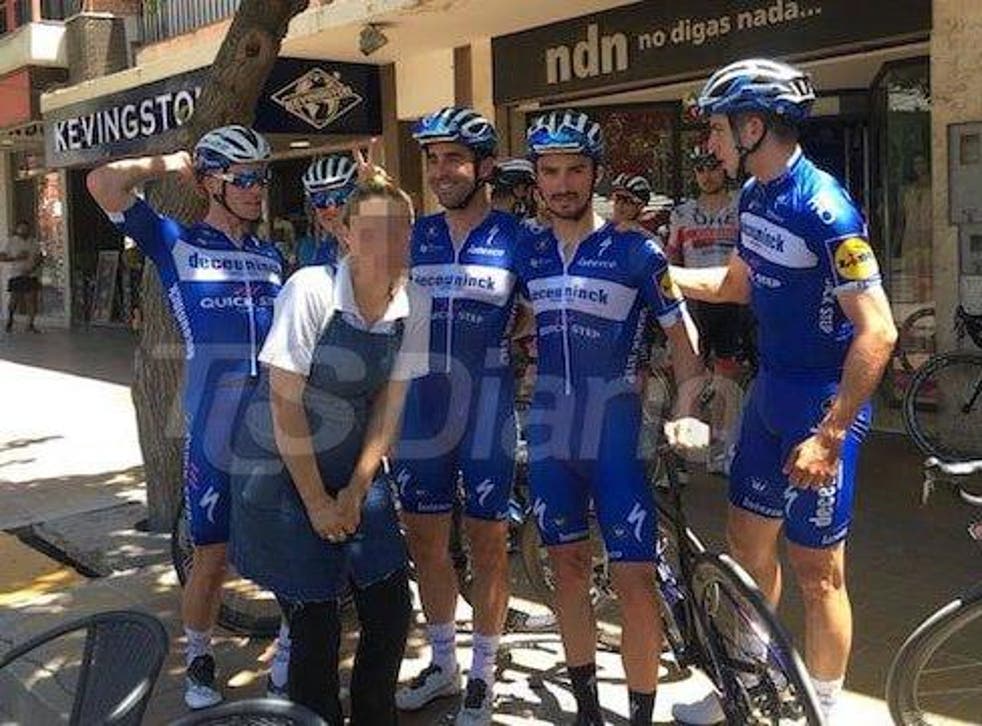 An ugly storm has enveloped the QuickStep road cycling team following an incident earlier this week in which Belgian rider Iljo Keisse feigned a sex act behind a waitress while posing for a photo.
Keisse, a veteran six-day track specialist, was in Argentina for the Vuelta a San Juan when he and several team-mates were asked to be in a photo with the waitress in the city of San Juan in the west of the country. While posing, Keisse stood behind the woman with his hands behind his head and allegedly pushed his genitals against her.
The waitress, who has not been named, reported the incident to police, and race organisers quickly evicted Keisse from the race.
"I am very angry," she said. "I was working, I asked for a photo and they disrespected me. I already spoke with my lawyers to see what we can do. My partner saw the situation and he is a witness.
"They cannot come to another country and treat women as things, as something insignificant and worthless. This is Argentina and he cannot come to do what he wants. I hope that at least they sanction him or call his attention for doing what he did."
The 36-year-old Keisse apologised on Twitter, writing: "I want to apologize to everybody for the gesture during a photo taken this week. I didn't want to offend anybody and I deeply regret it. I know I've made a mistake but I'm not a disrespectful person. I'm really sorry."
However, if Keisse hoped that might bring the matter to a close he was to be disappointed. Rather than condemning his behaviour, QuickStep decided to skip Wednesday's podium presentation in protest at his disqualification, before an angry team manager Patrick Lefevere said he was considering pulling them out of the race, despite their position in the race lead with French rider Julian Alaphilippe.
"If it depended on me, the whole team would leave the Vuelta a San Juan," Lefevere said. "We are reviewing what the UCI regulations say, and then we will quickly decide whether we will start or not."
Of the incident itself, he accused the woman involved of chasing financial reward. "Of course I'm not happy with Iljo's pose. That is wrong, he knows that himself. But he paid a $70 fine and the police closed the case. And yet that woman continues to make a game about it.
"She will want money, right?"
Keisse's own father then waded in on the debate, suggesting the waitress was to blame. "That woman is also very suggestive with her ass behind," he said. "Who says that Iljo should not file a complaint against her? It should not have happened, but he apologised and will have to bear the consequences. Now we must wait until the storm blows over."
On Thursday QuickStep's new title sponsor, Deceuninck, admitted it was considering their future partnership. "We do not agree with what happened there," the company's marketing manager told Cyclingnews. "This is not behaviour that we accept."
The Independent understands Lefevere is unlikely to go through with his threat of pulling out of the race, but his decision to turn against the race and the woman involved has already provoked anger and frustration on social media.
The former cyclist and current manager of EF Pro Cycling, Jonathan Vaughters, tweeted: "We've all done stupid things. Every one of us. But sometimes you just gotta own the stupidity, apologize, and then take the lumps as they come. Learn from the f*** up, don't fight it. Learning prevents ignorance going forward."
After Thursday's rest day, the seven-stage race gets back under way in San Martin on Friday. Alaphilippe leads his former QuickStep team-mate Fernando Gaviria in the general classification by eight seconds, with Gaviria's current UAE Team Emirates colleague Valerio Conte in third, and three-time world champion Peter Sagan fourth.
The Vuelta a San Juan finishes on 3 February when it returns to San Juan.
Register for free to continue reading
Registration is a free and easy way to support our truly independent journalism
By registering, you will also enjoy limited access to Premium articles, exclusive newsletters, commenting, and virtual events with our leading journalists
Already have an account? sign in
Register for free to continue reading
Registration is a free and easy way to support our truly independent journalism
By registering, you will also enjoy limited access to Premium articles, exclusive newsletters, commenting, and virtual events with our leading journalists
Already have an account? sign in
Join our new commenting forum
Join thought-provoking conversations, follow other Independent readers and see their replies