Tour de France 2015: Women's road races are struggling for status - and survival
As the Tour de France ends, women have little to celebrate. Thanks to cycling's governing bodies, their road races are lagging behind the men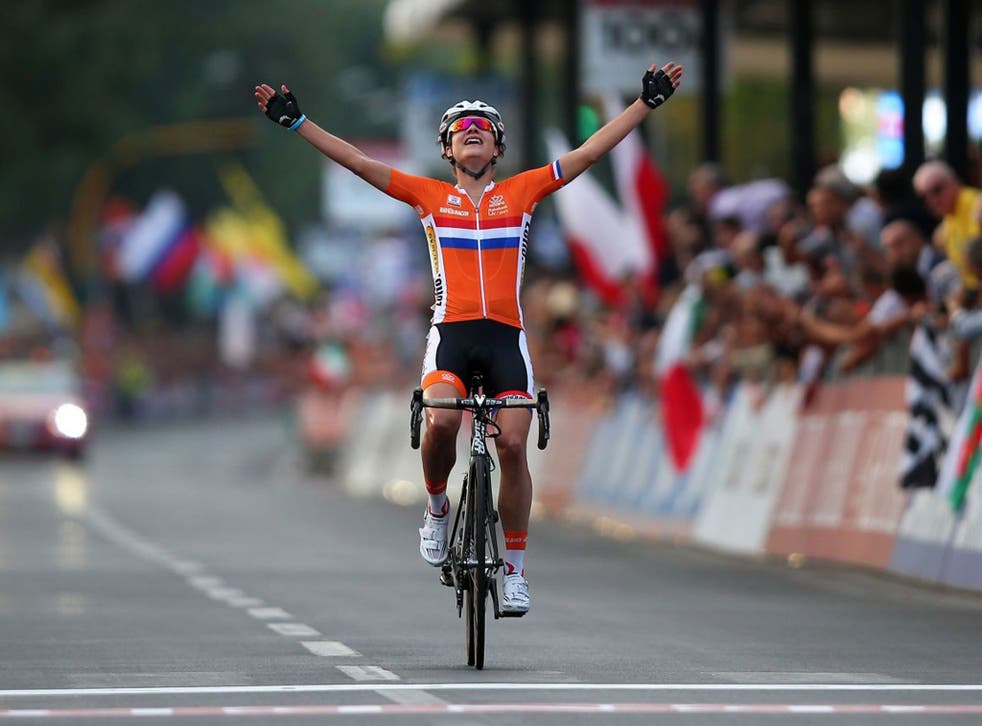 This year's Tour de France ends on Sunday, and all eyes will be on the scores of elite male cyclists pedalling their way up the Champs Elysée. It's the most prestigious race in the cycling calendar, yet you don't have to look very far to find an obvious disparity: where are all the women?
The short answer is that you'll see around 120 of them in Paris, as a warm-up act before the men ride in to complete their final stage at the Arc de Triomphe. The men will have raced 3,360km (2,087 miles), spread across three weeks and 21 stages; the women will complete just one 89km stage, which last year took the Dutch winner Marianne Vos two hours and 14 seconds.
But it wasn't always like this. "In some respects, women's cycling has gone backwards," says Nicole Cooke, 32, retired GB road cyclist, Olympic champion, and the first Brit to win the women's equivalent of the Tour de France in 2006 – six years before Bradley Wiggins won the prestigious, men-only race. So what's been going on in women's cycling?
The women's race, La Course, was launched at last year's Tour de France following the "Tour Entier" campaign. Led by Cooke's former GB teammate Emma Pooley and Marianne Vos, it demanded a women's Tour de France equal in status, length and prize money to the men's. What was instead granted was La Course, hailed as "the inaugural women's Tour de France", where female cyclists can win equal prize money to the men – but only for one stage, rather than 21.
Cooke sees La Course as "a step in the right direction", but adds : "The fact it hasn't increased in length is worrying. I think it's a tactic that happens very often when people are campaigning. It's almost like a concession – 'they'll be happy with something' – and very few people go, 'No, hang on, that's an insult, we want more'."
If there's anyone who is prepared to say it though, it's Cooke. She has challenged the cycling establishment since she first started out, refusing to accept discrimination, and fighting against lack of funding and support to carve herself an incredibly successful career.
In her 2013 retirement speech, Cooke accused the industry of treating female cyclists like an "underclass", and her 2014 autobiography, The Breakaway, contains searing accounts of her career-long battle against sexism.
After two years away from professional cycling, in which she's been studying for an MBA in Cardiff, she understandably still feels frustrated by what she sees. As a girl, Cooke grew up watching and aspiring to win La Grande Boucle Féminine Internationale – the women's equivalent of the Tour de France which ran, on and off, between 1984 and 2009.
"When it was in its heyday, it really was the toughest race in every sense – it was a jewel in the calendar of women's cycling," she says. "It was two weeks long; it had mountain stages in the Pyrenees and the Alps; it was an absolute killer in terms of the distances, the stages, the competition. It really was a brilliant showcase of women's cycling."
Cooke first took part in La Grande Boucle in 2002, when it was still two weeks long; however, by the time she won in 2006 and 2007, the women's race was greatly diminished and it ceased to exist in 2009.
"There just hasn't been the support from the Union Cycliste Internationale [UCI, cycling's governing body]," she says. "In fact, to destabilise it, they passed rules reducing the maximum length of the stages. There's been a gradual wearing away of a lot of things which were great about women's cycling."
So while La Course is indeed the first women's event to be put on by the Tour de France organisers Amaury Sports Organisation (ASO) – and certainly a step forward from having no women's event at all – it's still a far cry from what Cooke remembers.
"It's concerning that it was described as the inaugural event, ignoring the history of the 1980s, when the women's Tour de France was raced alongside the men's," Cooke says. "If there's no recognition of what happened before, it's a missed opportunity to learn from the past and [ensure] it doesn't happen again."
The disparity feels particularly incongruent when you consider the boost that women's sport has had, at least on our side of the Channel, in recent years. Both London 2012 and Sport England's "This Girl Can" campaign have played a part in inspiring more British women to get active. British Cycling recently reported that 254,000 more women now cycle regularly than in 2013, and fitness tracking app Strava has seen an 82 per cent rise in female cyclists registering in the last 12 months.
The recent Women's Tour of Britain lasted five days – much closer in length and distance to the men's eight-day race (due to take place in September) than its French counterpart. And besides being covered daily on ITV4, the Tour of Britain was also, in 2013, the first cycling event to promise "absolute parity between men and women" in terms of prize money and support.
"The [women's] Tour of Britain is a great race," Cooke says. "I'm told it's run very well, the organisers do a great job, it's televised every day, there's huge crowds, and it does have very exciting racing."
And yet, in her characteristic way, she refuses to settle. While Cooke sees equal prize money as "the real acid test for whether female athletes are being treated fairly", she also feels that any race which patronises women with fewer stages is falling short in its commitment to equality.
"Having different distances and different-length events is just to reinforce that hierarchy of the men's event being more important. There's a lot of sports where the distances are exactly the same," she says.
For Cooke, there's only one real long-term solution: "What we really need is intervention from the UCI, putting in rules where every organiser of a men's race also has to put on a women's race and have all the infrastructure [for both races] to be covered on TV. It's a model that works very well in nearly all sports, so let's bring it into cycling," she says.
"Women's cycling is in the position it's in because of all the historical sexism that exists, whether that's in cycling or in society. It is time for those who legislated the women's Tour out of existence to bring in some rules to put women's races in place. It's going to take too long if we hope change will just happen organically. In the case of women's cycling, it's already gone backwards from its heyday; you can't just 'see how it goes' because things can actually get worse."
Register for free to continue reading
Registration is a free and easy way to support our truly independent journalism
By registering, you will also enjoy limited access to Premium articles, exclusive newsletters, commenting, and virtual events with our leading journalists
Already have an account? sign in
Register for free to continue reading
Registration is a free and easy way to support our truly independent journalism
By registering, you will also enjoy limited access to Premium articles, exclusive newsletters, commenting, and virtual events with our leading journalists
Already have an account? sign in
Join our new commenting forum
Join thought-provoking conversations, follow other Independent readers and see their replies