dispatches from the Tour de France
Distrust, scepticism and boredom – what fans really think of Team Sky
Despite high-profile incidents on and off the bike on the ground in France, finding a true Team Sky hater at the Tour is harder than you might think, discovers Lawrence Ostlere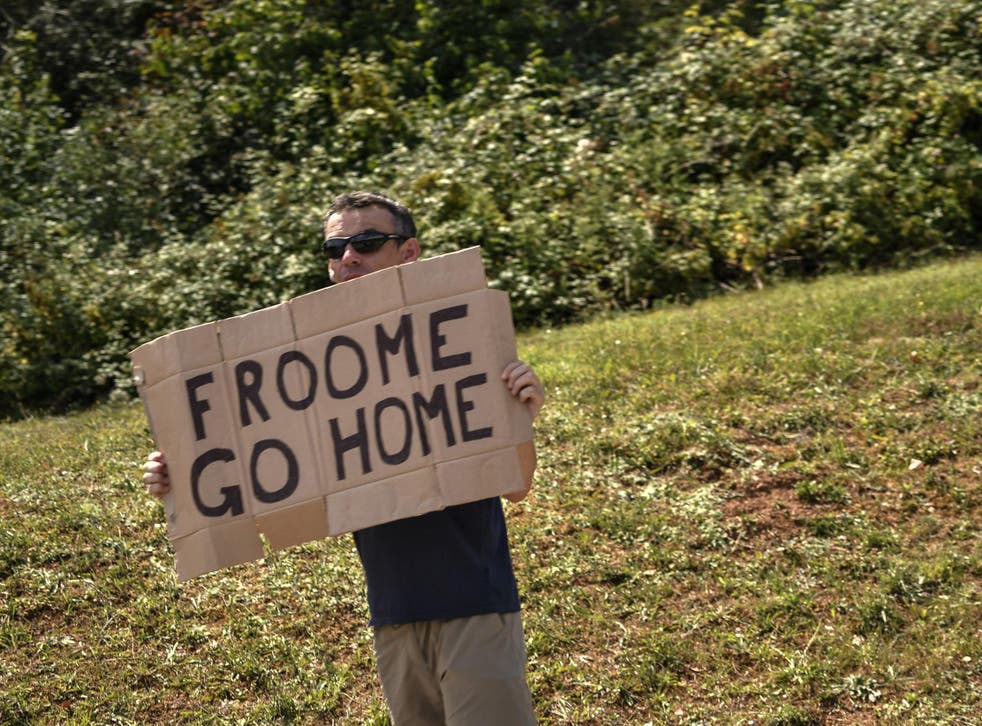 It is harder than you think to find a Team Sky hater at the Tour de France. You can find one who pantomime-boos Geraint Thomas on the rostrum, or one who holds up a sign saying "Sky dehors" – Sky out. But the one who hurls an angry volley of phlegm at the riders, who whirls an arm in Chris Froome's face as he climbs the iconic Alpe d'Huez, who almost pulls Thomas from his bike as he reaches the Col du Portet's summit, he is more elusive.
He – and it is usually a he – is the one who slinks off down the mountainside having been drinking all day, riled up in the anticipation and tipped over the edge by the tantalising realisation of being so close to it all. Giving him the access is a risk cycling is willing to take; it is what makes the Tour de France so special, when for one day Alpe d'Huez becomes a sporting coliseum, 250,000 people packed on to a mountain with each one of its 21 hairpins drenched in colour and cloaked in flare smoke, fans inches from their heroes.
Thankfully, he is an anomaly. Drive the Tour de France route and you find people from all corners of the globe here not to hate Team Sky but to have a good time, soak up the atmosphere and see the world's most famous bike race. There's the young Spanish family with a picnic, smiling and waving. There are the Danish party guys, chanting and waving. There's the topless Frenchman receiving a talking to from the local gendarme having taken something or other too far, also grinning and waving. The feeling towards Team Sky on the roadside is far from warm, but it is not hatred either.
"I don't know," laughs Simon, a 34-year-old French fan with a fuzzy beard, when asked what he thinks of Team Sky. Do you like Chris Froome? "Not really. I don't know why, I just don't like Team Sky very much. Sky is controlling the race and for me it is not interesting. They have the best riders on the bike and nobody can attack. It is not sport. Too much technology." Do you trust them? "I suppose I want to make my own choice but it is difficult to ignore the media stories. They are riding within the rules. Doping? I don't know. I think perhaps not, but we don't know."
Miguel is here to support his man from the Basque country, Mikel Landa, with a giant flag poking out of his rucksack. "They are too strong," he says of Team Sky. "They have great riders – Thomas, Froome, the Colombian guy [Egan Bernal] – so for us supporters hoping for an exciting race, it's not so good. I don't care who wins out of Froome and Thomas." Do you trust them? "I never know. I don't like to talk about doping, I prefer to trust them, but they are winning so people are always [suspicious]."
Of the 30 or so people on the roadside, the most negative reaction comes from two older French gentlemen hailing from Bordeaux. They have ridden halfway up the Col du Portet to watch the race, and at the mention of Team Sky they look back with mock disgust. "Team Sky? Team Scum," says Bernard. "They are boring. It's the same every year, they kill the race." Are they riding clean? He shrugs. Do you trust them? "No."
There seem to be some common themes: distrust and scepticism, yes, but mostly it is boredom with the same old result. This is set to be Sky's sixth Tour de France victory in the past seven years; the last time a team other than Sky won one of the three annual grand tours was the 2017 Giro d'Italia, more than a year ago.
Media coverage has undoubtedly fuelled the fire – last week Team Sky were described in L'Equipe as "the snake with two heads", referring to Thomas and Froome – and various scandals have tainted their reputation, even by association and even when no charges were brought. The Jiffy bag investigation, the DCMS report, Froome's Salbutamol case: piece it all together and, just like Team Sky's famous mantra of 'marginal gains', it adds up to something much more significant in the minds of many.
"It is an addition of little things about Team Sky," says French journalist Frederic Retsin, who has been covering the Tour for 20 years. "I remember when Team Sky said in 2010: 'We are cleaner than clean'. But I think now after the Jiffy bag, after the performances in 2013, and in 2015 on Pierre-Saint-Martin (when Froome obliterated the field), there are some doubts."
Does that explain the animosity? Aren't people just bored of Team Sky? "Well of course, even journalists. I compare them to Real Madrid: I'm bored to watch Real Madrid win a third Champions League. But they have the best players, like the best riders. They have the most money. This is sport. It is like the All Blacks in rugby, they always crush the others – especially the French.
"But I don't think the perception is only linked to their dominance, because I remember when Bernard Hinault rode for Team Renault at the end of the 70s, they dominated too and nobody cried. The French people were happy." But isn't that because he was French? "Well, yes. If Team Sky were French maybe it would be different."
Retsin believes most of the animosity is specifically for Froome, and that Thomas would have enjoyed a far warmer reception had Sky's principal Sir Dave Brailsford opted to omit the reigning champion from the race. Brailsford disagrees. In an explosive press conference this week, with the world's media crammed into a sweltering tent outside Team Sky's hotel, he labelled the hostilities "a French cultural thing".
"I don't think spitting has a place in professional sport personally, or in everyday life, but it seems to be the thing that's done here [in France]," Brailsford said. "It's interesting, we just raced in Italy and if this is all about Chris and his case, well his case was open during the Tour of Italy and they were fantastic, the Italians. The Spanish, fantastic. It just seems to be a French thing. A French cultural thing really, that's it."
Retsin understandably rejects that theory and says a version of what he calls "French chauvinism" exists in every country – and he doubts all the trouble-makers are French. "When I see the public on Alpe d'Huez, everybody said it's a French spectator [cuffing Froome]," he says. "Are you sure? Can you prove it's a French spectator? There are many foreigners at the race."
Adding to the tension around the race is the tension in France itself. You can be wandering through the sunny streets of Pau, gazing out at the stunning views of the Pyrénées, when you turn a corner to see three military men carrying machine guns and are reminded that underneath the idyllic facade there is a country on edge and constantly expecting the worst.
That edge has fed back into the Tour de France, like the police's heavy-handed reaction to protesters on stage 16 and their careless use of pepper spray which blew into the peloton, aggravating the riders and briefly stopping the race. Or the gendarme who mistook Froome for a roving spectator after stage 18 and pushed him off his bike, getting a frosty rebuke from the four-time champion.
That edginess perpetuates more edginess, and it all contributes to an atmosphere which has, at times, spilled over into unsavoury scenes like those incidents directed at Froome and company. Locals want a French winner after 33 years of hurt and everybody else wants change too. Those feelings of suspicion and resentment towards Team Sky are stronger than ever, and so perhaps the biggest surprise is that there have not been more serious incidents, more interference, more spectators slinking down the mountain. Those real haters are rare – for the most part, the route of the Tour de France is just lined with people waving.
Register for free to continue reading
Registration is a free and easy way to support our truly independent journalism
By registering, you will also enjoy limited access to Premium articles, exclusive newsletters, commenting, and virtual events with our leading journalists
Already have an account? sign in
Register for free to continue reading
Registration is a free and easy way to support our truly independent journalism
By registering, you will also enjoy limited access to Premium articles, exclusive newsletters, commenting, and virtual events with our leading journalists
Already have an account? sign in
Join our new commenting forum
Join thought-provoking conversations, follow other Independent readers and see their replies