Tour of Flanders: Mathieu van der Poel remains his own worst enemy
Van der Poel finished second at the 2021 Tour of Flanders as he failed to replicate his victory last year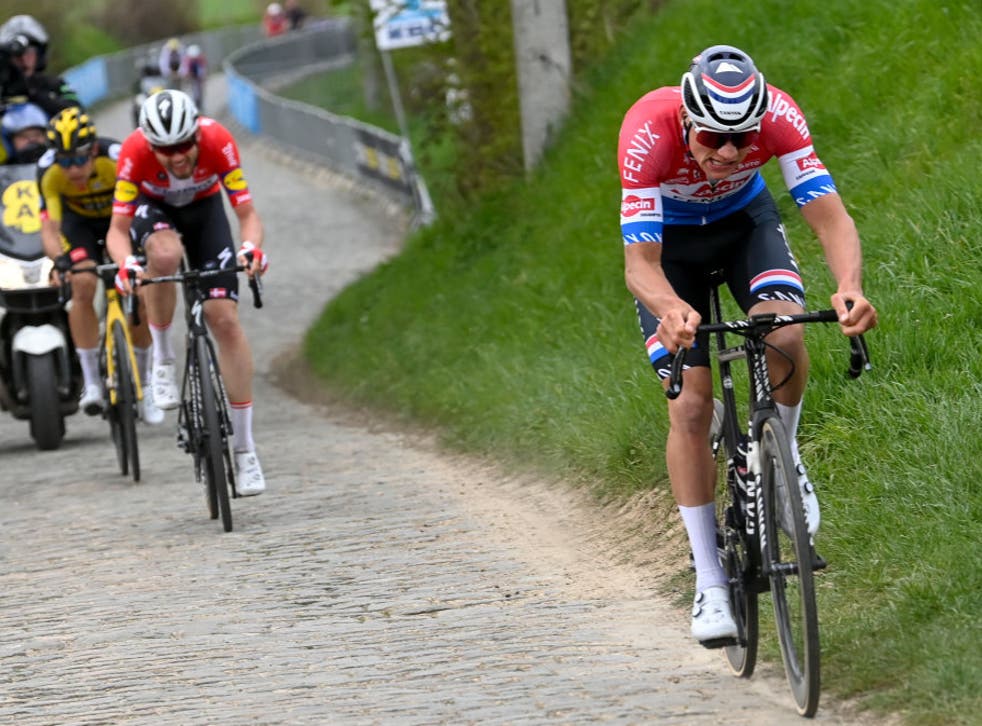 Mathieu van der Poel lit up the 105th edition of the Tour of Flanders on Sunday with the kind of attacking riding he has built his reputation on in recent years.
The Dutch cyclo-cross sensation was looking to become just the eighth man to win back-to-back titles in the prestigious Classic as he set about the rest of the field with 50 kilometres to go.
World champion Julian Alaphilippe's attack was nullified by Van der Poel's sheer power up the Oude Kwaremont and Paterberg as he punished those behind - most notably his old foe Wout van Aert.
His ability to ride on the front of a group of favourites for such lengthy periods indeed resembles someone who is the third generation of cycling royalty.
After all, his father is cyclo-cross world champion Adri van der Poel and his grandfather is Grand Tour winner Raymon Poulidor - some pedigree, you'd say. And as the race came around to the Paterberg again just 13km out from the finish, Van der Poel's desire to blow away all of his rivals appeared to be working to perfection.
Read more:
But one man managed to hold onto his cobble-covered coattails - Kasper Asgreen.
As soon as they crested the Paterberg and began the run for home, you couldn't help but think back to the UCI Road World Championships 18 months before.
On that occasion, Van der Poel, the pre-race favourite to take the title, decimated the race into tiny fragments and went clear with four riders you would have put your house on him beating.
But, out of nowhere, with less than 13km to go he suddenly paid the price for his laissez-faire attitude to race tactics as he completely blew up and waved goodbye to his hopes of pulling on the rainbow jersey.
Was the same going to happen here or had he learnt from those past mistakes?
Van der Poel appeared to still have the legs as he and Asgreen opened up the gap to the chasing pack, which included a desperate Van Aert.
But when they opened up the sprint with 200m to go it was the Danish underdog who had the strength to come over the top of the Dutch favourite and power to the biggest win of his career.
Not only was Van der Poel beaten, he had absolutely nothing left inside the last 100m, blowing up, sitting up and trundling across the line with his head drooped over his exhausted bike.
Now, one way of looking at that is he has already had a hectic season with some incredible performances at Strade Bianche and Tirreno-Adriatico, so the way he rode in Flanders did not impact his inability to close the show.
However, you have to wonder how many more races he would have on his palmares if he acknowledged that there are more nuanced tactics required in a seven-hour road race compared to a 60-minute cyclo-cross dash.
Don't get me wrong, Van der Poel's racing style is thrilling, captivating and most importantly incredibly admirable.
It is invariably not the best route to a victory, but it is without doubt the best way to win when it comes off.
With that being said, Van der Poel is at risk of his talent as a road race rider dwarfing his ability to clinch some of the grandest races out there.
He should have won on Sunday. Perhaps the vibrant, exhilarating way in which he rode even leads many to the conclusion that he deserved to win.
But cycling is a complex sport in which strategy and tactical nous can prove just as fruitful as power and talent.
Not for the first time, Van der Poel learnt that the hard way on the weekend, but you'd be a fool to think he's going to change.
Join our new commenting forum
Join thought-provoking conversations, follow other Independent readers and see their replies