Danger man Diogo Jota is the key to Liverpool's top-four hopes
Portuguese forward has been directly responsible for at least nine points this season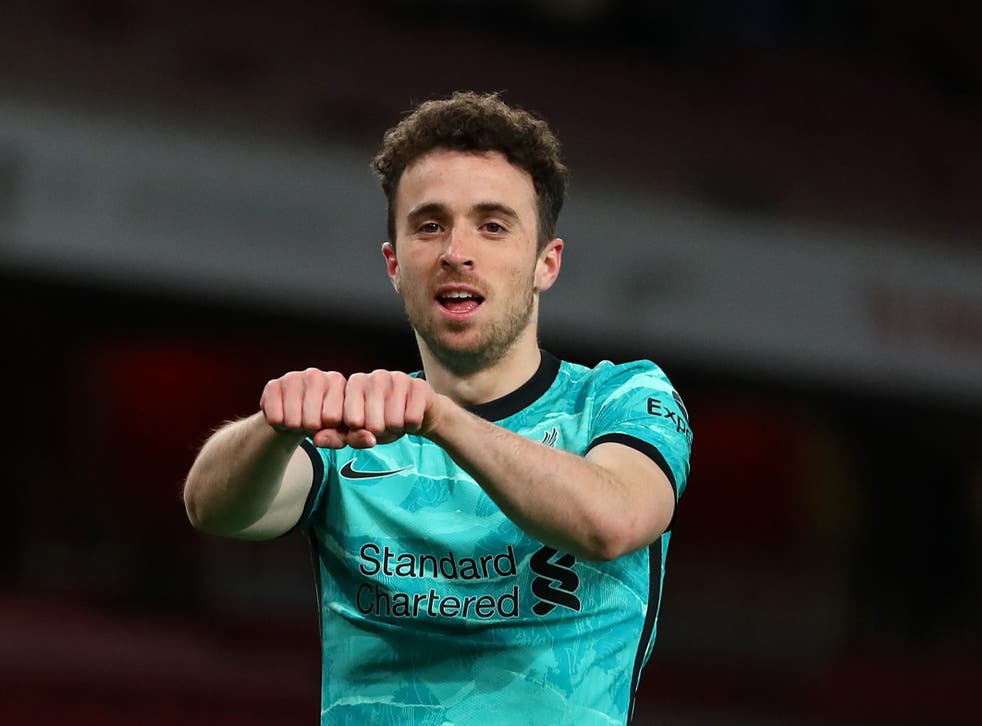 Given the emphatic directness of Diogo Jota's two goals against Arsenal, it's almost tempting to say he merely showed Liverpool the way back. The net is there. Just hit it.
The reality isn't quite so simple, of course, but Jota does make things so much easier Jurgen Klopp.
These were the second and third goals he got for Liverpool since returning from that injury, to go with the three for Portugal over the international break, and that initial match-winner against Wolves. They take him to 18 for the season, including those for his country, and six in his last four games.
"He's in a great moment," as Jurgen Klopp said afterwards. He's also great at picking his moments.
It's not just about the quantity of Jota's goals, after all, or the fact he's offering them when Liverpool were previously so profligate. It's also the timing, and context.
Read more
Jota's opening goal against Arsenal was his fifth "clutch" goal for Liverpool this season, in that it was another match-winner or the initial goal that set them on the way to their result. The Portuguese has been directly responsible for at least nine points this season.
Through that, he has already become one of their most important attackers. Little wonder they struggled without him.
That may seem a remarkable thing to say given that Liverpool's primary attacking trio have been one of the best forward lines in Europe over the last few years, but the effect of his presence cuts to precisely that issue about the chemistry of the team and the issue with cycles ending.
You couldn't exactly say that Mohamed Salah, Roberto Firmino and Sadio Mane have gone "stale", but some of the spark has dissipated. There's also the issue that opposition teams now know them so well. They may be hard to stop, when even close to form, but there is still a lot of previous work to prepare for trying to stop them.
That is not the case with Jota. He offers something different, in chemistry and in style. That's also what makes his directness so distinctive.
"I want to be involved in goals," Jota said afterwards. "I'm doing that. I was injured but I'm hoping to contribute to the end of the season."
It's impossible not to think Liverpool wouldn't have suffered the slump they did had Jota been available. He might yet prove crucial to their chase for the Champions League places, as well as the quest for the Champions League itself. Klopp suddenly has a player who is very fresh, and clearly on supreme form.
"To think about higher spots in the table, we have to do our job which is to win every single one of our games until the end," Jota said. "If we do our job we have a high chance to be there. It's hard to win in the Premier League but today we did our job. We need to think about ourselves."
Opposition sides, however, will have to think about Jota before anyone else. He's become Liverpool's danger man, and maybe their most crucial scorer.
Salah of course wouldn't be Salah if he didn't respond in his own way, with a rousingly vintage Salah goal. This is the other effect of a player like Jota. It offers a jolt in a few senses, not least for teammates.
He's certainly shown Liverpool the way to score again.
Join our new commenting forum
Join thought-provoking conversations, follow other Independent readers and see their replies