Diogo Jota inspires Liverpool to vital victory over dismal Arsenal to boost top four hopes
Arsenal 0-3 Liverpool: The champions dominated the Gunners at the Emirates to reignite their hopes of a top-four finish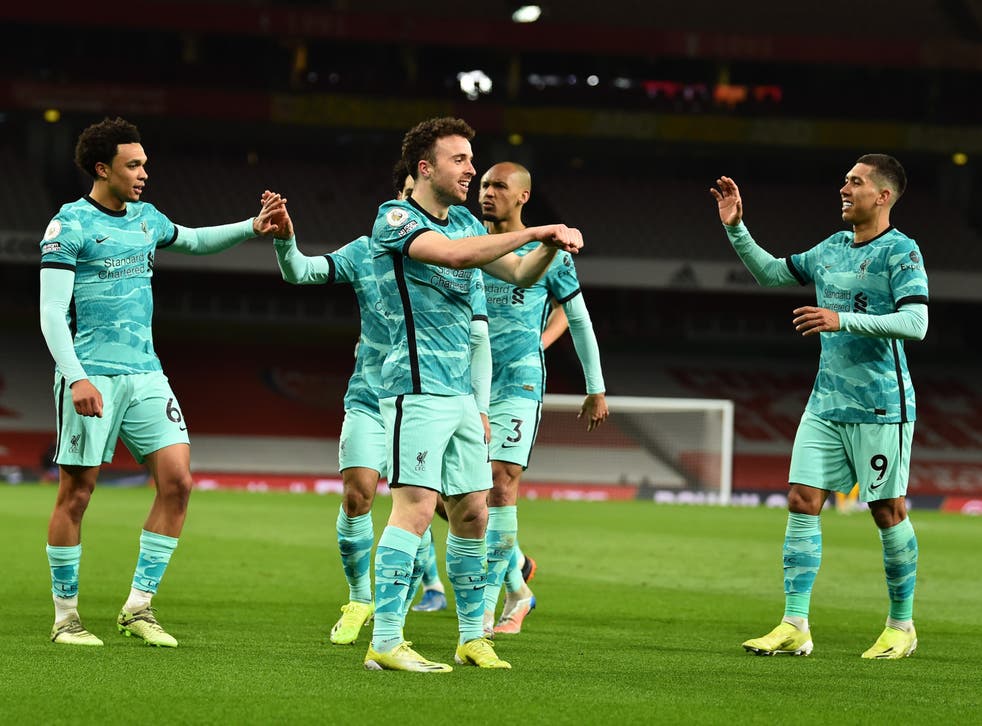 Diogo Jota shows Liverpool what - and how - they were missing. Initially rested after an international break that burst with goals, the Portuguese showed he didn't need the time off. Jota came off the bench to win this game, scoring the opener and the finisher in a superb 3-0 win over Arsenal.
It was by far Liverpool's best display since the 7-0 win over Crystal Palace, as they suddenly looked to be full of confidence again.
That was down to more than Jota, as Fabinho also returned to midfield, but it was as if the Portuguese's directness was precisely what was lacking; the push to set them back on their way. It was no coincidence that stars like Trent Alexander-Arnold and Mohamed Salah offered their best contribution for some time, too, the wing-back with a divine cross to set up Jota and Salah with a supreme goal of his own.
A desperately poor Arsenal display meanwhile only emphasised what they were missing. Namely, Bukayo Saka, Emile Smith Rowe, David Luiz, Granit Xhaka (yes, really) and - eventually, and most worryingly - Kieran Tierney, who went off injured with an ankle problem.
Arsenal just couldn't keep up with Jurgen Klopp's team, as the German was left beaming again.
Read more:
For all the inevitable focus on Jota, the difference with Fabinho in midfield was stark. Liverpool just looked so much more like Liverpool. It was as if they were suddenly able to press as they usually do, and consequently attack like they usually do. There was a long period in the first half when they basically had Arsenal penned in around their own area.
Klopp evidently approved, as he enthusiastically shouted "brilliant, boys" at the move that ended with Mane's header. For all their domination, though, that was the only moment of that period that troubled Bernd Leno.
Both Fabinho and James Milner flashed well-struck efforts wide. The English midfielder probably should have scored on his second attempt.
It illustrated there was still something missing from Liverpool. That was to come.
It was all too clear what was missing for Arsenal. Without Saka and Smith Rowe, they couldn't link that withdrawn defence to stretched attack. It ensured Nicolas Pepe and Pierre-Emerick Aubameyang were almost totally isolated, and barely involved in their play. Alexandre Lacazette resorted to dropping back to try and get the ball, but one challenge left him with a cut eye.
He was at least able to come back on. Tierney wasn't so fortunate, and was forced off with an ankle injury just before half-time.
Given he is such a hardy player, the concern on his face said enough. The hope is he is not out too long, and in this match it denied Arsenal another outlet. That is what Tierney is so good at.
It meant his side were pushed back even more, and Liverpool had even more of the ball around the area.
The goal was surely to come. It just needed a bit more decisiveness.
Klopp himself illustrated that. On 61 minutes, he finally brought on Jota, for Andy Robertson.
On 64 minutes, the Portuguese had the ball in the net. It was a goal of real quality, from start to thunderous finish. Fabinho first played Alexander-Arnold in with a looping ball, before the wing-back curled in the most inviting cross. Jota was only too content to accept, powering his header through Leno's hands, and into the roof of the net.
It was emphatic. It was pretty much the game. Arsenal didn't have enough to get back into it, and Liverpool now had a new momentum and belief.
That could be seen in the goal that sealed it. If a lot more of this game was vintage Liverpool, that second strike was absolutely vintage Salah. It was one of his signature goals. The Egyptian first used his speed and strength to get around Gabriel, before superbly riding his attempt at a tackle with one of those agile jumps. Such athleticism was the set-up for the smoothest of finishes, as the forward just slotted it between Leno's legs. The goalkeeper's despairing stance only added to the aesthetic of the goal.
He was left even more helpless by the final strike, as Jota pounced to make it 3-0, and suddenly has them looking good for the top four again.
Register for free to continue reading
Registration is a free and easy way to support our truly independent journalism
By registering, you will also enjoy limited access to Premium articles, exclusive newsletters, commenting, and virtual events with our leading journalists
Already have an account? sign in
Register for free to continue reading
Registration is a free and easy way to support our truly independent journalism
By registering, you will also enjoy limited access to Premium articles, exclusive newsletters, commenting, and virtual events with our leading journalists
Already have an account? sign in
Join our new commenting forum
Join thought-provoking conversations, follow other Independent readers and see their replies