Deadspin, the limits of 'sticking to sport' and why we should never just shut up and consume
The US sport website's entire editorial staff left the company this week after its editor defied an order from its owners to 'stick to sports'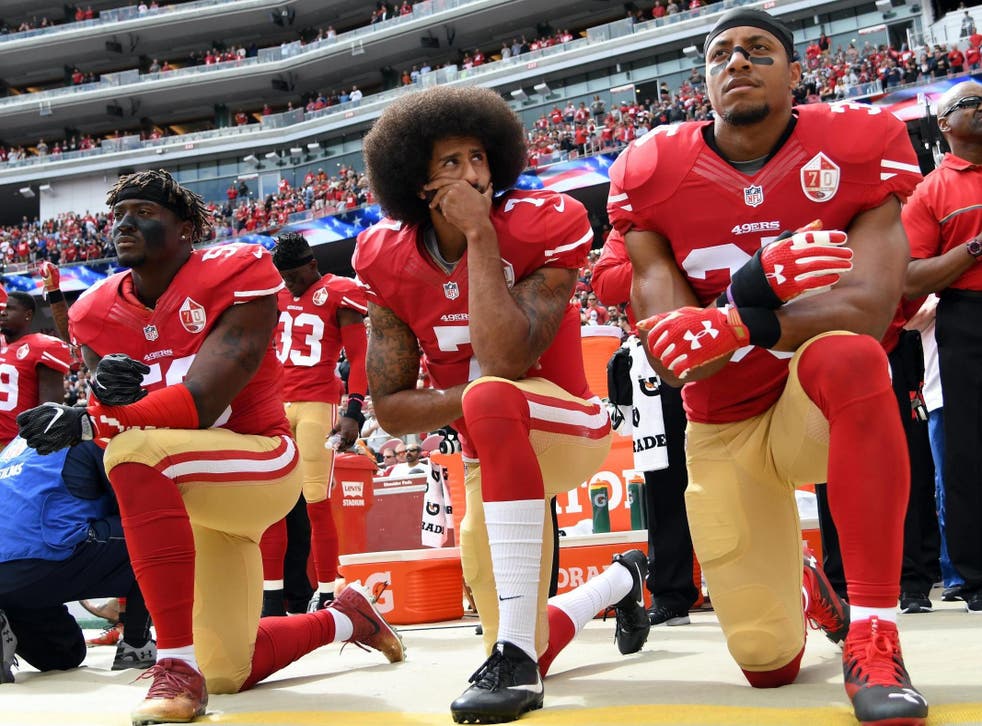 Over the last couple of years, this column has attempted – and, it has to be said, largely failed – to grasp a multitude of issues and causes that extravagantly violate its own humble sporting remit. Human rights abuses in Rwanda. The Azerbaijan-Armenia conflict. Climate change. Institutional racism. Serbian rugby league. Alexis Sanchez's dogs.
You might, understandably, be tempted to dismiss all these well-meaning words as so much extraneous fluff: the self-importance of the sportswriter grappling with the own intrinsic banality of his subject matter. But equally, it's always been fairly apparent to me that the job of covering sport has always been about more than counting points and weighing medals.
With the possible exception of the Emirates Stadium on a Carabao Cup night, sport does not occur in a vacuum. It's irrevocably shaped and influenced by the people who play and organise it, and the societies and cultures that have shaped them. Sport is the serious bits and the silly bits and everything in between, the politics and the finance and the emotions and the memories and how we talk and interact with each other.
In other words, it's everything. Trying to explain sport without an understanding of the world around it is a bit like trying to explain the weather by pointing at the sky. Which is why the ructions this week at the US website Deadspin have implications that resonate well beyond the arcane and vaguely overheated world of American sports media.
If you've never heard of it, then you're probably not its target audience. But for its millions of readers, Deadspin – launched more than a decade ago as an uproarious blog with a thirst for juicy gossip and a heat-seeking revulsion of the established media – was always more than a sports website. Its tone was irreverent and conversational, frequently merciless and occasionally very funny. Back in 2013, Donald Trump sent a tweet congratulating Deadspin on a college football story they had run. "Go f--- yourself," came the reply.
What really made Deadspin, though, was that you never quite knew what it was going to publish next. It might be a groundbreaking investigation. Or a 3,000-word feature on snooker. Or a funny video of a politician saying something stupid. Or a ranking of mythical creatures. One of my favourite ever articles on the site was about how to make the perfect salad. For a generation of digital natives, Deadspin wasn't just a news source, but a sort of anarchic self-help manual: a means both of navigating a foreboding world and sticking two fingers up at it. For many non-sport fans, it was the only sport website they ever read.
Anyway, the reason all this is in the past tense is as of this week, the entire Deadspin editorial staff has now left the company. On Monday, the site's owners G/O Media sent around an internal memo ordering editors to stop posting content unrelated to sport. "To create as much great sports journalism as we can requires a 100 per cent focus of our resources on sports," it went. "And it will be the sole focus. Deadspin will write only about sports and that which is relevant to sports in some way."
Over the years, a steadfast refusal to "stick to sports" had become part of Deadspin's essential identity, one they delighted in flouting. Except this time, when editor Barry Petchesky openly defied the order, he was fired. By the end of Friday, the rest of the writing and editorial staff had followed him. Meanwhile Deadspin limps on, unstaffed, into the sunset, a husk of a website that will doubtless be replenished with low-paid interns churning out clickety-click nonsense like so many other places. And the reason all this matters to you – yes, you – is not out of some plaintive, pearl-clutching lament for the noble trade of journalism, but because of what it tells us about how the corporate world sees sport, how it wants us to cover it, and how it wants you to consume it.
Why were Deadspin's owners so keen for the site to stick to sport? Certainly not out of hard business logic – in a landscape of media dumpster fires, Deadspin was still extremely profitable, its non-sport content even more popular than its sport content – but out of ideology. The corporate vision of sports media in 2019 is as a form of consumer escapism, where users can have their tribal gills tickled and their existing biases reinforced without straying remotely near anything that might be classed as contentious territory. As the union representing Deadspin employees put it on Wednesday: "'Stick to sports' is and always has been a thinly veiled euphemism for 'don't speak truth to power'."
And unchecked, that power inflicts itself on sport in all sorts of nefarious ways. 'Stick to sport' is why the World Cup is going to Qatar. It's why your club's owner is a reclusive billionaire who hasn't been seen at your stadium in years. It's why black athletes are still getting racially abused while doing their jobs, why Colin Kaepernick still doesn't have an NFL team, why your local council can't afford to fund grassroots sporting facilities, why a sexual abuse scandal in US gymnastics was allowed to carry on for years. These are the stories that sport's established powerbrokers – a nexus of successful teams, governing bodies and the investors and sponsors who fund both – would rather you weren't told.
The media can tell these stories, but only if the people who own the media let them. Last year the president of ESPN, Jimmy Pitaro, claimed that "our data tells us our fans do not want us to cover politics". And perhaps the reason Deadspin is being so widely mourned in the United States is that it represented a quaint and rapidly atrophying idea: that what the market likes to imagine as "sports fans" are really just people, complex and sentient beings with a variety of interests, rather than simply a vertical demographic to be flogged to advertisers.
Shut up and consume. That's the unspoken rationale underpinning Premier League Weekly or your club's official YouTube channel or the local newspaper that has been asset-stripped to within a column inch of its life. And probably, there are enough people out there happy enough to do so. It's never been the way at The Independent, however, who over the last two years have been perfectly happy to let me write about sport through whatever lens seemed most appropriate, be it the political, the racial, the social or the canine. And as we go our separate ways, you can be assured of one thing above all: neither of us will ever be content simply to 'stick to sport'.
Register for free to continue reading
Registration is a free and easy way to support our truly independent journalism
By registering, you will also enjoy limited access to Premium articles, exclusive newsletters, commenting, and virtual events with our leading journalists
Already have an account? sign in
Register for free to continue reading
Registration is a free and easy way to support our truly independent journalism
By registering, you will also enjoy limited access to Premium articles, exclusive newsletters, commenting, and virtual events with our leading journalists
Already have an account? sign in
Join our new commenting forum
Join thought-provoking conversations, follow other Independent readers and see their replies